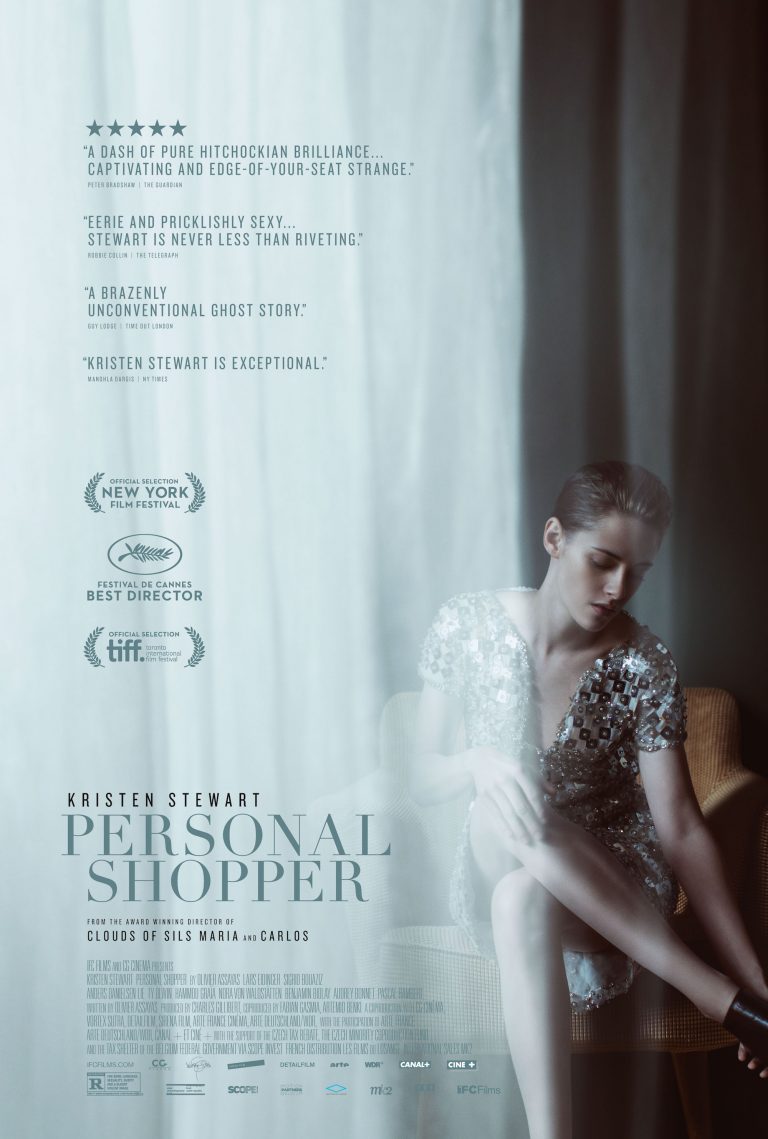 Release Date: March 24th, 2017
Cast: Kristen Stewart, Lars Eidinger, Nora von Waldstatten, Anders Danielsen Lie, Sigrid Bouaziz
Director: Olivier Assayas
Studio: CG Cinéma, Vortex Sutra, Detailfilm, Sirena Film, Arte France Cinéma, Arte Deutschland/WDR
Distributor: Les Films du Losange
Genre: Psychological Thriller

Review Spoilers
: Medium
IMDB | Rotten Tomatoes | Wikipedia
Personal Shopper is a French psychological thriller, the second film from director Olivier Assayas to star Kristen Stewart. Simply put, it features a young woman, Maureen (played by Stewart) who works as a personal shopper. She is also attempting to communicate with her recently deceased twin brother. What follows is a tense, unevenly paced thriller that feels longer than it's 110 minute runtime would suggest.
Kristen Stewart plays a character who is designed especially for her it seems. The character of Maureen fits her general shtick, the disinterested young rebel woman. Maureen is working as a personal shopper, selecting the outfits and accessories for her boss, the model Kyra to wear and flaunt elsewhere. When she's not busy scootering about the city, she's spending time in her brother Lewis' old home waiting. It's not until a bit into the movie that this unfolds, she's waiting for him to reach out, make contact.
The acting by Stewart is what the movie hinges on and she does a terrific job. The plot alternates between genuinely thrilling to downright annoying and back again. It treads a dangerous line between deliberately slow and unnecessary sluggishness. Coupled with the tonal shift, more than a few people in my screening were bucked from the ride halfway through never to regain interest. Personal Shopper is a ghost story and thriller, if you have the patience or desire I think it is worth checking out.
SPOILERS AHEAD
The first 40 minutes of Personal Shopper is focused on that ghost angle. Maureen is feeling out for her brother's spirit in his former home. She investigates an early 20th century Swedish painter, she watches videos about Victor Hugo and seances, and she eventually does see something supernatural at the 40 minute mark.
The movie then abandons the supernatural for a spell as it enters the low point of the entire film. For the next damn near half hour, if not more, Maureen engages in a text conversation with an Unknown number. Frequent readers of my reviews know how much overuse of Google or other tech, can hamper a movie for me. Here's another case. The middle features a prolonged sequence of iMessages, people Facetime and Skype, and Maureen watched movies on YouTube to learn more about being a medium.
There are arguments to be made for why it is used this way. Maureen lives a lonely existence. By having someone in the form of this 'Unknown Texter' to bounce her inner thoughts off, the audience is able to better understand her character. It all leads to a genuinely good use of it as she takes her phone off Airplane Mode and tension is built immediately quickly. But I am certain it could have been handled better and still earn the payoff.
Once the text exchange mostly wraps up, the movie hits its stride again and moves back to the paranormal. The movie has compelling ideas but doesn't necessarily execute them all incredibly well. The nature of the ending is ambiguous but only ever so slightly. There is enough evidence to suggest a clear meaning, but even then you still wonder.