I am thrilled to be hosting a spot on the WHEN THE WORLD TURNED UPSIDE DOWN by K. Ibura Blog Tour hosted by Rockstar Book Tours. Check out my post and make sure to enter the giveaway!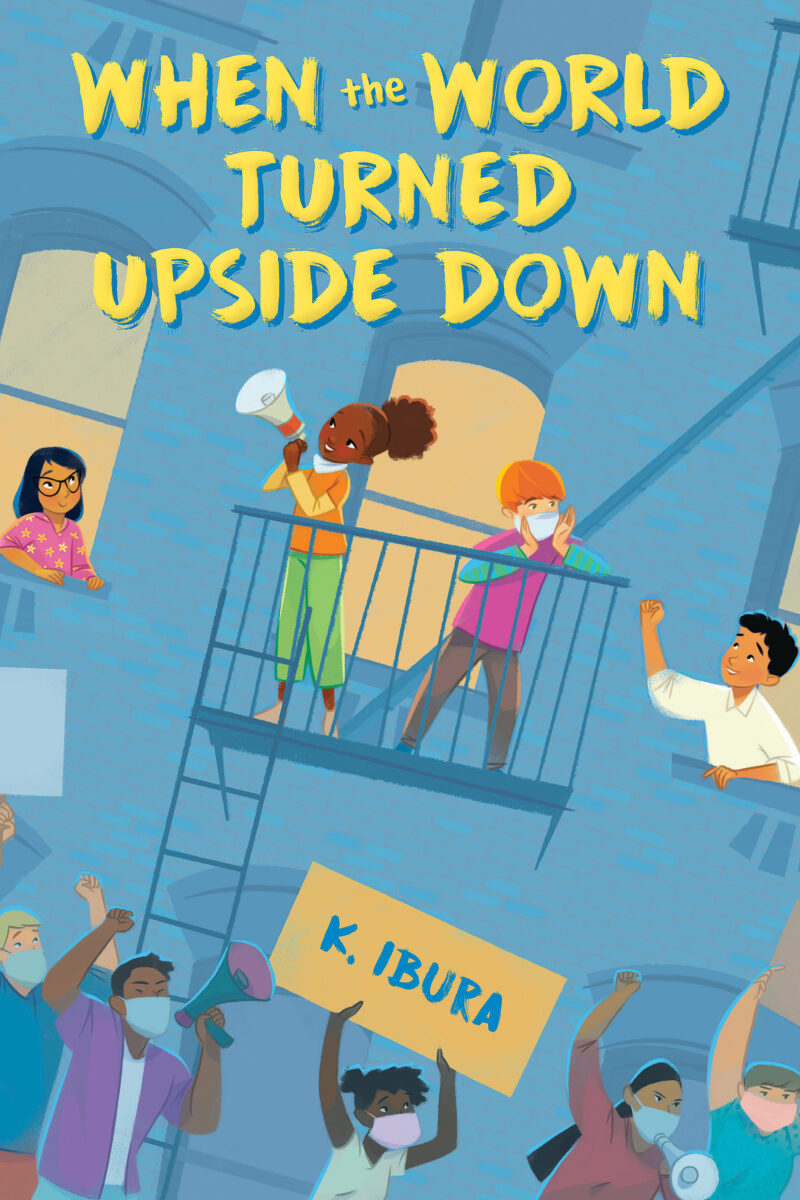 Title: WHEN THE WORLD TURNED UPSIDE DOWN
Author: K. Ibura
Pub. Date: February 1, 2022
Publisher:  Scholastic Press
Formats: Hardcover, eBook, Audiobook
Pages: 288
Find it: Goodreads, Amazon, Kindle, Audible, B&N, iBooks, Kobo, TBD, Bookshop.org
About the Book
What do you do when the world shuts down? A heartwarming story of friendship and overcoming adversity in a time of COVID, When the World Turns Upside Down is about community, giving back, and understanding the world around us through the power of generosity from debut middle grade author K. Ibura.

Nobody expected a tiny little virus to change the whole world in such a big way, especially not Shayla, Liam, Ai, and Ben. But when school closes to keep everyone safe, their lives turn upside down. It is one thing to learn that the outside world isn't safe, but why does it seem that the virus is causing trouble inside their homes too?

As they each struggle to adjust to life in quarantine, they discover they are not alone: their apartment building is full of people who need their help. Working together, they begin to see that there is power in numbers. When they cooperate, they can ease each other's challenges and help their neighbors through tough times. It's a lesson they'll need when protests explode in the streets. Soon, each friend has to decide what it means to be part of a community—and how much they're willing to do to make this world safer for everyone.

Set against the onset of COVID, When the World Turned Upside Down navigates issues of race and social justice in a heartwarming story of generosity, friendship, and the power of youth.
Reviews
"When The World Turned Upside Down is as clear-eyed as it is engaging, as timely as it is timeless. I fell in love with every single student in this book. And days after reading it, each of them remains with me." ― Jacqueline Woodson, National Book Award-winning author of Brown Girl Dreaming"
A beautifully written story that will inspire young readers to work for positive change even in times of turmoil and stress. This book reminds readers that all of us can make an impact and find ways to shine bright." ―Angela Cervantes, author of Pura Belpré Honor Book Lety Out Loud"
A hope-filled book dealing with the struggles children face in extraordinary times, K. Ibura has crafted a story perfect for young readers looking to make sense of current events. Timely and important." – Adrianna Cuevas, author of Pura Belpré Honor Book The Total Eclipse of Nestor López and Cuba In My Pocket
"A heartwarming call to action." — Kirkus Reviews
About K. Ibura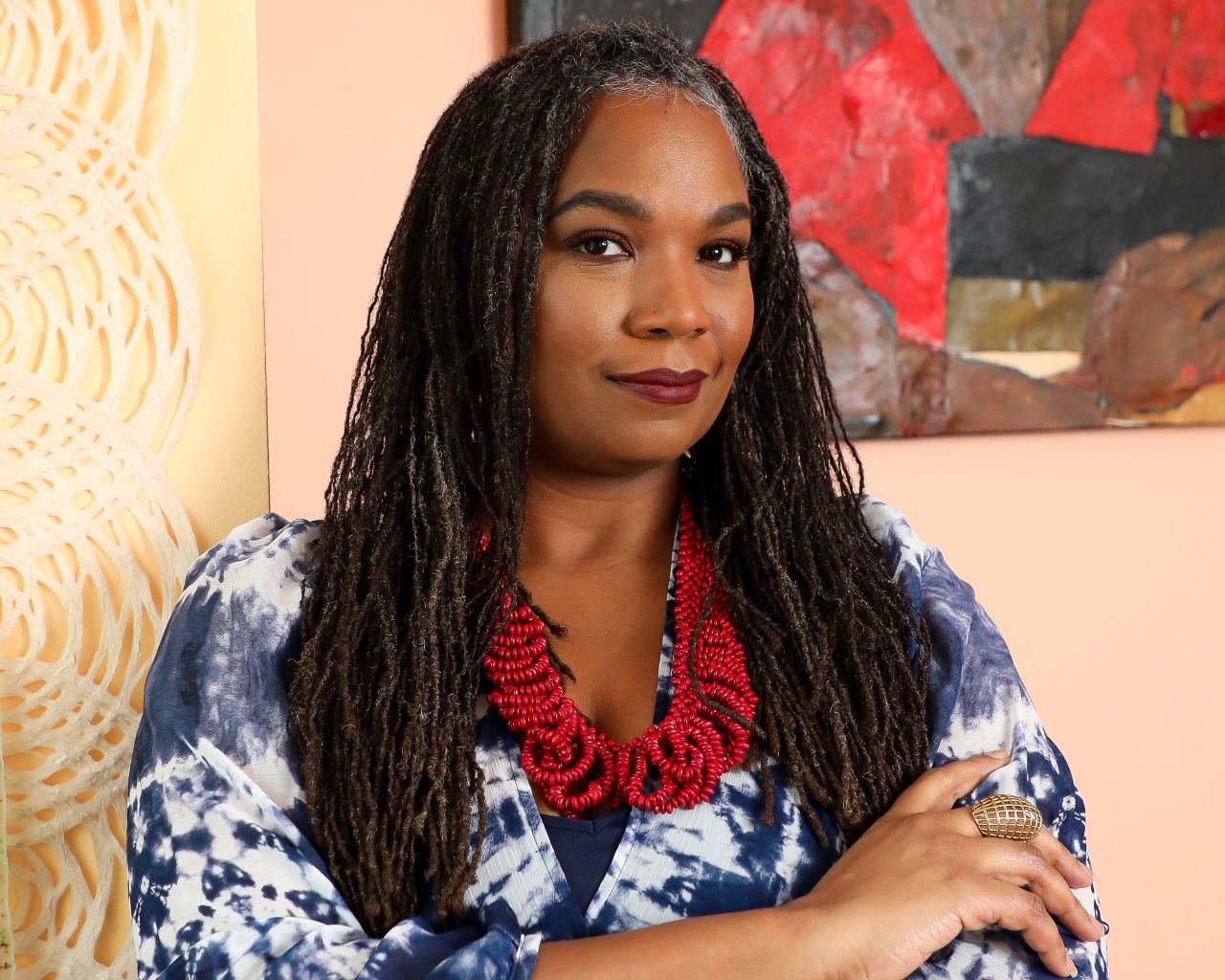 K. IBURA is an essayist, science fiction and fantasy short story writer, and painter from New Orleans, Louisiana. The middle child of five in a family of human rights activists, she grew up in a hardscrabble neighborhood with oak and fig trees, locusts and mosquitoes, cousins and neighbors. Her short story collection Ancient, Ancient won the James Tiptree, Jr. Award for 2012. Ibura's debut YA novel will be coming out with Alloy and Harper Teen in spring 2022.
Website | Twitter | Facebook | Instagram | Goodreads | Amazon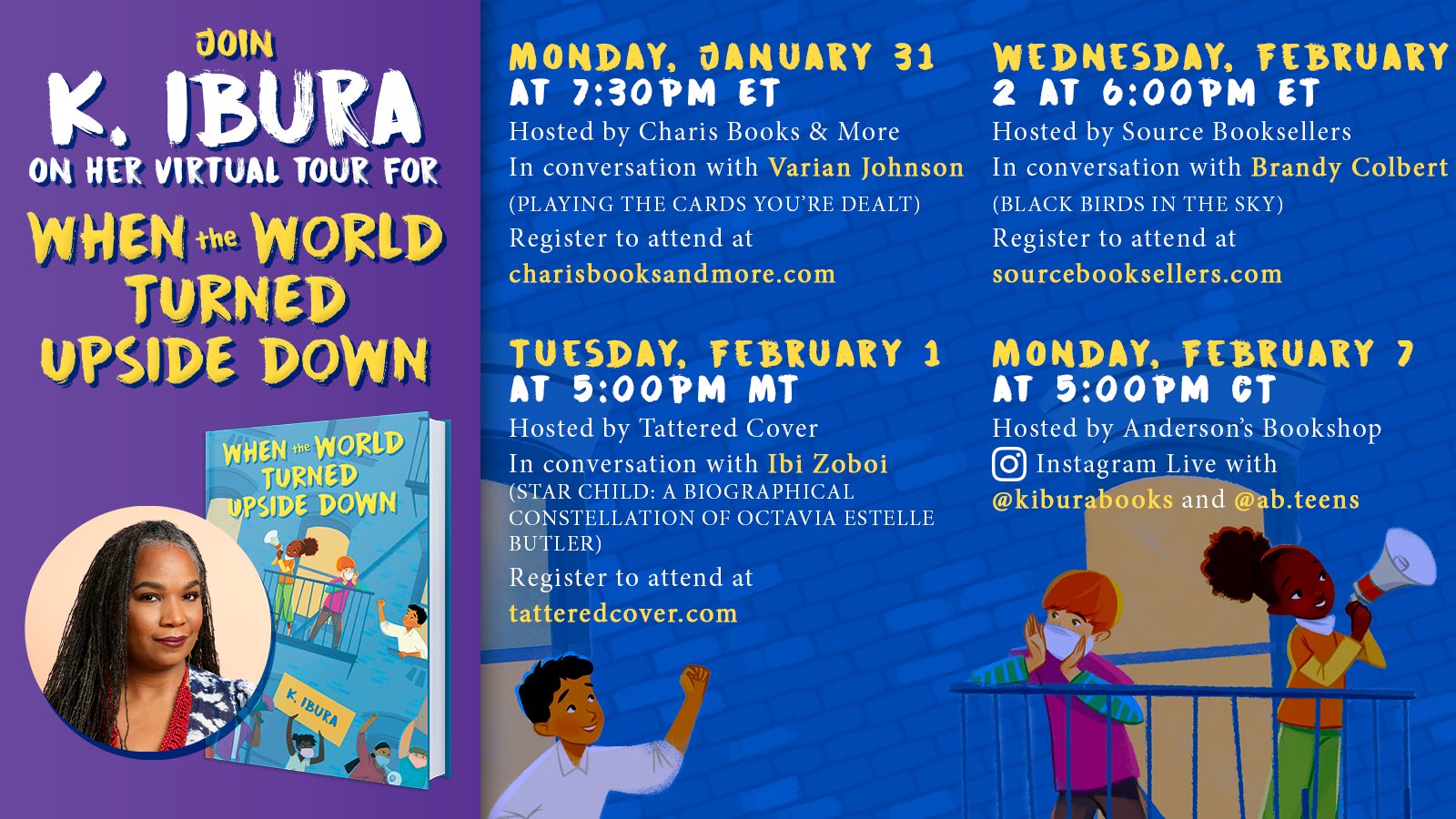 Giveaway
3 winners will receive a finished copy of WHEN THE WORLD TURNED UPSIDE DOWN, US Only.
a Rafflecopter giveaway
Tour Schedule
Week One:
Week Two: