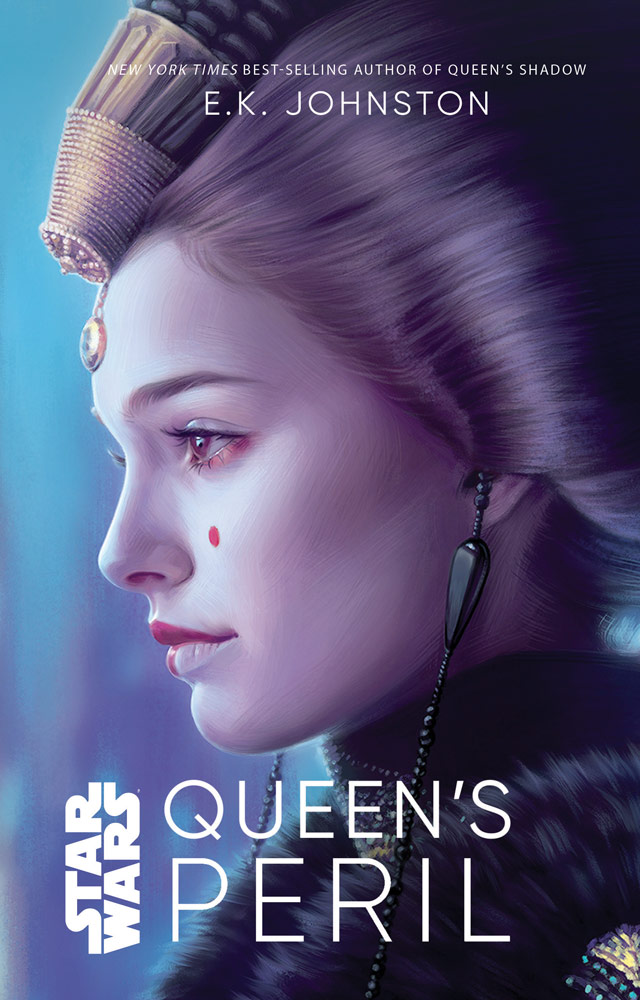 Title: Star Wars: Queen's Peril
Author: E.K. Johnston
Release Date: June 2, 2020
Publisher: Disney Lucasfilm Press
Review Spoilers: Low
GoodReads | Amazon | BN
E.K. Johnston's Queen's Shadow turned out to be one of my favorite new Star Wars novels and Queen's Peril is the perfect follow up. If you've read Queen's Shadow, you were probably like me – desperately wanting to know more about Padmé Amidala and her handmaidens and the adventures they had before her reign as Queen of Naboo came to an end. As much as I enjoyed the overall story in Queen's Shadow the best part – really, the most important part – of the book was the relationships between the former queen and her handmaidens and aides.
Strong, capable young women kicking butt and holding their own in the galaxy is everything I need in a Star Wars book. And between Queen's Shadow and Queen's Peril we get plenty of it.
The handmaidens are such an underutilized part of The Phantom Menace story and Queen's Peril really fleshes out the group and gives them the agency they deserve. We know from the first book that the different handmaids played different parts throughout the timeframe spanning the film but we finally get to see those stories play out for ourselves. But don't think that this book simply retells the film. It does so much more.
At the beginning of the book, Padmé is just taking the throne and Panaka is diligently amassing a group of talented young women to serve not just as handmaids but as advisors and protectors. We learn the girls' backgrounds, hidden talents, and passions and then see how they bring those to play in service to the queen. But as much as we learn about them as individuals we also learn how they operate as a whole. We learn their little tricks – like swapping one another out as decoys for Padmé – and more. We learn the sacrifices they make to serve in those positions. We can see how Rabé's unexpected criminal talents or Eirtaé's technological skills come to the queen's aid.
Much of Queen's Peril takes place before the Phantom Menace which really helps readers get invested. We know what's coming but we don't have to worry about it too much. E.K. Johnston keeps us aware of what's going on in the galaxy surrounding them while letting them become the cohesive group you'll come to love (or love already if you've read Queen's Shadow). The girls learn how to work together, get involved in some very normal teenage hijinks, and pull off some pretty gutsy diplomatic plays.
All the while, they're leading up to the biggest fight of their lives.
While it's exciting at times to see familiar faces from The Phantom Menace (Anakin, Jar Jar Binks, Palpatine, and several others all make very brief interlude appearances), Queen's Peril is at it's strongest with it focuses on the handmaidens and telling their own part of the story. The moment's where E.K. Johnston makes The Phantom Menace her own and retells the scenes from a new perspective are the really the most interesting. For example, we see Saché risk everything even though she's the youngest – still just a child more so than any of the rest – to protect Naboo is far more compelling (as alluded to in the previous book).
If you're a fan of the prequel era or at least just a Padmé fan you'll want to read Queen's Peril. But I highly recommend both books in E.K. Johnston's Padmé Amidala "duology" and I would encourage people to read them in the order they were published as I think it adds even more to the story. That said, either way you read them is great! Also, much like with Claudia' Gray's Lost Stars, readers need to look past their initial hesitation to read something that seems "too young adult" and embrace the stories waiting to be told. (That said, they are definitely perfect for young adult fans, too.)
Don't miss these books, Star Wars fans!