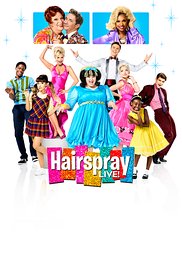 Air Date: December 7, 2016,
Cast: Maddie Baillio, Kristen Chenoweth, Ariana Grande, Derek Hough, Harvey Fierstein, Martin Short
Director: Kenny Leon, Alex Rudzinski
Studio: NBC

Review Spoilers:
Mild
IMDB | Wikipedia | RT
I am head-over-heels in love with musicals. I've lived and breathed them for so much of my life, and I am acutely aware of how much time, effort, energy, and passion goes into pulling one off. I probably wouldn't talk smack about one even if it was terrible because I'd love everyone for trying. Hairspray Live was far from terrible, but the same principles apply.
Whether it meant to or not, Hairspray Live was directly and starkly holding itself right up against both the 2007 theatrical movie release, and FOX's recent smash hit Grease Live. I'm sure the intention was to capitalize on the unprecedented success of both, but that was its first mistake.
The show was epically fun to watch, with beautiful sets, eye-catching costumes and solid to superb performances from the entire cast, and Hairspray is objectively far more relevant, important, compelling, and charming than Grease by a country mile, but something was just… missing.
Let's be honest, the actual storyline and themes of Grease are garbage, but there was a palpable chemistry and effortlessly polished cohesion to Grease Live. An electric sense of beloved spectacle that Hairspray Live didn't quite have. But so what? It's still charming, familiar, topical, and live shows are allowed to be a little rough around the edges.
The stand out performers were without question, Kristen Chenoweth, Dove Cameron, Maddie Baillio and Jennifer Hudson. They were easily the most solid and nuanced talents, with the vocal acuity to actually use the songs as motivational story beats, something none of the other actors really pulled off.
"Mama I'm A Big Girl Now" was unquestionably the strongest number in the show, but Chenoweth and Hudson out-shined the entire rest of the show with "Miss Baltimore Crabs" and "I Know Where I've Been," respectively. Chenoweth in particular was leaps and bounds ahead of the rest with her on-camera savvy.
Dove Cameron, for her part, does not get enough credit, or roles in general. I've seen her in multiple parts now, and she's an astoundingly nuanced and multi-talented character actress, not to mention cute as a button. If she wanted to take over for Jennifer Lawrence or Taylor Swift, it would be well-deserved and more than fine with me.
Ephraim Sykes also gets a shoutout for his delightful but grounded turn as Seaweed, and his seriously badass moves. Ariana Grande also gets a nod for the beginning of act 3, when Penny turned into… Ariana Grande.
The 2007 movie version also brought a complexity to Link and Corny Collins that the live version did not. But while it wasn't as much fun to watch them (few things are more fun than watching Zac Efron and James Marsden, let's just establish that right now), it was a choice that focused the show almost entirely on the ladies, and the community of black characters, which is amazing.
As it should be, there were some nods to the musical theater culture, including cameos by previous Tracys, lines from Hamilton, and of course Harvey Fierstein. Overall it was a pastel-colored magic carpet ride full of dedicated performers, and I enjoyed the hell out of it.
It might not be the best live show I've seen, but there were great performances, cool camera tricks, TVs within TVs, remote-controlled rats… and especially with Hairspray's themes of inclusion and success for those who don't fit the standard mold, and the acknowledgement that the mold is fake and make up by those who fit it, what more could a girl want?