The Secret Loves of Geek Girls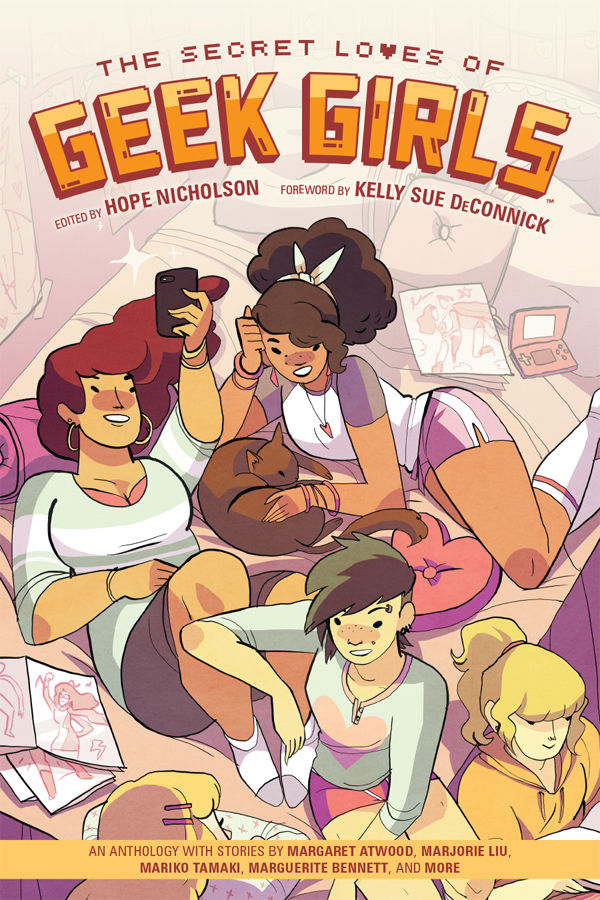 Editor: Hope Nicholson
Release Date: October 5, 2016
Publisher: Dark Horse Books
Genre(s): Non-Fiction
Review Spoilers: Low
GoodReads | Amazon

I don't think I've ever come across a book that I've found as utterly relatable as
The Secret Loves of Geek Girls
. Of course, that's kind of the point of this collection of non-fiction essays, short memoirs, and autobiographical comics. Each and every selection is written by a geek girl for geek girls about the challenges we all face in trying to tackle world of romance.
Some of you might be thinking, "Eugh, romance? Really, Sam?" But this isn't some self-help book about geeks in love. Instead, it's a series of very frank short entries that talk about what it's really like to be a geek girl.
The authors and artists collected in this book are sharing experiences from their own lives and telling their own personal stories. It's a book about love, but it's also a book about finding yourself and embracing the experiences and interests that make you who you are. It's such an empowering book because before The Secret Loves of Geek Girls I don't think I ever really knew just how similar the experiences I had growing up could be to the geeky women all around me.
The women who contributed to this book know what it's like to be us because they are us. They know all about growing up as the awkward, nerdy girl in school. They know how it feels to be the queer geek struggling to come into her own. They know exactly what it's like to find yourself in fandom or to fall for some unattainable, fictional character you can't help but love.
There are so many stories in this book about these girls finding themselves and embracing their nerdy, geeky tendencies and how empowering that can be. There are so many people in this book who share their own experiences in exploring their own sexuality and realizing that love can be so much more than just boy meets girl and happy endings.
Reading through The Secret Loves of Geek Girls is such a positive, thought provoking, and deeply emotional experience. There are sixty stories included in this compilation and while the book itself clocks in at over 250 pages it hardly feels like it. Each and every story is just so enthralling and personal. You could easily sit and read the whole thing in one sitting and not even realize it.
Part of what makes this book so great, I think, is that it came together out of the sheer willpower of the people behind the book. While it's being published by Dark Horse Books this time around, the book started out as a labor of love that was fully funded on Kickstarter by all the women out there who knew just how important this book and these stories would be not only for them but for generations of girls to come.
Hope Nicholson is the woman behind it all and she has an impressive portfolio of additional projects to her name, too. The creators who contributed to this book include well-known names like Margaret Atwood, Jordie Bellaire, Marjorie Liu, Mariko Tamaki, Trina Robbins, Sam Maggs as well as a myriad of other incredibly talented female voices from across the Internet and the geek girl world. This new edition also has a fantastic introduction by Kelly Sue DeConnick.
Some of my favorite contributions include:
Minas Tirth by Marguerite Bennett, which I think perfectly captures what it's like to be a geek in love. It perfectly captures the silly conversations you have and the way fandom can bring you together even in the most intimate of moments.
Fandom and the love of pop culture saturate the author's life and relationships – and it's both beautiful and empowering. It's also the first written story in the book and it does a good job of setting the tone for the book. The Secret Loves of Geek Girls is just as much about success in love as it is losing it.
Anne of Linux Pine by Erin Cossar (and illustarted by Kristen Gudsnuk) is another of my favorites if only because it shows young, geek love blossoming online at a time when the Internet was truly in it's early days. (It also ends with the revelation that sometimes you can earn something else from failed relationships – like a best friend for life.)
I also love Shipping by Jenn Woodall mostly because I think we would have probably been best friends in high school if we had known each other. I also think this comic is one of the ones that spoke to me most because I was totally that same kind of obsessed fangirl growing up – but for me it was Fullmetal Alchemist and not Final Fantasy VII. But probably the thing I love most about this comic is that she moves on and embraces other interests but still goes back to Final Fantasy VII now and again. And I think that's a hugely important thing for geek girls to see.
Yes, No, Maybe by Megan Kearney is probably my favorite comic in the book just because it does such a great job of explaining what it's like to grow up asexual. We so rarely see anything said about asexuality or demisexuality anywhere. While it's more commonly accepted, it's still not as frequently talked about.
Yes, No, Maybe does a fantastic job of not only showing what it's like to grow up like that but what it feels like to realize as an adult that, yes, it's a thing and it's okay to feel the way you've felt your whole life. I just love everything about this story. Plus the artwork is super cute. (Oh, and Regards to the Goblin King is pretty great too.)
Four Fictional Happy Endings (That Are About to Go Tragically Wrong) by Diana McCallum made me laugh because it's just such a perfectly realistic deconstruction of some of pop culture's favorite 'happy' endings.
When I tell you guys that The Secret Loves of Geek Girls is a fantastic book I want you guys to know that I really mean it. If there's a quintessential book that needs to be added to the reading list of every nerdy, geeky girl out there then this is it. It's not a book with answers. It's not even a book that's necessarily brimming with advice. Instead, it's a book full of real stories about real geeky women and the meaning can be found their words of wisdom and experiences is immeasurable.
To all the geek girls out there: trust me, girl. You should give this book a read and then check out our interviews with some of the contributing writers and artists. Part one is here and part two can be found here.

A REVIEW COPY OF THE SECRET LOVES OF GEEK GIRLS WAS PROVIDED BY THE PUBLISHER IN EXCHANGE FOR A FAIR AND HONEST REVIEW. NERDOPHILES WAS IN NO WAY COMPENSATED FOR THIS REVIEW. OUR OPINIONS ARE OURS AND OURS ALONE.