Have a convention crazed loved one in need of some new gear? Well never fear, because we have the guide for you. From backpacks, to water bottles, to those small time necessities, we have everything you could possibly need for the person in your life who cannot stop attending conventions.
While all of the items listed below are good for conventions, many items having been tried and tested by our staff here on the blog, they also double as good hiking gear, too, if your loved one also likes to head out into the big wide world. Whatever the case, you can't go wrong with picking something off of our list for the holidays.
Backpacks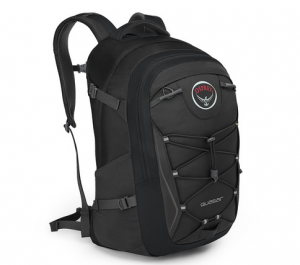 Osprey is my personal backpack brand of choice, as I own an Osprey Daylite pack and the Osprey Flapjack. The former I use for conventions and the latter for school, both of which evenly distribute weight to take strain off of my back and pack a lot of punch in terms of room and storage space.
However, the top one on our list right now is the Osprey Quasar which appears to be a larger version of the Daylite pack while maintaining its form and overall function. These packs are light, well built, and can withstand a lot of conditions. Spray your pack down with silicone water-guard and you have a pack that will stand up to even the rainiest of conventions.
A comparable brand would be the series of Daypacks produced by Deuter. With a huge variety of bags, there is bound to be a color and shape that best suits your holiday loved one. Our founding editor, Sam, has used a Deuter day pack to get through long days at San Diego Comic Con and it has yet to fail her. Pictured left is the Speed Lite 10, but as you can see from their website linked above, the options for this pack are endless.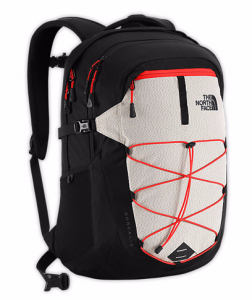 Last but not least, we have the North Face Borealis Backpack. Being from Oregon, which is a state obsessed with The North Face, it is surprising I had not heard about this pack until our associate editor Kylee put it on my radar.
A lover of all things North Face, I imagine this pack is just as good as the other two mentioned, and provides a third option for providing a friend or family member with the optimal convention bag. Perhaps the best part about it is the ability to really choose a personal style, because it offers far more color options than the previous two. Whatever you choose, there is no way you could go wrong with any of these awesome bags.
Hydration
Hydration is key to any convention plan, as conventions generally involve a lot of walking, standing, waiting in lines, and dealing with high temperatures from body heat. As a result, it is easy to become dehydrated if hydration is not a priority. For all of the con goers in your life, there are a couple simple solutions to the hydration problem that will nicely compliment whatever pack you get them.
The first, and my personal favorite, is the Camelbak Eddy bottle. They come in a number of different colors and volumes and provide a no-spill spout that requires you to bite down a little to get the water out. I have bent over enough times and had my water bottle slide out of my pack to know I need a spill proof bottle, and the Camelbak Eddy has done the trick every time. I have gone so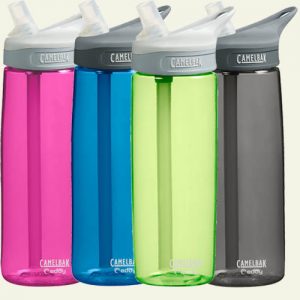 far as to drop it while standing onto hard concrete, wincing in anticipation of it breaking, to find it all in one piece and not a single bit of water has gotten through. The best part is that Camelbak is a highly recognized brand that is available at most major retailers like Target, REI, and Amazon.
The other option for hydration would be to purchase a bladder, like the Camelbak Bladder, or the Aqua Way Hydration Bladder. These require a pack that supports them, usually by having a separate space (such as the Osprey Daylite pack mentioned above has), but make hydration simpler.
With a tube going from the bladder in the backpack to the shoulder of the bag, drinking becomes easy and refills are needed with less frequency. Of course, as with anything I have mentioned so far, all items double as hiking gear too. One day we will get "conventions" added to the list of good exercise options.
Con*Quest Journal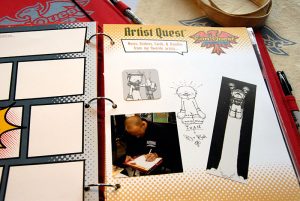 Know anyone who loses an important business card, or who cannot figure out where a convention-purchased print ended up as they traveled home? Well fear no more, because Con*Quest has got every convention-goer covered.
They offer a number of themed journals that can be used to document all of the exciting things a con-goer gets to experience at every convention. Whether they are avid print collectors, are boosting their professional circles by exchanging business cards, or get a lot of photo-op pictures they want to keep safe, this journal does all of that and more.
Power Supply
Smart phones are one of the most important objects anyone can take to a convention. They provide direction, schedules, a chance to check Twitter as things are happening, and can snap a picture when Clark Gregg asks you for a french fry when you are sitting in the hallway minding your own business.
However,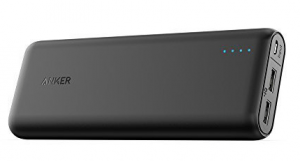 the more smart phones do, the faster the power drains, so external batteries have become an absolute must for any and every convention goer. One of the best brands is Anker, and you can check out one version HERE and its bigger sibling HERE. If you know your loved one is going to want something smaller and sleeker, you can compromise charging ability with size and pick up a lipstick style charger too.
Add in some extra charging cables to the gift and you are off to the races. Even if they already have one, they can always use more (and stash the extras in all of the great compartments in the bags listed above!).
Swag!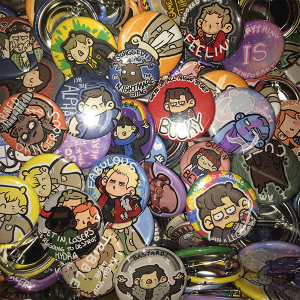 Okay, this list is hardly exhaustive, but I would be remiss if I did not include decorative swag in a convention gear gift guide. While everything listed above is practical and useful, sometimes a giftee who already has it all might just need some geeky buttons to brighten up their gear.
Fiesta Studios on Storenvy has all sorts of pop culture buttons that will make your loved one the talk of the show, and you can check out our enamel pin gift guide to get started with those.
You can check out Etsy and find all sorts of geeky lanyards like these Harry Potter ones, or these MARVEL ones, which will keep an attendees badge safe while still being fashionable. Iron-on patches are the final swag-related convention decoration that will be sure to get someone noticed on the busy convention floor.