Vibes High-Fidelity Earplugs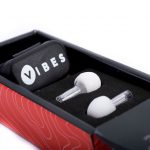 Created by: Vibes
Price: $23.99

Vibes | Amazon
If you hate leaving concerts and hearing that ringing sound in your ears, you're probably looking for some sort of solution that doesn't involve cheap crappy foam. Vibes are a pair of self-proclaimed "high fidelity earplugs," designed to bring down your concerts a few decibels without losing any of the sound quality in the process.
The idea of paying over $20 for a pair of earplugs might sound a little absurd to you, but as a serial concertgoer I desperately needed something like this. I often attend 3 or 4 shows within the same night, and mostly at small bars or clubs where the volume can get particularly out of hand.
On the louder nights I can sometimes physically feel the stress on my eardrums, and yet I generally avoid traditional earplugs because they tend to muffle and distort the sound of the music to an extent that doesn't feel worth it. I was looking for a compromise, which Vibes promise to deliver.
A set of Vibes comes with a pair of plugs plus a small carrying case and three sizes of ear tips. I found the smallest size tended to fall out of my ears, but the medium and large both felt like a natural fit. The plastic on the plugs themselves looks and feels high quality, though I can't yet speak to its durability or longevity.
I took my pair of Vibes to three different Brooklyn shows at three different levels of noise intensity to test them out: BRIC Jazzfest, a low-key jazz night curated for an older crowd and thus not particularly loud to begin with; Whitney at Baby's All Right, a band with a clean 60s southern rock sound that's easy on the ears but in a venue that tends to keep the PA volume pretty high; and a DJ set by MGMT's Andrew VanWyngarden at The Dumbo Loft, the kind of sonic barrage that http://artsandhealth.ie/cymbalta/ would usually leave me noticeably a little more deaf for a day or so after.
And how did the Vibes work? Kind of amazing, actually. For all three shows the earplugs naturally lowered the volume to a reasonable level without changing the sound of the music in any other way. They remained more comfortable over the course of several hours of wear in a row than any pair of foam or rubber plugs I've ever used.
I found myself even wearing them for the full length of the Jazzfest when I knew I wouldn't need them, but they also successfully brought the MGMT DJ set down to a completely reasonable volume. Vibes are the earplugs I've always been looking for.
The only thing that would improve them would be some kind of detachable cord that connected the two earplugs. I dropped one of them in the middle of one of the shows and had to crawl around on the floor a bit to find it, but if I'd been in a more crowded or more poorly lit venue (as many of my concerts of choice are), I would have lost it forever. Given the price tag on these plugs, there's far too high of a chance of that happening, so a simple solution to make them harder to drop and easier to find would bring this review up to a perfect score.
But as they are, I plan on bringing my pair of Vibes with me to every concert I attend for the foreseeable future. From tiny diverse shows to major festivals, I now feel like I can confidently protect my long term hearing while knowing I'm not getting it at the cost of a diminished concert experience. If you love live music, you should be wearing Vibes.

A PAIR OF VIBES WAS PROVIDED BY VIBES IN EXCHANGE FOR A FAIR AND HONEST REVIEW. NERDOPHILES WAS IN NO WAY COMPENSATED FOR THIS REVIEW. OUR OPINIONS ARE OURS AND OURS ALONE.