Mega Princess #1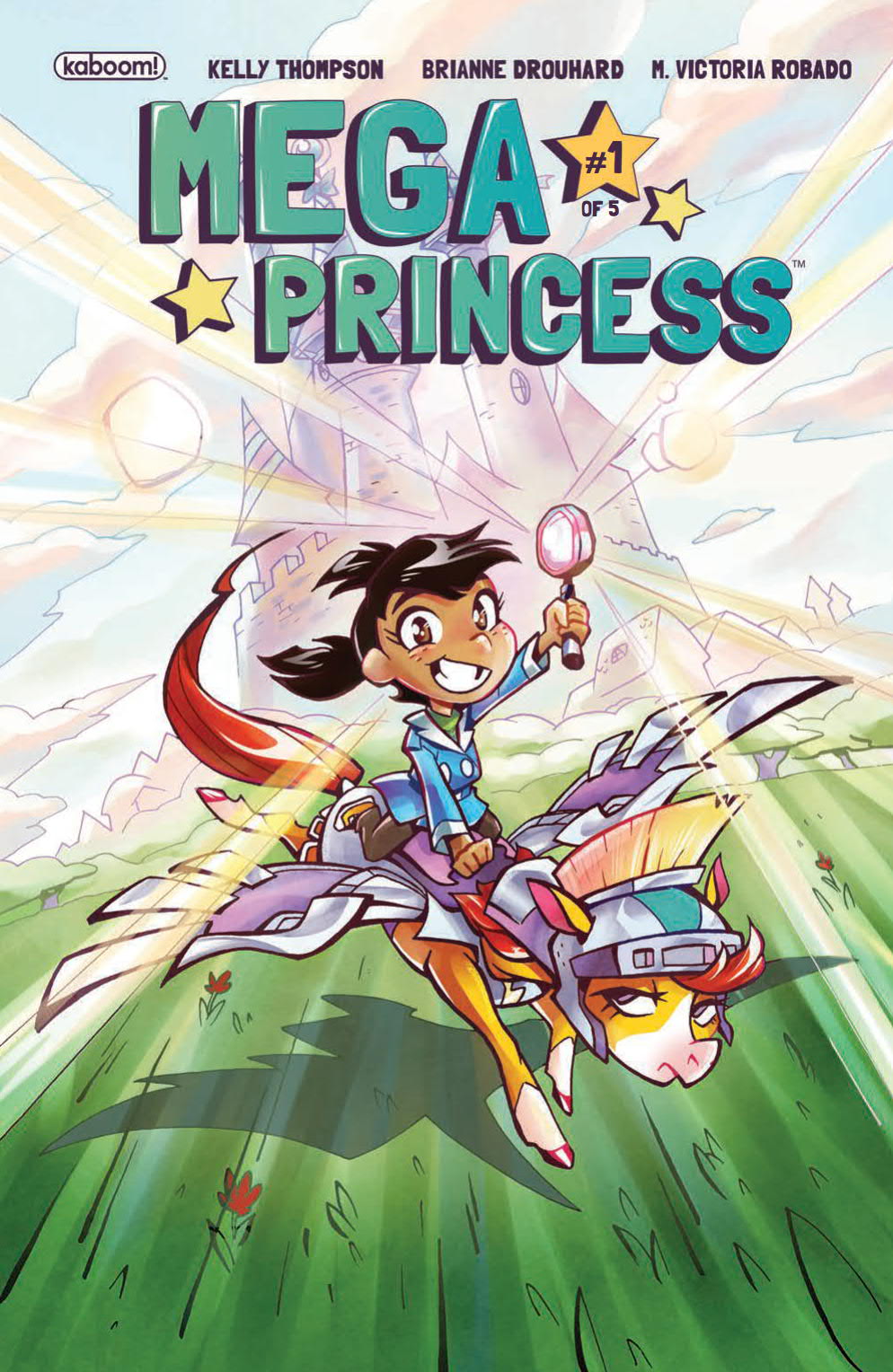 Author: Kelly Thompson
Artist: Brianne Drouhard
Release Date: November 9, 2016
Publisher: KaBOOM! & BOOM! Studios
Genre(s): All-Ages, Fantasy, Fairy Tales
Spoilers: Mild

BOOM! Studios is publishing all of my favorite all-ages books right now and they just added another delightful series to the mix.
Mega Princess
is an awesome book about a ten year old princess named Maxine (who prefers to go by Max) with big dreams of becoming a detective someday.
She lives in a world where magic is real but she's far less interested in magic or even being a traditional princess. Instead she wants to solve crimes and find a way to make the rockets and mechanical, armored wings she made for her pony out of cardboard real.
The book does a really good job of introducing us to Max. She's a really great character and I think the book does a good job of showing us her interests without turning her into a stereotypical tomboy character. She can be girly and wear pretty dresses and still want to build rockets and be a detective.
On her tenth birthday, her punk rock fairy godmother, Amber, gives her all the powers of the fairytale princesses before her and she's understandably disappointed. What good are good looks and perfect pitch when you have bigger dreams? I thought that was a good lesson – but equally good is the lesson that follows in regards to making the most of things.
One of her powers is talking to animals and so Max gets to talk to her pony, Justine, who she's always called "Jerk Pony" – possibly because she doesn't like show jumping (which her mother forces her to do). The fairy godmother also makes Justine's armor real which is a really cute bonding moment for the two of them though Max and Justine both tell her they aren't friends and never will be friends.
I'm really looking forward to seeing their relationship develop because I think there's a good lesson for kids there. It wasn't Justine's fault that Max doesn't like show jumping – and as Max's mother points out, Justine might just act like a jerk back because Max has always been a jerk to her.
At the end of the issue, Max's little brother Bob goes missing during her birthday celebrations after he was put down for a nap. Max and Justine race to the rescue, determined to find him and save him from the 'Tiny Kingdom.' This apparently is a real, tiny kingdom because they shrink themselves down and prepare for a grand adventure together. (Spoiler: It starts out with them looking like they are about to be eaten so… we'll see how well it goes.)
I love Brianne Drouhard's artwork and the character designs. She does a really great job of bringing the story to life. The world design is fun and quirky – there's an interesting blend of modern looking shoes and Max's fairy godmother wears a hoodie. But it all works. The character designs are great, too, and, in particular, I love the way Justine looks. There's a pretty good chance that Justine is going to end up being my favorite character just because she's so fun and full of movie quotes. But Brianne really let's her shine through her hilarious facial expressions.
I also really like Max's character design. Despite being a princess endowed with the powers of all other princesses before her, she's still a ten year old with unruly pigtails and a gap in her teeth (presumably from a missing tooth). I also love that Max comes from a mixed race family.
Too often we hear the lack of diversity in fantasy stories defended by people saying something along the lines of it not being the real world anyway. But representation matters even in fantasy. Kids and adults alike deserve to see themselves in the characters they see and the stories they read and so I love that Mega Princess embraces that.
I enjoyed Mega Princess #1 a lot and I'm kind of disappointed that its just a five-issue limited series. There is so much great story potential here and if it got picked up as an on-going series I could see it reaching Lumberjanes levels of popularity. But for now we'll just have to enjoy sassy Justine and adventurous Max for what little time we have them. Pick up Mega Princess! You won't be disappointed.

A REVIEW COPY OF MEGA PRINCESS #1 WAS PROVIDED BY THE PUBLISHER IN EXCHANGE FOR A FAIR AND HONEST REVIEW. NERDOPHILES WAS IN NO WAY COMPENSATED FOR THIS REVIEW. OUR OPINIONS ARE OURS AND OURS ALONE.