Warner Bros. Home Entertainment provided Nerdophiles with a free copy of the Justice League Dark limited edition blu-ray combo pack which is being reviewed in this blog post. The opinions we share are our own.


Justice League Dark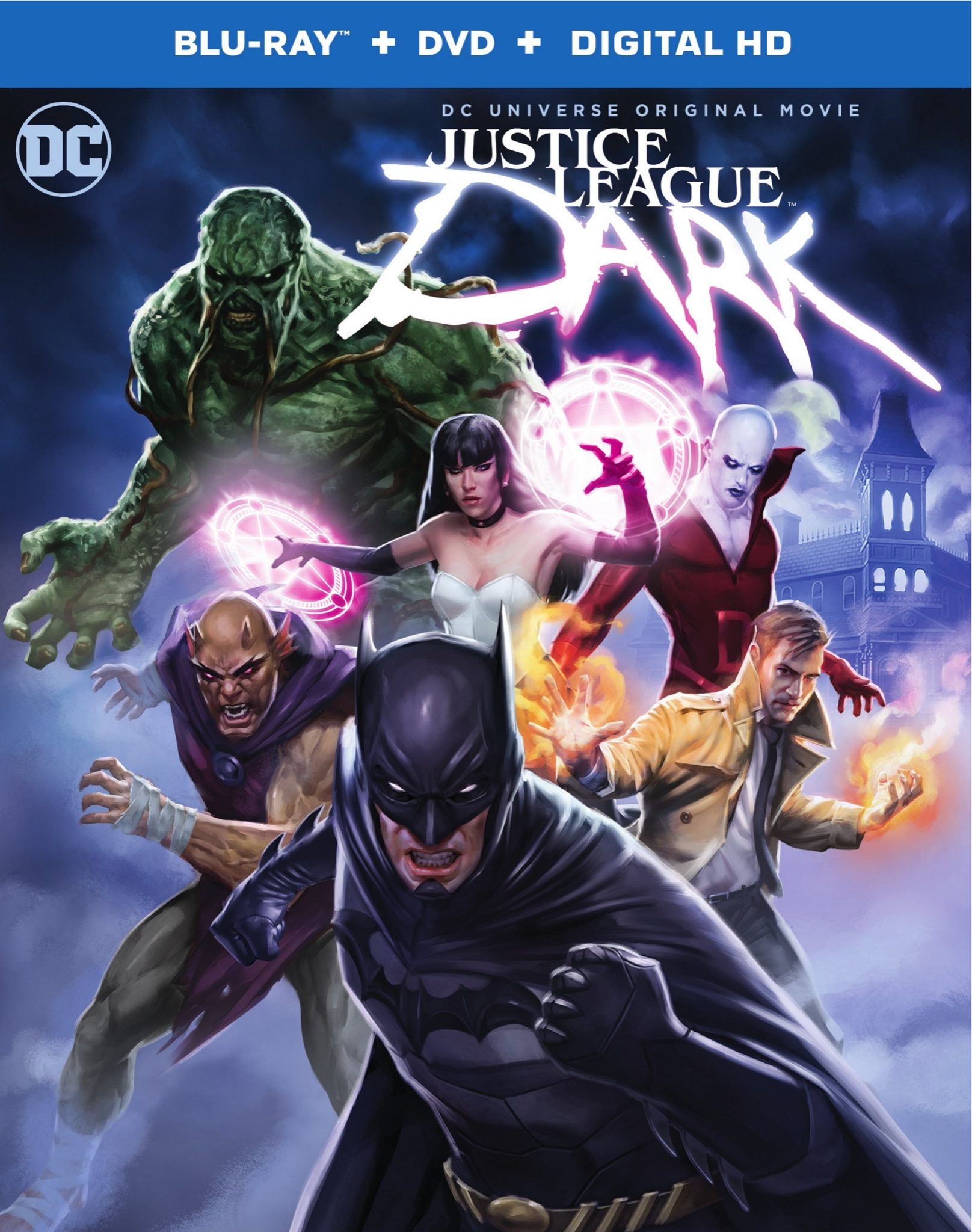 Release Date: February 7, 2017 (Blu-ray)
Cast: Matt Ryan, Jason O'Mara, Camilla Luddington, Nicholas Turturro, Ray Chase
Director: Jay Oliva
Studio: Warner Bros. Animation and DC Entertainment
Distributor: Warner Home Video
Extra Feature Rating: ★★★★☆
Rating: ★★★★☆
Review Spoilers: Low
Amazon | IMDB | Wikipedia | Rotten Tomatoes
All right, I'm not going to lie to you all. This movie won me over the second I learned that Matt Ryan was attached to it. I was a huge fan of the Constantine television series and the fact that it got cancelled is one of the greatest TV tragedies in the past couple of years. Matt Ryan was perfect as John Constantine and he does a fantastic job reprising the role in Justice League Dark. This time, though, he does so alongside a much larger slate of DC characters than he's rubbed elbows with so far on the small screen.
But I'm getting a little bit ahead of myself.
Justice League Dark follows a different sort of Justice League than the one most viewers are probably familiar with. The film takes it's name and basic premise from a more supernatural-themed comic book series that ran from 2011 to 2015 and featured a very different team of 'heroes.' This team dealt with a lot of unusual, unexplainable situations and included a cast of characters whose powers and backstories tended to have more mystical or supernatural origins.
Some of the characters and themes from the comic series crossover into the film but, like all DC animated adaptations, there is a lot of give and take.
In the Justice League Dark film, Batman teams up with Zatanna to go in search of John Constantine (thanks to a supernatural encounter with Deadman) after an unexplainable pandemic breaks out. Every day citizens begin murdering others – including their families – indiscriminately and when the Justice League is at a loss as to how to handle the situation it becomes clear they need someone with mystical expertise. The bulk of the movie then features Batman, Zatanna, Constantine, and Deadman investigating things together and trying to unravel this very dark, deadly mystery.
They also eventually add Jason Blood – and his demonic counterpart Etrigan – to the team with a few minor appearances by Swamp Thing. (Yes, despite being on the blu-ray's cover art I don't really consider Swamp Thing to be a huge part of the story.) Constantine television series fans will appreciate the fact that John's buddy, Ritchie, shows up in the film with Jeremy Davies reprising his role from the television series. And Justice League Dark comic book fans are likely to appreciate the appearance of the 'House of Mystery' from the comics – which takes on a sentient, humanoid form under the guise of Black Orchid.
The characters in the movie were great – even if I sometimes think that we get a little bit too much Batman just in general. (But I also concede that Batman sells and he's kinda the best thing about DC comics anyway.) I really loved the way this no-nonsense vigilante/detective approached the supernatural. Even when he couldn't see things he didn't back down. His reactions with Constantine were great. Really, all the characters' interactions with one another were great. I really enjoyed their working together – and I'll never say no to a little bit of tense romance, especially between Constantine and Zatanna.
Also, the voice acting was pretty awesome.
I've liked Jason O'Mara as Batman since we attended the Son of Batman premiere at WonderCon back in 2014 and I'm glad to see him still going strong as the caped crusader. Camilla Luddington was great as Zatanna and I really hope she reprises the role at some point. Whoever was responsible for the voice casting did a fantastic job. Seriously, if Justice League Dark sells well enough I would really love to see a sequel with the whole cast back at it again.
Despite the fact that I thought things dragged a little bit at times in the second half of the film, I really enjoyed Justice League Dark. Part of it, as I said before, is probably because I just really like Matt Ryan's John Constantine. But the story itself is solid and entertaining.
Very few things cause me to be uncomfortable the way that the Justice League Dark opening did and I loved that. This mysterious affliction they're investigating literally drives a woman to toss her newborn baby off a skyscraper and a father to nearly murder his entire family. That's seriously dark – and I was kind of glad that while the rest of the film was pretty dark it didn't get quite that dark again.
I definitely recommend that DC fans check out Justice League Dark. And if there are any Constantine fans out there anxiously waiting for the upcoming CW Seed animated series, this should help you pass the time!
Special Features
Now, another reason that I enjoyed this movie so much is that DC Entertainment knows how to do special features. Their releases – be they full seasons of The CW series or animated feature films – always seem to come packed full of extras. Sometimes they are relevant and sometimes they are at best tangentially related. Either way, they are always a welcome addition. Justice League Dark has a mix of catered, film-related special features and an odd assortment of random stuff that for the most part is nice to have – if a little unnecessary.
One of the really cool things that they included is an almost twelve minute sneak peek of the upcoming Teen Titans: The Judas Contract. As one of the film makers says in the featurette, the upcoming film is more "inspired by" rather than "based on," as the story is being heavily adapted in order for it to fit in with the other DC animated films.
I'm not going to pretend to know a whole lot about either the original Judas Contract storyline or the Teen Titans in general. All I can say is that it's a really cool little sneak peek and I'm really, really excited for Christina Ricci's character Terra and to see Miguel Ferrer's final appearance as Deathstroke.
As far as more Justice League Dark-focused featurettes, there's an awesome little feature called The Story of Swamp Thing. It's essentially a short documentary about the origins and development of Swamp Thing. And while I said it's a 'little feature,' it is in fact close to twenty minutes long. From the very first appearance of Swamp thing to his modern incarnations both on screen and in the comic books, The Story of Swamp Thing covers the full history of the character. It also includes a bit specifically about his appearance in the Justice League Dark film. As someone who doesn't really know much about Swamp Thing generally, it was a really cool featurette to watch – and the passion of everyone involved really makes me want to explore the character more.
The Did You Know? featurettes are a series of sort of 'behind the scenes' videos giving insight into the Justice League Dark film and it's characters. They are pretty short. At most they are more than three-and-a-half minutes long. One focuses on John Constantine's Swamp Thing origins. Another focuses on the magic in the series. There is also one about this incarnation of Black Orchid and another about the casting of Deadman. I'll be honest, they're largely forgettable but since they're fairly quick to watch through you might as well give them a look.
Another cool featurette that was included is the Justice League Dark at New York Comic Con 2016 panel. I have said it before and I will say it again: I love that DC has been including these panels on their DVD and blu-ray releases. I love that it gives fans the chance to experience these convention moments even without being there. And this panel in particular does a lot more than just provide insight on Justice League Dark. They also talk a lot about other the other DC animated projects.
If Justice League Dark wound up being too dark for you, don't worry! DC has you covered in the form of a pair of Batman: The Brave and the Bold episodes featuring characters from the film. One has Batman teaming up with Deadman while another features Jason Blood – with an appearance by Sherlock Holmes! They're cute (that whole series was cute) and while they aren't really necessary they're cool to have nonetheless.
Also included on the blu-ray are sneak peeks for two previously released movies – Justice League: Doom and Justice League: Gods and Monsters. If you haven't seen them you may want to check out the sneak peeks. Otherwise they probably aren't worth the time.
Final Thoughts
If you've been enjoying DC's series of interconnected animated films so far then you'll definitely enjoy Justice League Dark. It's easily one of my favorite ones. I never quite got into the main Justice League titles though I have loved the films focusing on Bruce and Damien's relationship. Justice League Dark really pulled me back into this animated continuity they're working to build and it inspired me to give Justice League films another chance.
For those of you who didn't need me to go into quite so much detail convincing you to watch Justice League Dark because you were going to get the movie anyway, you may be wondering which version to pick up. The copy that we were sent to review was one of the limited edition gift sets. As far as I know, the only real difference between the standard blu-ray combo pack and the limited edition one is the inclusion of a pretty neat John Constantine figure. The figure is modeled off Constantine's character design in the film and despite the fact that he's doing something weird with his hand (possibly smoking without a cigarette or maybe using some kind of magic) it's definitely cool.
Is it cool enough to justify the price difference? That's really up to you to decide.
Regardless of which version you get, I'm pretty sure you'll enjoy the movie. It's out today on blu-ray, DVD, and digital HD. As always, I recommend picking up the blu-ray combo pack since it comes with both the blu-ray and DVD as well as a digital copy. I'm all about setting up your own digital library and it's never too late to start!