The Adventures of
Archer & Armstrong
Volume 1: In the Bag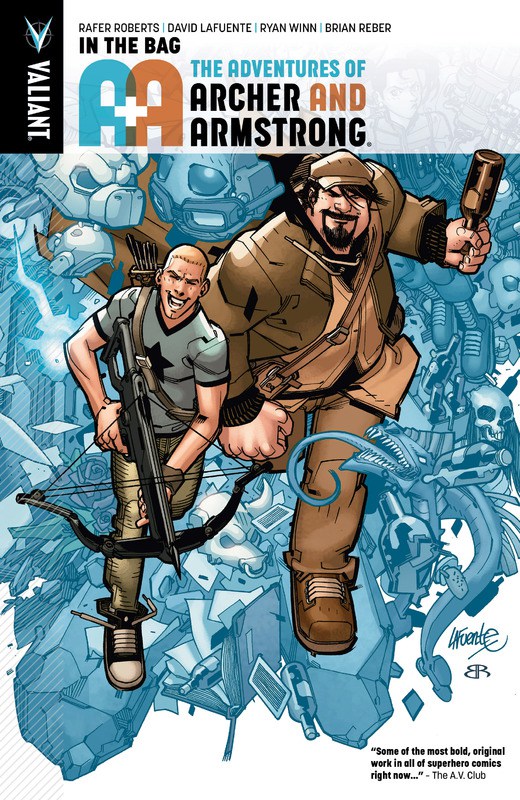 Author: Rafer Roberts
Artist: David Lafuente
Release Date: August 17, 2016
Publisher: Valiant Entertainment
Review Spoilers: Mild
GoodReads | Amazon 

All right, so, I have a confession to make. Until a couple of months ago I had no idea who Archer and Armstrong were. I'm a huge comic book fan but I had yet to branch out into Valiant Comics' offerings. I got a copy of the first issue of the latest Archer and Armstrong on-going series (and also the first issue of Faith) at San Diego Comic-Con this past summer and I was intrigued. When the collected edition of Archer and Armstrong came out I had to read it.
If nothing else, I wanted to see what came next!
As an introduction to the series, In the Bag works fairly well. It introduces you to what I assume are the majority of the primary characters – namely Archer, Armstrong, and Archer's foster sister Mary-Maria. They do a decent job of establishing these characters and their relationships for new readers while still moving things forward for people who know a lot more about what's going on.
Sure, for readers who have no background with the series at all (like me) some of the stuff going on seems pretty weird. But the story arc explored in this volume lends itself well to the easing people into the Archer and Armstrong world.
The bulk of the story focuses on Armstrong and his past. New readers are introduced to his immortality and some of his past exploits through a story about his falling out with two of his old companions. They fall in love – but that doesn't stop Armstrong from making a pass at his best friend's soon-to-be-wife and basically ruining the relationship. There are then plenty of parallels between that part of the story and a sort of relationship growing pains that Archer and Armstrong themselves are going through.
When they go missing while exploring Armstrong's bag (which is basically infinite in-size like Hermoine's bag in Harry Potter except that things live down there and have basically evolved their own ecosystems after hundreds of years), Mary-Maria is the one who ultimately has to come rescue her. What's going on with her and her group of lady ninjas? I honestly have no idea. But we start to become familiar with that whole part of the Archer and Armstrong universe.
And that's the most important thing.
We get a pretty easy to follow narrative that introduces characters for new and old readers alike. We get a self-contained story that managed to provide exposition and still move the story ahead. It's quite the feat for a first volume to accomplish but it manages all the same. Granted, I could still have used a bit more explanation but I understand that they have to account for what the current fans are willing to put up with as far as exposition goes.
If you're looking to get into the Archer and Armstrong series for the first time, this is a great place to start!

A REVIEW COPY OF ARCHER AND ARMSTRONG VOL. 1: IN THE BAG WAS PROVIDED BY THE PUBLISHER VIA NETGALLEY IN EXCHANGE FOR A FAIR AND HONEST REVIEW. NERDOPHILES WAS IN NO WAY COMPENSATED FOR THIS REVIEW. OUR OPINIONS ARE OURS AND OURS ALONE.