Illuminae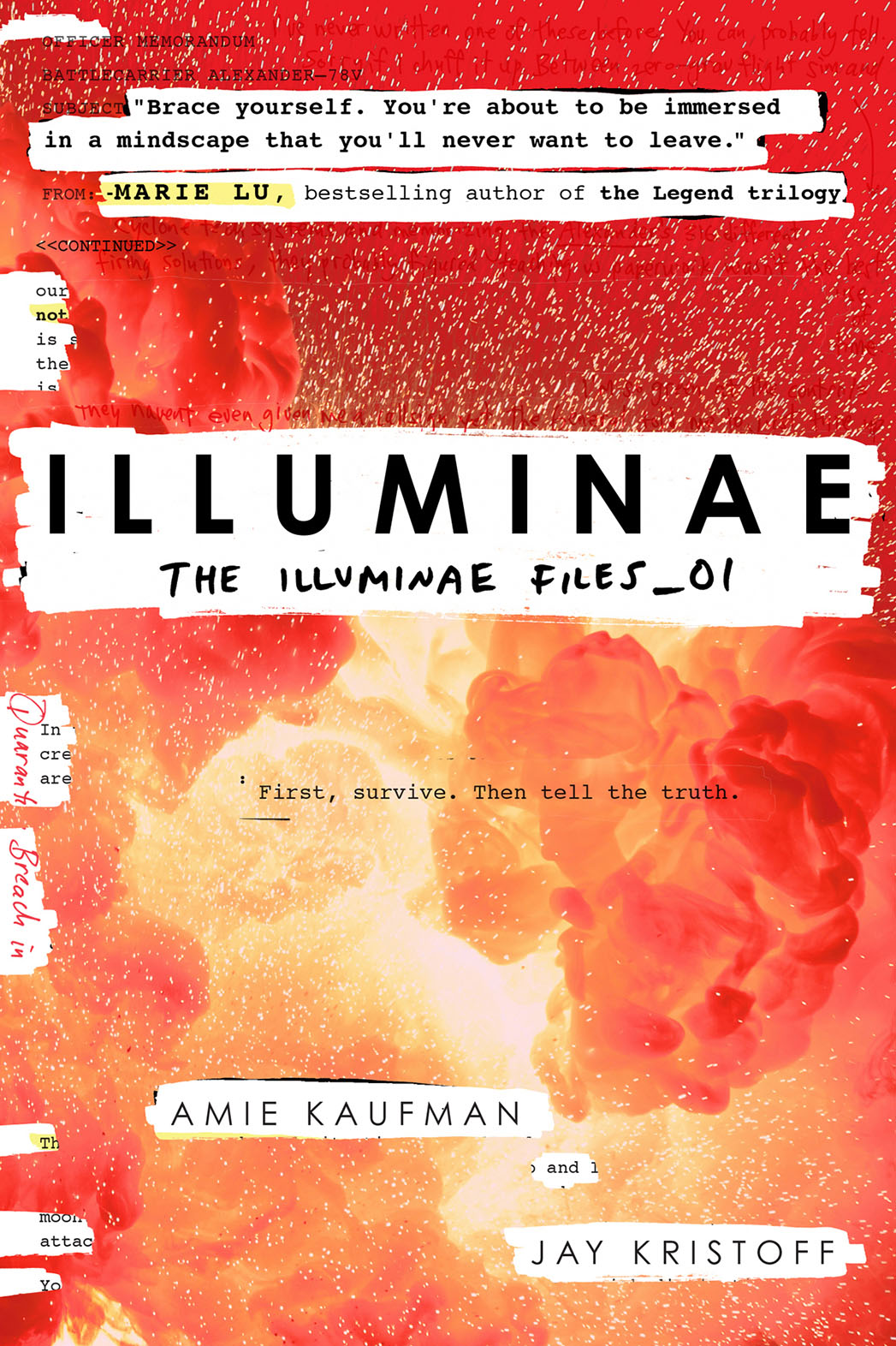 Authors: Amie Kaufman and Jay Kristoff
Series: The Illuminae Files #1
Release Date: October 25, 2015
Publisher: Knopf Books for Young Readers
Genre(s): Young Adult, Science Fiction
Review Spoilers: Mild
GoodReads | Amazon 

Young adult sci-fi has flourished as a sub-genre over the past few years as readers have found a renewed interest in all things science fiction. For a while you were mostly seeing series like the
Hunger Games
and
Divergent
– or series trying to match that general aesthetic. But we're moving past the deluge of series set in bleak dystopian futures. Authors are giving us something else – something better. They're starting to latch on to what truly makes science fiction such a fun genre. They're taking us into futures full of space travel, exploration, and infinite potential.
While some authors are taking a more traditional approach to their story telling, the two authors behind Illuminae sought to really mix things up.
Illuminae is set in the distant future and follows two young people from an illegal mining colony operating outside their host corporation's boundaries. Kady, who is basically computer genius, is busy trying to deal with the aftermath of breaking up with her boyfriend Ezra when their home world is invaded.
Hours after their relationship fell apart they find themselves trying to escape to safety while the rival corporation tries to wipe them off the map. In the end they escape to a small, makeshift fleet of ships desperately trying to stay alive long enough to escape the murderous ships pursuing them.
Kady winds up on one ship. Ezra ends up on another.
While Ezra is conscripted and learns to fly – wholeheartedly throwing himself into the military lifestyle – Kady rebels and becomes a part of an underground movement encouraging a freedom of information. They live two separate lives but fate concocts a turn of events that winds up bringing the two of them back together.
The story is told not in third-person or even first-person but through a series of documents.
From text messages between Kady and Ezra to casualty lists, maps, incident reports, and more, we learn about what's going on aboard these ships and what's happening to our two protagonists. Iluminae serves as fascinating example of a modern epistolary novel. There are crises and mysteries to be unraveled and through this intricately developed series of documents, we see the story unfold.
Transcripts and text messages give our characters a voice while the other documents give us an idea about what's going on in the wider world around them. They aren't the only ones who end up getting face time, either. As the story goes on, another 'character' that becomes hugely important is the military AI that helps run operations on board the military ship to which Ezra is assigned. It brings a whole new dynamic to an already strange story.
Illuminae is a huge book but at least it doesn't feel that way.
Instead, it will feel like you're pouring yourself into a real-life mystery that's begging to be told. It's like you're scouring through the sort of documents and information you never should have seen. And yet it still manages to offer a solid, well-paced story that's as much about character development as it is anything else.
Illuminae isn't just your standard sci-fi fair either. It offers a little bit of everything from romance to action – even horror. I don't want to spoil too much but if you're a fan of the Dead Space series you'll probably enjoy this book.
I really can't say enough good things about what Amie Kaufman and Jay Kristoff have done with this book. It's a fantastic – and incredibly unique – read that I highly recommend to anyone who loves science fiction as much as I do. The book channels so many of your favorite series and it never loses it's appeal. The further and further you get into the story the more and more you want to read of it. I had an absolute blast reading through this book.
And you will, too!
If you are interested in reading Illuminae, you might want to jump on board with this series quickly. The second book in the series, Gemina, comes out October 16th! A word of advice for anyone who is picking these books up, though. Get them in hardback! I'm a huge fan of ebooks but the book's hardcover design is phenomenal and you'll thank yourself for giving yourself the chance to flip back and forth between pages.

A REVIEW COPY OF ILLUMINAE WAS PROVIDED BY THE PUBLISHER IN EXCHANGE FOR A FAIR AND HONEST REVIEW. THE REVIEW IS BASED ON THE HARDCOVER EDITION OF THIS NOVEL. NERDOPHILES WAS IN NO WAY COMPENSATED FOR THIS REVIEW. OUR OPINIONS ARE OURS AND OURS ALONE.