Star Wars Rebels: Season One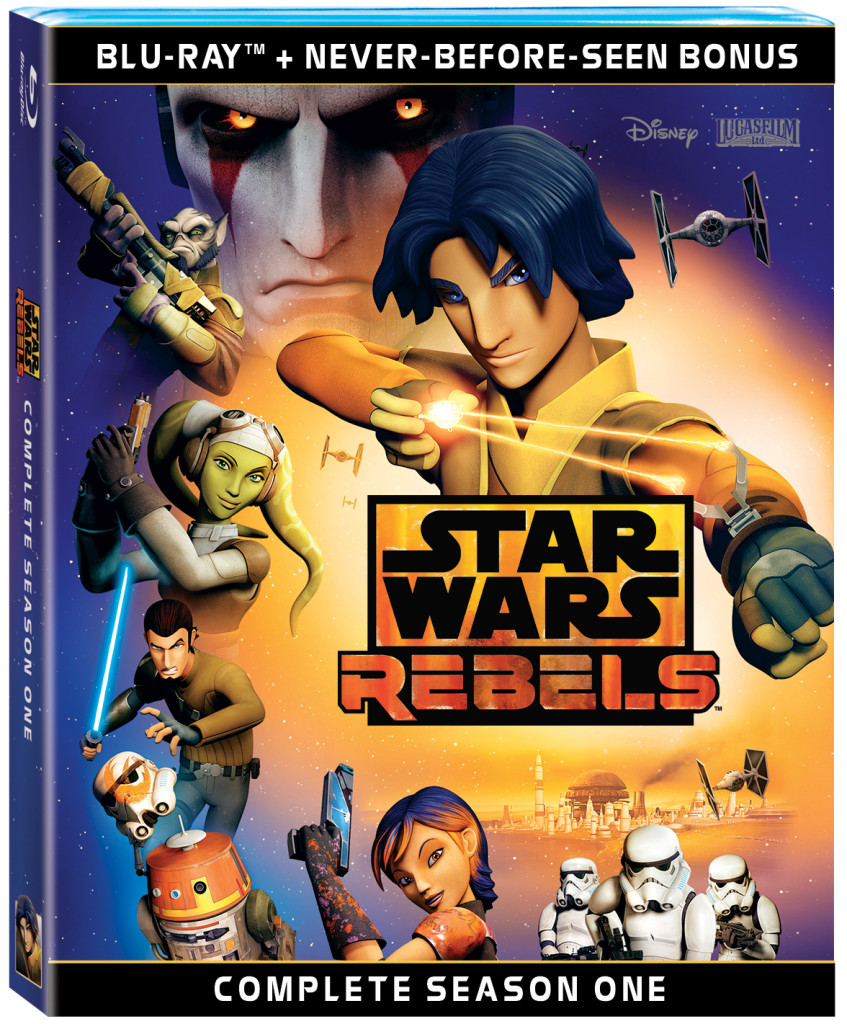 Release Date: September 1, 2015
Cast: Freddie Prinze, Jr.; Taylor Cray; Steven Blum; Vanessa Marshall; Tiya Sircar; David Oyelowo; Jason Isaacs
Creators: Dave Filoni, Simon Kinberg, Carrie Beck
Studio: LucasFilm Animation
Distributor: Disney-ABC Domestic Television and Buena Vista Home Entertainment
Genre(s): Animated, Science Fiction
Extra Feature Rating: ★★★★☆
Rating: ★★★★★
Review Spoilers: Low
Amazon | IMDB | Wikipedia | Rotten Tomatoes
If you haven't been watching Star Wars Rebels on Disney XD now is the perfect time to start. The first season is out on DVD and blu-ray today and that gives you plenty of time to catch up before the second season picks up again on October 14th. (With any luck, Disney XD will re-air the hour-long second season special 'Siege of Lothal' sometime in October, too.)
For those of you who watched The Clone Wars I don't think I really need to explain to you how great a show generally marketed towards kids can be – especially when it has the full weight of the Star Wars franchise behind it. If you want my personal opinion, though, Star Was Rebels is an even better series. Where The Clone Wars took it's cue from the prequel trilogy, Rebels is built off everything that made the original trilogy great.
Set about four years before A New Hope and the beginning of Luke Skywalker's adventures, Rebels follows a cell of resistance fighters led by former Jedi padawan Kanan Jarrus. He's joined by the crew of the Ghost, a ragtag group who all have their own reasons for fighting against the Empire. They get their missions from the mysterious "Fulcrum" who helps them make a difference in the lives of those suffering under Imperial rule on the planet Lothal.
In the first episode the team is joined by young Ezra Bridger whose fate quickly becomes intertwined with theirs. Living alone on the streets since his parents were taken by the Empire he finds a place for himself as Kanan's apprentice making a real difference in the lives of the oppressed on Lothal. Along the way Ezra and the others face harrowing enemies like the Force-sensitive Inquisitor and meet old Star Wars favorites like Lando Calrissian.
The greatest strength of the series is it's unique cast of characters. Kanan and Ezra are joined by Hera, the strong-willed and focused captain of the Ghosts; Sabine, a Mandalorian dropout from the Imperial Academy; Zeb, one of the last of a species effectively wiped out by the Empire; and Chopper, a spunky and mischievous astromech droid. They form a really tight-knit family through which we get to experience a whole new story within the Star Wars universe.
It's just an absolutely fantastic series.
And the blu-ray release is pretty much everything I could have hope it would be.
Some series releases can be disappointing but Disney really made sure that this one had everything you'd expect. Star Wars Rebels Season One includes some great bonus features and the great thing about them is that every single one is worth watching.
Here's what's included.
Rebels Recon
A lot of blu-ray releases have behind-the-scenes features but not a whole lot of shows release those behind-the-scenes features as each episode airs. If you follow Star Wars Rebels on YouTube, though, you'd know that this is one of those shows. Each week Disney would release a short featurette talking about how that week's episode came together and at the end they would include a sneak peek at the next episode.
I'm not going to lie to you guys… I didn't watch these when the show was actually airing. And if you didnt' either now is the perfect time to do so!
You might think they are kind of lame but trust me – they are awesome. I love seeing the storyboards and hearing how everyone came up with the story behind each episode. Plus even lifelong fans like me can learn something new. For example, I somehow missed that C-3PO had mismatched legs until it was pointed out to me in one of the Rebels Recon shorts. I've been a Star Wars fan for over twenty years now.
The inclusion of these shorts on the blu-ray has made me a convert. I'm totally watching them as they are released next season!
Rebels Season Two: A Look Ahead
If you just can't wait until Season Two returns in October you're in luck! This seven minute featurette gives fans an exclusive look at the upcoming season and features a footage that hasn't been scene anywhere else yet. Several previously unannounced characters make their initial appearances including a deadly bounty hunter and several of the Inquisitor's underlings who are now on the hunt for our heroes. We also get to see the return of some familiar faces including Rex and Hondo! We also get a look at some storyboards, Sabine's new look for Season Two, and more. It should hopefully be enough to tide you over for a month and a half.
Star Wars Rebels: The Ultimate Guide
Heads up, folks. Do not watch this feature until you've watched the full season on your own. The Ultimate Guide clocks in at just under half an hour and is a brief summary of everything that has happened this season. It's narrated by Kanan himself as he explains all the shenanigans his group of rebels have gotten up to but it's obviously chock full of spoilers. That said, it could be useful if you need a quick refresher before Season Two starts up.
Rebels Infiltrate Star Wars Celebration
Attending Star Wars Celebration has sort of been dream of mine since I was a little kid. Sadly, it's still an unrealized dream. But I was really excited to get a chance to see a little bit of Rebels' presence at this year's convention. I love hearing people talk about Star Wars. It's probably super sappy and corny but seeing people come together and experience the series just really warms my heart.
There's a moment in this featurette where you get to see the crowd reaction to the first sneak peek at footage from Season Two. It's not just the crowd that's in awe, though. The cast and crew get out of their seats and sit on the stage so they too can watch the trailer. This is the kind of impact this franchise has. And if you're like me and you haven't gotten to attend yourself at least you can see a little bit of what it's like to attend not just as a fan but from the perspective of the Rebels cast and crew. The fact that they seem to be having just as much fun and to be in just as much awe as anyone else is really great to see.
You've really just got to love the folks behind this series.
The Star Wars Rebels Webseries Shorts
Out of all the special features on this release these are easily the shorts I was most excited to see. I missed out on the the web exclusive tie-in shorts when they first aired and I just never got around to tracking them down. The Machine in the Ghost, Art Attack, Entanglement, and Property of Ezra Bridger are five minute or so shorts that give us a brief look at the team's lives before the events in A Spark of Rebellion. Even though they are short, they're a lot of fun and well worth watching.
I'm really, really glad they were included. It's not like they were hard to find on YouTube but having them all together on the disc really brings sense of completion to the release. Also, it's nice to see that Ezra and I are kindred souls. I would totally collect various Imperial helmets to display proudly on my mantle.
Really, there are only two downsides to this release.
The first is that a good portion of the special features are available online already. That's not really a big deal. I am one of those people who loves to have a hardcopy of basically everything. Package and bundle it with a complete version of something and I am perfectly happy. Plus the couple of exclusives we have added on more than make up for that.
The other thing is that there's no digital copy included. This isn't just a gripe against Star Wars Rebels but Disney as a whole. Season releases of Agents of SHIELD and other series have been the same. While their blu-ray films include digital copies their series do not despite the fact that they are all available through Ultraviolet and compatible services like VUDU, Amazon, iTunes, and others. I watched this series three times this weekend just for this review. It would just be nice to boot it up on my iPhone anywhere at a moment's notice the same way I can Frozen.
Otherwise, this is the perfect release.
Seriously, I couldn't have hoped for more. It's been a long time since I've been this pleased with a blu-ray release. Star Wars Rebels is an amazing series in it's own right complimented with a great set of bonus features. It's a must-have for Star Wars fans and I really mean it when I say this is the absolute best way to tide yourself over until The Force Awakens.


A REVIEW COPY OF STAR WARS REBELS: SEASON ONE ON BLU-RAY WAS PROVIDED FOR THE PURPOSE OF THIS REVIEW. NERDOPHILES WAS NOT COMPENSATED FOR THE REVIEW AND THE OPINIONS HERE ARE OURS AND OURS ALONE.