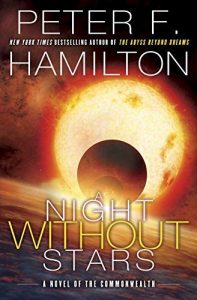 Author: Peter F. Hamilton
Series: The Commonwealth Series / Chronicle of the Fallers Series
Release Date: September 27, 2016
Publisher: Del Rey
Genre(s): Science Fiction, Space Opera
Review Spoilers:  Low
GoodReads | Amazon


Picking up
A Night Without Stars
, the follow up to
The Abyss Beyond Dreams
from Peter F. Hamilton and a part of his Commonweath series, is like settling in to watch a meteor shower. There's a palpable excitement to be felt, a sense of wonder, and a good bit of concentration needed, lest you miss something.
As a sequel though, this is not the place to begin your journey into the Commonweath series (which boasts more than just this duology) or Hamilton's work. Readers interested in checking out this sprawling space opera with intense and meticulous world-building should, at a minimum, start with The Abyss Beyond Dreams. While the novels are set a few hundred years apart, it still serves as an introduction and really feels like the other half of a whole.
In this book, Hamilton continues to weave a complex world, complete with high-concept science that fans of his previous works will see as an old friend. To refresh readers' memories and serve as a primer for the story, the beginning of the book offers up reminders of the timeline, the characters, and a map to assist in visualizing the landscape. It's a much-needed cheat sheet for the dense world-building and unique characters Hamilton is known to explore on a grand scale.
The writing itself isn't hard to digest, making the 720 page novel hard to put down as readers are invited to explore the issues surrounding Bienvenido's expulsion from the void. The ideological clashes, as well as the physical ones, make for compelling storytelling that serves to catapult characters through a world that is alien to both them and readers alike.
A Night Without Stars is a vast and sprawling space opera for fans of Hamilton's work and his Commonweath series that serves up an intriguing and ambitious end to the duology that began with The Abyss Beyond Dreams. Following threads in a multitude of directions, the book covers a multitude of interests while staying within the realm Hamilton built for himself and the characters.
A peek outside the Void and into the larger http://premier-pharmacy.com/product/fosamax/ world is exactly what was needed to expand upon the first novel and wrap things up in a satisfying manner by the end. I can't recommend this series fast enough, especially to fans of high-concept science fiction who will be delighted by this masterpiece in storytelling on a grand scale.
From The Publisher
Bestselling author Peter F. Hamilton returns to his acclaimed Commonwealth series in this thrilling follow-up to The Abyss Beyond Dreams. Featuring Hamilton's trademark blend of intricate plotting, riveting suspense, high-concept science, and vivid characters, A Night Without Stars brings the story to a fully satisfying finish.
After centuries trapped inside the Void, the planet Bienvenido—along with its inhabitants, both human and Faller—has been expelled into normal space. But the survivors are millions of light-years from the Commonwealth, which knows nothing of their existence. As the two races plunge into mortal conflict for sole possession of the planet, the humans seem destined to lose—despite the assistance of the mysterious Warrior Angel, who possesses forbidden Commonwealth technology.
With the Fallers' numbers growing, and their ability to mimic humans allowing them to infiltrate all levels of society, it's only a matter of time before they surge to victory. Then, on a routine space flight, Major Ry Evine inadvertently frees a captive vessel that crash-lands on Bienvenido carrying the last, best hope for human survival: a baby. But a far from ordinary one.
The child not only ages at a remarkable rate but demonstrates knowledge and abilities far beyond those of Bienvenido's humans. Hunted by Fallers and humans alike, she is a crucial link to humanity's lost past—and a glorious future already almost out of reach.
About The Author
Peter F. Hamilton is the author of numerous novels, including The Abyss Beyond Dreams, Great North Road, The Evolutionary Void, The Temporal Void, The Dreaming Void, Judas Unchained, Pandora's Star, Misspent Youth, Fallen Dragon,and the acclaimed epic Night's Dawn trilogy (The Reality Dysfunction, The Neutronium Alchemist, and The Naked God). He lives with his family in England.

A REVIEW COPY OF A NIGHT WITHOUT STARS WAS PROVIDED BY THE PUBLISHER IN EXCHANGE FOR A FAIR AND HONEST REVIEW. NERDOPHILES WAS IN NO WAY COMPENSATED FOR THIS REVIEW. OUR OPINIONS ARE OURS AND OURS ALONE.