Comics Confidential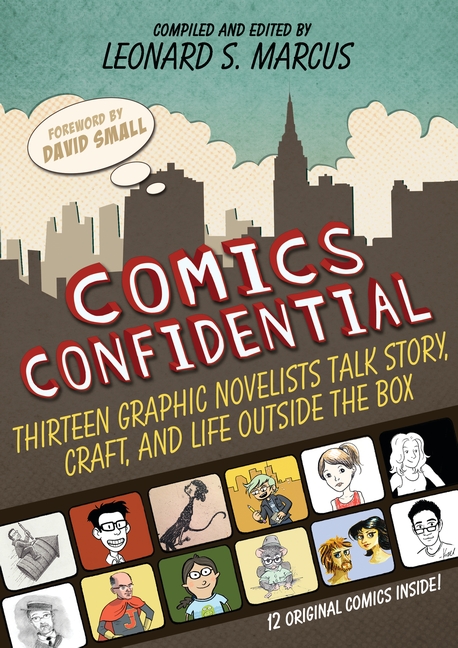 Editor: Leonard S. Marcus
Release Date: September 27, 2016
Publisher: Candlewick Press
Genre(s): Non-Fiction, Interviews
Review Spoilers:  N/A
GoodReads | Amazon


Rating:

As you may have noticed, pop culture has entered into a sort of nerd renaissance. Comic books and graphic novels in particular have become increasingly popular in recent years. We're not just talking about the superhero-centric books you'd expect from publishers like Marvel and DC. Artists and authors across all genres are writing graphic novels targeted at a wide variety of readers. They are embracing the medium and telling the kind of stories that might never have been told before. From epic fantasies to touching autobiographic novels, you can find all kinds of graphic novels these days.

We're huge fans of graphic novels here at Nerdophiles and so we were very excited for the release of Comics Confidential. Comics Confidential appears to take it's cue in part from the 1988 documentary Comic Book Confidential, which profiled some of the iconic creators of the time. Comics Confidential does something similar with a sampling of thirteen graphic novelists working in the industry today.

You'll probably recognize a lot of their names:
Harry Bliss
Catia Chien
Geoffrey hayes
Kazu Kibuishi
Hope Larson
Danica Novgorodoff
Matt Phelan
Dave Roman
Mark Siegel & Siena Cherson Siegel
James Sturm
Sara Varon
Gene Luen Yang
The interviews were conducted over the last few years and are really wonderful to read. Each person is asked a series of questions not just about their work but also about their childhoods and backgrounds as well. They talk with Leonard Marcus about how they developed their artistic ability and how they became interested in art as a career.
All of them come from different backgrounds and, for some, art may not have been their first career choice. But in the end they found their way to embracing graphic novels and becoming the creators we all know and love today.
Each of the interviews is joined by an original short comic prepared by the graphic novelists for this volume. The general theme centers around the idea of "the city," but each of the different artists takes that theme and makes it their own. They also provided their own self-portraits for the book as well, which I think is probably one of the coolest things about Comics Confidential.
Comics Confidential is very well written and would be perfect for younger readers and is not only informative but also has the potential to widen their horizons as far as reading comics goes. It would make a formidable companion to Brian Michael Bendis' Words for Pictures. And it's a great non-fiction alternative for kids who are already obsessed with comics and graphic novels!
Hearing these stories will hopefully be inspiring to some readers – especially young readers. As much as some people love reading graphic novels, they may not see them as a possible career route. Comics Confidential will give them a fantastic opportunity to really see where their favorite graphic novelists came from and to see the paths they took to get where they are today. All of them were kids, too, once upon a time and knowing that will hopefully encourage them to embrace their own creative endeavors!

A REVIEW COPY OF COMICS CONFIDENTIAL WAS PROVIDED BY THE PUBLISHER IN EXCHANGE FOR A FAIR AND HONEST REVIEW. NERDOPHILES WAS IN NO WAY COMPENSATED FOR THIS REVIEW. OUR OPINIONS ARE OURS AND OURS ALONE.