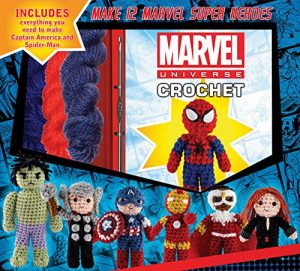 Release Date: September 16, 2016
Publisher: Thunder Bay Press
Genre(s): Crafts & Hobbies
Review Spoilers: N/A
Amazon

Are you still looking for one final holiday gift for that crafty nerd in your life? Search no more, the
Marvel Universe Crochet
kit is exactly what you need to give a gift that will continue to entertain long after the holidays have ended! You can pick it up on Amazon right now and, using Amazon Prime, have it at your door before Christmas.
This kit is especially great for beginners who are looking to try their hand at crocheting before fully committing to the (expensive) hobby. Trust me, I've bought yarn before and once you go down the rabbit hole, there's no climbing out! This kit includes a booklet with instructions for creating twelve of Marvel's most famous characters out of yarn, as well as all of the accessories needed to create Spider-Man and Captain America right out of the box.
With six colors of yarn, a crochet hook, a needle, embroidery floss, felt, safety eye beads, and stuffing, the only thing you may need to provide yourself is the glue to put Spider-Man's felt eyes on. The booklet also contains the instructions for Ant-Man, Falcon, Thor, Iron Man, Hawkeye, Black Widow, She-Hulk, Hulk, Star-Lord, and Groot! There's bound to be at least one fan-favorite in that group (Groot!!!) for the geeks out there counting down to the next Marvel movie.
The booklet itself, from Thunder Bay Press and author Kati Galusz, is 76 pages and approaches crocheting from the viewpoint of a newbie. There is an introduction from Galusz, who is clearly a giant nerd herself, a visual explanation of the materials provided in the kit, and an abbreviation chart to clue crafters in to the secret language of crocheting.
There are also some great detailed notes on the preferred tools and materials and why the author recommends them specifically. Pictures accompany an explanation of each stitch and technique that clearly showcases everything needed to complete the projects in this booklet. It's definitely helpful for beginners like myself to have those cues to model my project after.
From there, it's onto the projects! Each project gives a little blurb on the superhero being made, an expected finished size – ranging between 3 to 6 inches depending on the hero (Groot and Hulk are on the larger size) – and the materials needed to complete the project.
I will say that the one drawback to this booklet is that the templates needed, like Spider-Man's eyes and Falcon's wings, are put directly on the pages and tracing them proved to be a little bit challenging. I would have preferred some kind of perforated pages at the back of the book that could be pulled out and traced for projects. It didn't even need to be perforated for fear of losing the templates, but just separated from being put into the middle of the instructions would have been slightly more convenient.
It was also difficult to keep the small booklet open to follow along at times. It being compact and slightly stiff meant that it would sometimes close on its own while I had my hands full of yarn. However, both of those issues hardly took away from my enjoyment of the book and the relatively easy projects. I can see myself picking this up for the holidays next year to give all of my friends their favorite Marvel superhero in yarn form.
Did you make it this far and think, 'This is awesome! …But I'm not much of a Marvel fan?' Thunder Bay has you covered with a variety of other fandoms – including Disney Classic Crochet, Disney Frozen Crochet, Disney Princess Crochet, Peanuts Crochet, Rudolph The Red-Nosed Reindeer Crochet, Star Wars Crochet, and The Wizard of Oz Crochet!
With that many options, there's bound to be at least one to entice your giftee and who knows, maybe next Christmas you'll get a ton of tiny crocheted Ewoks in your stocking!

A REVIEW COPY OF MARVEL UNIVERSE CROCHET WAS PROVIDED BY THE PUBLISHER IN EXCHANGE FOR A FAIR AND HONEST REVIEW. NERDOPHILES WAS IN NO WAY COMPENSATED FOR THIS REVIEW. OUR OPINIONS ARE OURS AND OURS ALONE.