Mr. Robot: 1.51exfiltrat0n.apk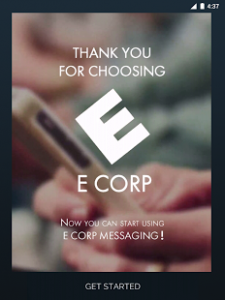 Release Date: August 12th, 2016
Developer: Night School Studio
Publisher: Telltale Games
Genre(s): TV based game, story based/pick-your-adventure

System:
 Android, iOS
Review Spoilers:
 Low
Google Play | iTunes
It is time to dive further into the world of USA's Mr. Robot with the new E-Corp Messaging app published through Telltale Games. Starting the game, you as the player find a cell phone on Coney Island and figure you'll get a few free extra minutes by taking it. Only nothing is ever truly free, which you'll quickly realize as you're dragged into a confusing narrative that will leave you paranoid, and scrambling to figure out just what you have gotten yourself into.
For fans of Mr. Robot, this game is a must. For $3, fans can download the app and begin their choose-your-own-adventure journey. The game play is simple: masked in what appears to be a perfectly legitimate messaging app is a story line players have to unlock in real time.
You will receive messages from Darlene, desperate to get her phone back, Elliot who needs your help but believes you're Darlene, and a number of spam texts which are a little too real and showcase some legitimate New York City businesses.
This app does a fantastic job of immersing the player in the world of Mr. Robot and adds all the right flourishes, such as realistic pacing and forcing the player to wait to progress the story, lending to the reality of texting where no one ever seems to answer immediately when it is important!
There are a few unfortunate quirks that set the game apart in less appealing ways, like the fact it buzzes incessantly at you whenever you navigate away from the app even when you don't have new messages, or the long all-too-realistic wait times before furthering the plot. While the realism is there, sometimes when it comes to games it is not realism we're looking for.
If you are not a fan of the show looking for easter eggs and bonus items in the game, as well as getting a kick out of interacting with the characters from your favorite show, then it is probably an app you'll want to skip. It is extremely fan-oriented, and may be found lacking when held up as solely a game, since it is not particularly groundbreaking.
However, as stated, if you're a fan of the show Mr. Robot and want to take that to the next level, this game is definitely worth the $3 to play. It is quirky and realistic enough to draw players into the world and allow them to join the narrative. We get to become a character in the show, and for fans it does not get much better than that.