Dodging ever-present questions about who survived the sixth season finale (which gets old, according to Danai Gurira and echoed by most of the cast members), we were able to sit in on The Walking Dead press conference at San Diego Comic Con 2016, where the focus was on the expansion of the world with the introduction of new factions and areas, fan reactions, character relationships built up through the sixth season, and all things Negan!
Robert Kirkman and Scott Gimple were the first ones to joke that it's easy to say nothing about the new season to avoid spoiling anything, but they were able to comment on the newly dropped trailer that shows a familiar face (and tiger!) to comic book fans.
The story has naturally progressed to the point where they can bring in Ezekiel and Shiva, which Kirkman clarified was pronounced, "Shee-va," and that more surprises are coming, but as far as new characters being introduced, these are the first two. With the introduction of so many new groups, audiences will get to see different ways of life and how different groups have survived.
We already know about the Alexandrians, and we have seen a little bit of the Saviors and how they operate, and the group has been introduced to the Hilltop. In season seven, we will also get a closer look at Ezekiel and The Kingdom, presumably where Morgan was headed at the end of last season.
As far as knowing where Ezekiel's story is headed, the goal has been to use the comic as a roadmap to bring things into the show. Frequently, it's the same moments in different ways (like Hershel's beheading in place of Tyreese at the hands of The Governor). Comic readers will recognize Ezekiel and Shiva, but won't be able to anticipate everything.
When asked if we would ever see the show venture into wintertime or filming in the snow, it was agreed that one way or another they'd get to that point eventually. Gimple said he'd be shocked if they didn't, and Kirkman joked that they CGI'd a tiger this season, they can definitely CGI snow in the future.
Greg Nicotero was asked about the zombies this season, which so often mirror the state of the survivors. He shared that there are some amazing walkers to come and that the special effects are really intrinsic to the storytelling. His staff brought an enthusiasm to the job every day and took real pride in their work and in pushing the envelop. Seven years ago there was nothing like this on television and he shared that it's gratifying to see how people are inspired by his work.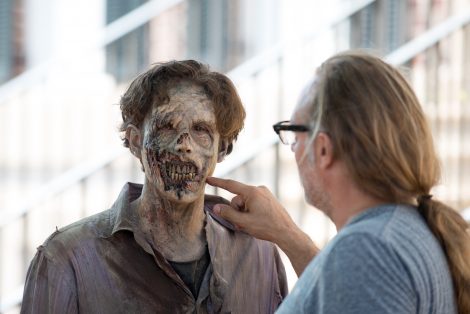 Gimple also wasn't afraid to be honest when asked about fan reactions to his storytelling choices, which usually run the gamut. He respects fan reactions, but finds that he can't be afraid to make creative choices for fear of backlash. David Alpert shared that it's great to see fans associate with the characters.
Josh McDermitt made sure to point out that Eugene has made it to a great point in his story arc and that fans have reached out to tell him how much they enjoy his character and hope he doesn't end up being Negan's victim. McDermitt described Eugene as having a newfound confidence and fans are rallying around that character. Everyone has favorites, but fans don't seem to want to see anyone go.
On the other end of fan reactions, Steven Yeun talked about how he was holed up in his apartment and rarely left for the entirety of the "dumpster time" to try to avoid spoiling his return. He admitted that with long-running shows, there is an understanding that you sign up for a specific lifestyle to a degree.
Danai Gurira was asked about representing dark-skinned black women in such a huge piece of pop culture, which she confessed was a blessing. She had nothing but good things to say about the cast and crew, as well as Kirkman and Gimple for creating the character of Michonne and allowing her to tell Michonne's story. She acknowledged that her character isn't one often seen in pop culture and she does not take the responsibility lightly.  
Naturally, the topic of Richonne also came up and Gimple revealed that the seeds of Richonne were sprouted for him long before he was the showrunner. Back in season 3, during "Clear," he saw the chemistry between the characters and joked that he did some "fanfiction-y" things in future episodes to lead up to Richonne. It was in that episode that he first thought, "Maybe this could work…" and he found it gratifying to bring that chemistry to fruition.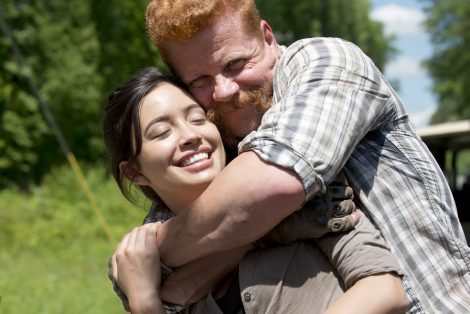 Michael Cudlitz was asked about Abraham's love triangle with Rosita and Sasha. He explained that first and foremost, the relationship with Rosita was one of convenience and Abraham didn't fully understand how he ended up there with her. Initially, he thought it was about survival and Rosita explained that Abraham was the first person who didn't want something from her. Abraham views Rosita as someone strong and intelligent who learned to survive the apocalypse and that he did fall in love with her, but it wasn't the kind of love that sustains itself over time.
During their brutal breakup scene, Cudlitz claimed Abraham was trying to say the cruelest thing possible to stop the conversation, the infamous, "Why are dingleberries brown? That's just the way shit is." Cudlitz did admit that they were well suited for each other, but Abraham found someone who was amazing in other ways to move forward with. He thought that Abraham sees in Sasha a more pure love like he had with his wife before her death.
Lauren Cohan was asked about where Maggie was emotionally with her pregnancy at the end of season six and she shared that Maggie was, at her core, a hopeful character. Cohan questioned who a person becomes and what they learn at the end of the kind of journey the characters have taken so far.
She admitted that if the Maggie sitting on the ground outside of that trailer had the opportunity to tell the Maggie from four years ago anything, she probably wouldn't. Maggie had to go through all of those experiences to be where she is and to gain the wisdom that she has.
Norman Reedus spoke a little bit about how his character's friendship with Carol has changed and how he watched Melissa McBride bring Carol so far as a character. He pointed out how Daryl always has Carol in his peripheral vision and that he's confident when she's watching his back.
Gurira talked about the closeness of all of the characters as well, citing Carl's defense of Glenn (when he made a point of, "He's Korean!"). And it was Yeun who commented that all of these bits and pieces fit together to show some of their overconfidence in initially taking on Negan.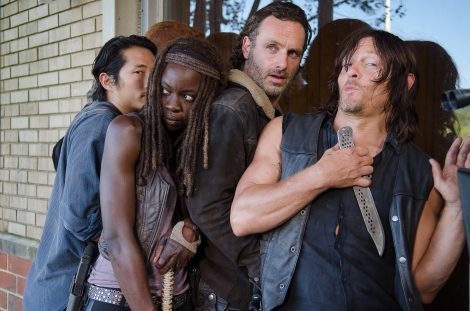 When asked about how Carl and Negan get along next season, Chandler Riggs was quick to point out that Carl doesn't like Negan at all. He's one of the few characters that wanted to fight in that final scene and he's not afraid to stand up to Negan still. McDermitt chimed in to say Eugene wants to fight too – through the tears!
The actors were asked about whether they felt their characters went into the confrontation with Negan overconfident in their abilities. As he said a few times, Yeun absolutely thought they were. He referenced how Glenn and Michonne had been captured and were still very calm and felt they were in control of the situation. In that final scene, he thought the characters were more scared than they had ever been before.
Cudlitz thought it was supported overconfidence based on previous encounters. He thought that based on the information the characters were working with, they thought they could deal with it. The characters learned along with the audience that they were in over their heads.
Gurira agreed with Cudlitz about having confidence from past successes. She explained that the group was agile and they had a strategy. They were ready to conquer this obstacle the same way they always had and… audiences know how that turned out for the characters.
Andrew Lincoln talked about preparing for the last scene where Negan emerges from the trailer and once again praised the cast and crew for their work on the show. He talked earnestly about how everyone wants to tell the best story and the feeling is infectious on set.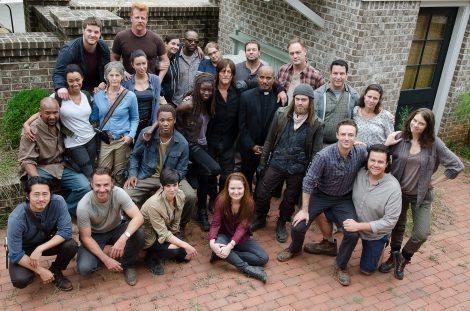 He felt they created a sacred space where the actors were allowed to be vulnerable and display those emotions. Lincoln also talked about how emoting off camera was how they were going to help get the best story and that the actors had no problem helping out and contributing.
Lincoln was also asked about where Rick was emotionally in that final scene, as well as what sense of responsibility he felt for his group at that point. He thought that hubris was the theme in the back eight episodes of the season. It was probably the right thing to do, but done with too much pride.
Rick is truly powerless for the first time and he terrified for everything that they've built. It's taken two years to bring his group to that point and Lincoln carefully said that if he makes it through that scene, Rick will be a different man.
When asked about the final reveal of exiting the camper, Jeffrey Dean Morgan said he was initially nervous going in, but once he settled into the character of Negan a calm came over him. This is the first character he's played that hasn't had any bit of himself stuck into the acting. In that way, the role is really special to him.
He has to be fearless as the character, and that makes him conscious of his movements and the inflection of his voice when portraying Negan. Gale Anne Herd teased that Negan was quite charming and that if audiences don't already know Lucille, new and old fans will soon become very acquainted.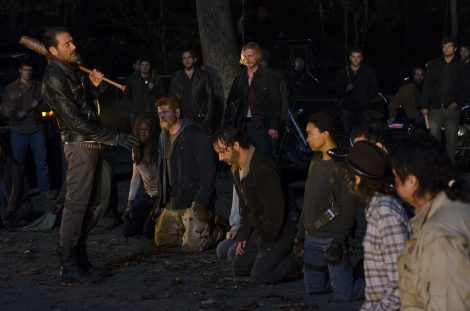 Morgan was asked about the character reception and he admitted that it's okay for now, but next year it may just be "a parade of middle fingers." His comforting words that he offered to fans were, "It'll be hard until it's not anymore."
The cast embraced him immediately and he was praised for his work under a tight deadline and a complicated situation. Morgan was grateful that all of the actors were able to let themselves be vulnerable with a guy who had basically just walked onto the set to turn the show upside down.
The complications that came with deciding who would ultimately be Negan's victim were first and foremost that everyone knew it was coming. Issue #100 came out four years ago and felt every bit as brutal, unexpected, and senseless and the episode is striving to live up to that moment.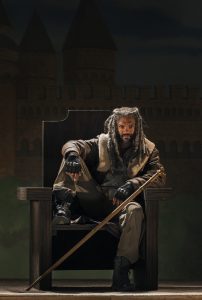 Alpert pointed out that it will change the direction of the show, the characters, five minutes, ten minutes, twenty minutes later as the smoke clears and the shock and denial sets in. Ultimately, it was said that if a character is killed off and someone isn't upset then they haven't done their job in developing the character or telling the story.
As some of the longest running characters on the show, Andrew Lincoln and Chandler Riggs were asked about how they felt losing characters throughout the seasons. Chandler admitted that it's a yearly thing, it sucks to lose people, but ultimately the story is what's most important. In order to move the story forward, people have to go.
Lincoln joked that they get to see past actors at Comic Con every year (Jon Bernthal was in town for Marvel, as was Sarah Wayne Callies for Colony). He also affirmed that once you're part of the cast, you're part of the club even after you're gone.
Scott Gimple also let Negan fans know that that they would continue to film "fuck takes" with Jeffrey Dean Morgan in character as Negan, though he was quick to clarify it wouldn't be every scene. Key scenes would get the treatment, much like his entrance scene was reshot and will be included on the season six blu-ray release on August 23, 2016.
Christian Serratos closed out the press conference with a story highlighting how different Jeffrey Dean Morgan is from his character. She'd hardly been introduced to him before they were set to film the trailer scene and as soon as they cut, he stepped forward, held out his hand, and helped her up off the ground. She was also quick to say it's really a family cast.
While much speculation abounds about who Negan's victim will be, and while fans use trailers and on-set pictures to try to eliminate possibilities, audiences will officially find out the answer on October 23, 2016 when season seven of The Walking Dead premieres – picking up right where season six left off!