Warner Bros. Home Entertainment provided Nerdophiles with a free copy of Supergirl: The Complete First Season on blu-ray which is being reviewed in this blog post. The opinions we share are our own.


https://www.youtube.com/watch?v=Lm46-envrHo
Supergirl: Season 1 [Blu-Ray]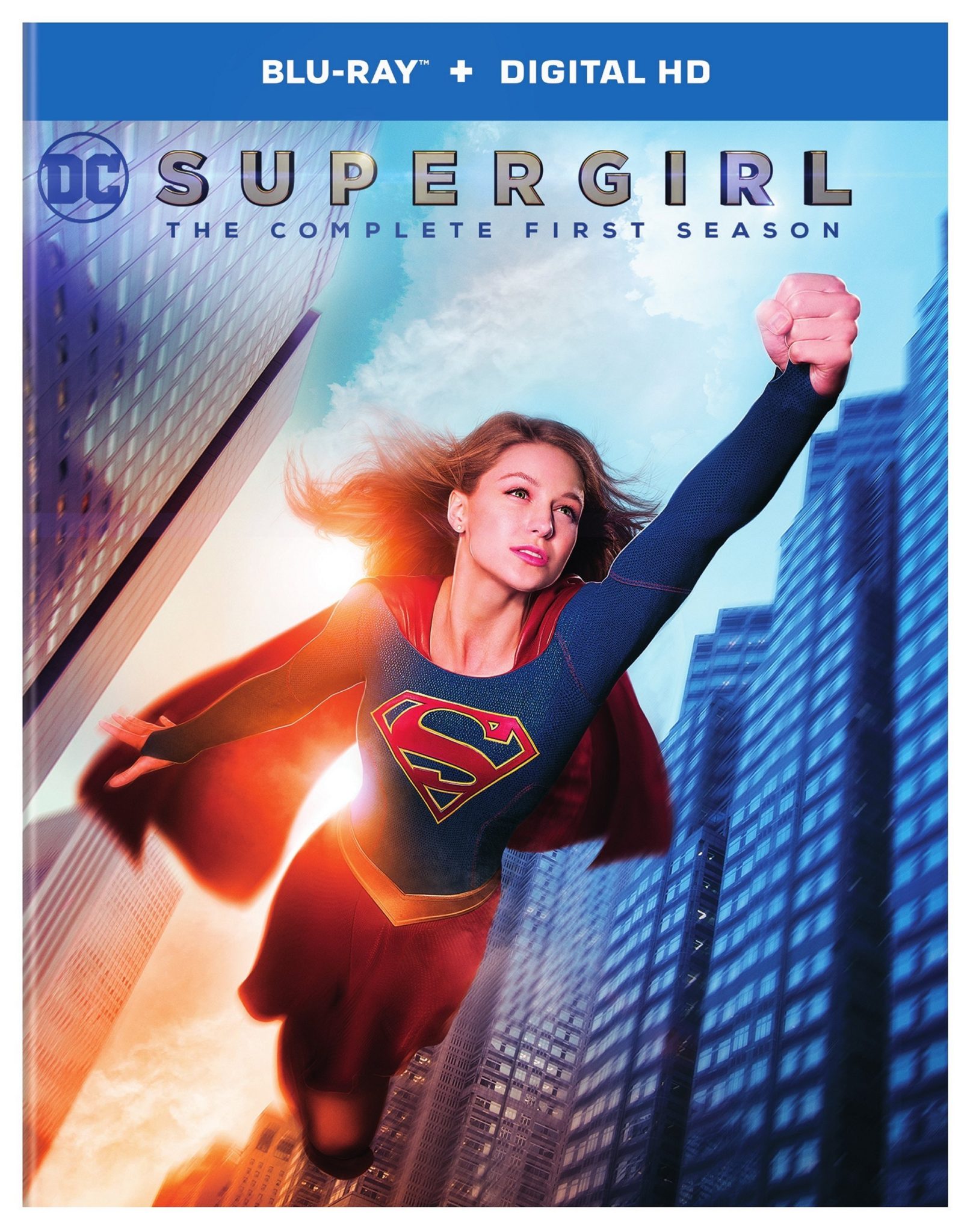 Release Date: August 9, 2016
Cast: Melissa Benoist, Mehcad Brooks, Chyler Leigh, Jeremy jordan, David Harewood
Executive Producers: Sarah Schechter, Ali Adler, Andrew Kreisberg, Greg Berlanti
Network: CBS (Season 1), The CW (Season 2 -)
Genre(s): Sci-Fi, Comic Book, Superheroes
Extra Feature Rating:  ★★★★☆
Rating: ★★★★★
Review Spoilers: Low
Amazon | IMDB | Wikipedia | RT
In a world where the vast majority of our superhero-related media has been helmed by male characters, Supergirl was a breath of fresh air. Melissa Benoist leads a fantastic cast of characters and brings to life the titular Supergirl in an incredibly fun, captivating series that easily goes toe-to-toe with the best. While there are tons of superhero options out there Supergirl easily became one of the best in just one twenty-episode season.
Supergirl focuses on the day-to-day adventures of Kara Danvers (previously Kara Zor-El), the older cousin of the iconic Superman. Like her cousin, Kara is sent to Earth shortly before the destruction of Krypton. Unlike her cousin, though, the trip does not go smoothly. She ends up arriving on Earth over two decades later. By then Clark has already become Superman and there's little more for her to do than to settle into the same sort of quiet, normal life he led as a child.
Ten years later, Kara is ready to user her superpowers for good and make a name for herself by becoming a hero in her own right. With a little bit of help from her friends and her adopted sister, Kara begins to learn what it really takes to juggle the demands of her real life and still save the world.
Thought the series originally aired on CBS it will continue with it's second season on The CW – a network well known for it's comic-based series. The DVD/blu-ray release on August 9th comes a couple months before the second season premiere on October 10th. So If you haven't checked Supergirl out before, now is the perfect time!
Season Review
Seriously, though, if you haven't watched you really need to get on that pronto. Supergirl has everything I could have ever hoped for in a superhero show and more. Much like the first season of The Flash, the series has an incredible and infectious charm. It's fun and quirky and falls into an enjoyable week-to-week episodic series of adventures. While there can be some heavier moments throughout the series, it tends to shy away from getting too bogged down in darker storylines just yet – which suites the series just fine.
It's okay to stay happy and enthusiastic sometimes!
One of the things that makes Supergirl so great is that it's so full of hope. Even in it's darker moments things always seem to work out. Friendship and family are very strong themes throughout with Kara's relationships with her close knit group of friends and her adopted sister, Alex, being very crucial aspects of the show.
The series is full of strong characters besides just Kara. Jimmy Olsen is in town fresh from Metropolis to help out the budding hero. He along with Kara's good friend and co-worker Winn manage to provide Kara with the moral support – and technical support – that all superheroes need. Early on in the series Kara also teams up with Hank Henshaw and the DEO – an shadowy organization dedicated to protecting Earth from alien threats (but I don't want to get too much into that here to avoid some pretty major spoilers).
I will say, though, that the absolute best character in the series is Cat Grant.
Calista Flockhart is amazing in her role as the powerful media mogul – who also happens to be Kara's boss at Catco Media. Cat is a true force to be reckoned with. Seemingly self-centered and self-serving, the show quickly reveals her as one of the most three-dimensional characters in the series. She's a strong, powerful woman and she offers a very candid commentary on what it's like to be a woman in power in today's world. Cat is there to serve as a mentor to Kara but also as a confidant and sometimes-advisor to Supergirl, too.
Strong women are a major theme in this series and that's part of what I love so much about it. You don't have just Kara but you have her sister Alex, Cat Grant, Lucy Lane, and more throughout the series. They're all strong, well developed women – and they also have their vulnerable moments. And that's okay. It's okay to be vulnerable. That doesn't necessarily mean to transition from hero to damsel in distress, either. Kara holds her own throughout the series and makes it clear that she's going to stand on her.
Part of this is probably because the series had some constraints as far as using Superman went. But that works in the show's favor. With the exception of a few text messages and a few off-camera interferences, Superman is largely absent from the series. He's mentioned here and there but Kara makes it very clear from the get-go that she doesn't need to be saved by him every time something went wrong.
Ultimately, the show does a great job of letting Kara be Kara and developing Supergirl as the hero of the day. Supergirl is twenty episodes of fun, hope, and strong female characters. It just works so well.
Everything about this series  – from the relationships between the characters to the brief mentions of Superman to the all-too-brief crossover with our favorite Speedster from Central City – is great and I hope you'll think so, too!
Special Features
If you happen to pick up the blu-ray or DVD release of Season 1 you'll get more than just all of that, though. One of the best part about home releases of our favorite shows are the special features that come along with them. Now if you haven't seen the series, heads up: this part of our review gets a bit spoiler-y. If you have seen the season, though, read on!
One of the best special features are the deleted scenes that are included on each disc. There are nine episodes with over a dozen scenes that never made it into the final series. The menu set up is really cool because you can select the deleted scenes on each disc and play them by episode. If you remember from my DVD review for iZombie: Season 2, my biggest complaint about the deleted scenes was that they all auto-played in one chunk with no distinction between episode. I'm loving how they worked things out for this release!
Another beloved feature is always the gag reel and Supergirl does not disappoint in that regard! Coming in at over four minutes, the gag reel on this release is full of hilarious moments between the cast members. From line flubs to trips, falls, and more it's absolutely hilarious. If you ever wondered how they get Kara's hair to flutter in the wind they use fans – and those fans do not always work the way they should!
If you prefer more serious bonus features, though, don't worry. Supergirl has two very awesome mini-documentaries included on the blu-ray release. The Man From Mars focuses on the history of J'onn J'onzz and his history and portrayal in the series. David Harewood provides some great insight on his character and the rest of the cast chime in too about how their characters see J'onn. It's an excellent, nine minute featurette and definitely worth watching.
The other mini-documentary focuses on the world of Kryton. Entitled A World Left Behind: Krypton, the featurette discusses how the creators of Supergirl decided to portray their Krypton. A lot of their influence came from the comics themselves and they did their best to bring in as many references to the old-school Krypton that they could.
The show runners talk at length about the show's thirteenth episode, For the Girl Who Has Everything, which was based on a classic Superman story. It's really cool to see how much thought went into crafting this version of Krypton and especially how they approached the opportunity they've had to really show Krypton through Kara's memories.
Lastly, if you're a fan of San Diego Comic-Con but haven't had the chance to attend you're in luck! The Supergirl blu-ray release comes complete with the very brief Supergirl panel from the Warner Bros. Television Presents: A Night of DC Entertainment event at SDCC 2015. (An event that, sadly, was not continued in 2016.)
I've said it before and I'll say it again – I love that more and more shows are including these sorts of panels as bonus features on their home releases. Though this panel was held about three months prior to the series premiere, the questions and answers are still worth watching because they really add some insight to how the show came together.
Basically this release has pretty solid special features all around!
Final Thoughts
Supergirl is one of the greatest superhero shows on television and I have loved every second of it. I cannot wait for the second season to start up and for Kara and her friends to embrace their new home over at The CW. After a few years of seeing DCTV producing so many excellent shows it was time for a female-led series and Supergirl has been everything I could have hoped for in a show.
I highly recommend the show and if you have the opportunity to pick up the blu-ray or DVD release of the first season you really should. You've got a couple of months to catch up before the second season premiers in October. And if you pick up the series now you're lucky – you have to wait way less than the rest of us have to see what comes next after last season's cliffhanger ending! (Spoiler alert: There's a cliffhanger ending!)
Supergirl: The First Complete Season is out now on blu-ray, DVD, and Digital HD now. Check it out!