The secret may finally be out! National Geographic's Nerd Nite returned to San Diego Comic Con for the third year in a row and was more popular than ever.
The new venue @HotelSolamar makes for an awesome backdrop to @NatGeo's #NerdNite! #SDCC pic.twitter.com/JySoZU6DFP

— NERDOPHILES (@nerdophiles) July 22, 2016
This year, the party found a new home at the Hotel Solamar terrace and pool in the heart of the Gaslamp, making it more accessible than its previous venue while also being a little bit smaller. Space was at a premium, and it took us a few tries to actually figure out how to get to there, but once we rode the elevator up to the open-air terrace the party was on!
With a new venue came a new set up and there was a pool between the stage and the audience for the first time, creating a barrier that made panelists feel slightly inaccessible. However, the new stage afforded a better view to guests, came with a larger screen to showcase the talks, and the buildings behind allowed for a projector to broadcast National Geographic branding on the building behind the stage – and people could stick their feet in the pool!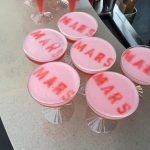 Food included a catered soft taco bar, an ice cream station, and themed cocktails alongside an open bar. The lines ebbed and flowed with the amount of people, but it was all free and the wait was comparable to previous Nerd Nites. And best of all, everything was delicious! NatGeo and Nerd Nite really stepped up their game on food and drinks this year.
For the first time, National Geographic and Nerd Nite planned to showcase one cohesive theme for the talks they hosted. To celebrate NatGeo's newest event series, MARS, the newly re-started San Diego chapter partnered with NatGeo to bring three expert panelists to speak on the topic. Not only were they there, ready to share their knowledge, but the cast of MARS was also hanging out with guests to promote the show.
Stephen Petranek was the first speaker. He is the author of How We'll Live on Mars and is featured on the show MARS. His talk centered on, you guessed it, how we'll eventually live on Mars. It was an informative, if somewhat bleak, look at humanity before the sun explodes and we all explode or freeze to death in the ice age.
Second up was Aaron Sagers, a pop culture expert, host, and editor-at-large at Blastr.com, who also spoke about the countdown to Mars. He was followed up by Beth Phillips, a research psychologist with StraCon Services Group with a PhD in human-robot interaction! All of the talks were informative and interesting, a small taste of what a Nerd Nite is for those who don't live in areas where they're easy to get to.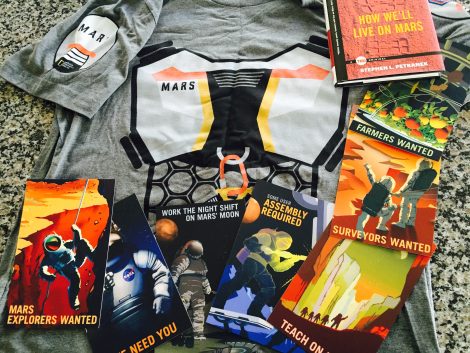 The speakers great this year and the free swag (on top of food, drinks, and trivia prizes) was also on point! Guests were given MARS themed t-shirts, beautiful postcards made from graphic images provided by NASA, and Stephen Petranek's book, How We'll Live on Mars. There was also a photo area for guests to take pictures.
This year, Nerd Nite also changed from Friday to Thursday of San Diego Comic Con – with Thursday quickly becoming the new Friday as more and more events are scheduled on the first night of the convention – but it is definitely one party to make time for every year! Free tickets sold out online quickly, but no one was turned away at the door (everyone over-books their con, it happens), so don't let that discourage you for next year.
For the third year in a row, we had an amazing time relaxing and learning alongside NatGeo and Nerd Nite and we can't wait to see what they'll bring to San Diego Comic Con 2017!