If you aren't aware what this weekend is then you haven't spent much time online, or watching Freeform (formally ABC Family). But to catch you up, it's Harry Potter's birthday on Sunday! To celebrate, Freeform has been running the movies since Friday, and will continue to through Sunday. I know. Best weekend ever! But this is no ordinary Potter weekend. This Sunday we also receive the long awaited "eighth" book of the series, Harry Potter and the Cursed Child.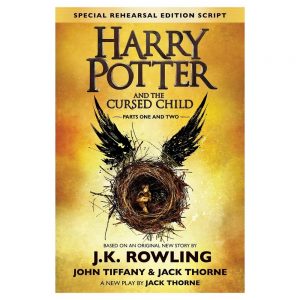 While this is technically not a book, as it is the script book of the play with the same name, it does give us more insight into the wizarding world, and how life has been post- Voldy. The synopsis from Pottermore reads:
It was always difficult being Harry Potter and it isn't much easier now that he is an overworked employee of the Ministry of Magic, a husband and father of three school-age children.

While Harry grapples with a past that refuses to stay where it belongs, his youngest son Albus must struggle with the weight of a family legacy he never wanted. As past and present fuse ominously, both father and son learn the uncomfortable truth: Sometimes, darkness comes from unexpected places.
Now, keep in mind, this is not like Rowlings' previous books. This is an honest to goodness script, not a novel. If you had to read plays in school thanks to drama or English classes, you'll be just fine. If you haven't had that experience yet, it might be a little strange at first reading this style, but trust me, it gets easier.
In honor of this momentous event, most bookstores around the country are having midnight releases with sorting, games, costumes, and more. If you are interested in going to that, and let's be honest, who wouldn't want to go and show off their robes? So grab your wands, robes, best house tie, and friends and yourself to the closest bookstore for some Potter fun (be sure to check with your local book store for Potter events)!
Looking to snag a copy of the script book for your own, and didn't pre-order? Here's some handy links for you! Be sure to check the home pages of the booksellers for all the info you need on their Potter Event!