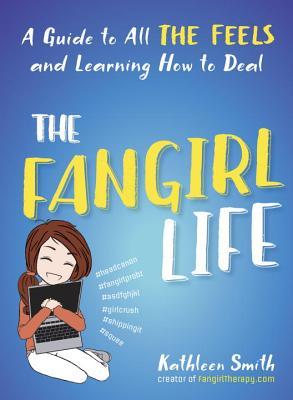 Not going to be at SDCC this year? Got a lot of #feels about it? Maybe you are going but you are overwhelmed by it all. You're in luck because we've go the perfect book to help you through it all. Kathleen Smith of FangirlTherapy.com just released her very own book called The Fangirl Life and it's basically perfect.
And we're giving away THREE copies courtesy of the publisher, TarcherPerigee!
Geared towards helping fangirls live their best fangirl life possible, the book is tailor made for the fangirl in all of us. If you're skeptical or if you think this book isn't for you just trust me – you'll be hard pressed to find another self-help book that better captures what it's like to be a fangirl today than this one. I highly recommend it!
You can check out our full review and then enter to win a copy of your very own below.
#NotAtSDCC 2016: The Fangirl Life
The giveaway runs from July 17th through SDCC 2016 and ends the following week on July 29th so you have plenty of time to enter and win!


If you are at SDCC this year, say "Hi!" to Kathleen for us! She's going to be on an awesome panel with some other bad ass geek girls. Here's the link you add it to your schedule and you can read the official blurb from the SDCC website below.
The Female Geek: Women as Fans and Creators
– Saturday, July 23rd @ 12-1 PM in Room 7A: 
There's more to being a geek girl than meets the eye. From Princess Leia, to Katniss Everdeen, to Hermione Granger, fandom is full of awesome female characters-but what about the women who create these iconic individuals? Leigh Bardugo (The Grisha Trilogy), Sabaa Tahir (A Torch Against the Night), Kiersten White (And I Darken),Sarah Kuhn (Heroine Complex), Kathleen Smith (The Fangirl Life), andMargaret Stohl(Black Widow: Forever Red) discuss feminism and fandom in a panel moderated byMadeline Ashby (Company Town).
She'll also be doing autograph signings with the other members of the panel immediately afterward in Sails Paviolion from 1:30-2:30 PM. Check it out at booth AA09!

ALL SAMPLES AND PRIZING ARE PROVIDED BY TARCHER PERIGEE. THE FULL TERMS AND CONDITIONS CAN BE FOUND IN THE GLEAM WIDGET. NERDOPHILES WAS NOT COMPENSATED FOR THEIR PARTICIPATION IN THIS BOOK TOUR. OUR OPINIONS ARE OURS AND OURS ALONE.