July is finally here and that means San Diego Comic Con is less than three weeks away. Yes, only 17 days until the annual pop culture convention takes over downtown San Diego and kicks off on July 20th with Preview Night. San Diego Comic Con will start releasing the schedule this coming Thursday, and while you begin planning your daily schedule and what panels to attend, many people may forget to think about where to eat during the convention.
Let me tell you, this will be my 8th year attending San Diego Comic Con and finding close, affordable places to eat will always be a challenge to me, but we'd like to share with you some of our suggestions and some tips to eating right during San Diego Comic Con.
If you're like me, you often forget to even think about eating during the craziness of SDCC and don't like to walk very far to eat. Considering we walk so much inside the convention center, I want to find someplace close by to refuel and also not have to think about paying for a short Uber or cab ride to a restaurant further away. For that reason most of my recommendations are very close to the convention center.
Where do I even begin… the Nerdophiles team wishes we could write a detailed love letter to the Old Spaghetti Factory in downtown San Diego.
We've started making this an annual tradition and last year I think we managed to get a group of 8-10 people together to dine here. While its a huge restaurants, with 3 floors, you will likely have to wait, but we've never had to wait for more than 30-40 minutes or so.
If you're looking for something to do while you wait, there is a bar on the 3rd floor that you can grab something to drink at. As a forewarning though, they won't seat your party unless most of them are there in person. As for the food, they serve classic Italian and it's reasonably priced. The service is also great and accommodating to your needs, or in our case, our need for multiple salads and extra parmesan cheese.
If you're staying in or near the Hilton, their Sports Grill is really convenient and offers reasonably priced American fare such as burgers, salads, and chicken tenders.
Our SDCC team has dined many many times here and they typically have a special SDCC menu during the week to streamline orders and increase speed. During peak hours or if you're arriving with a large group, you may likely have to wait 15-30 minutes, or in rare cases even longer, for a table.
Next door to the Sports Grill is a Starbucks that is conveniently tucked near the exit. I'm always impressed at how well the staff decorate the interior and windows to reflect a popular pop culture icon, such as Batman in previous years.
It offers basic coffee and breakfast pastries and sandwiches, but the line is absolutely horrid and trails well outside the actual establishment sometimes in the morning. The Hilton itself will often set up small stations both inside and on the grass in front of the hotel and sell basic hamburgers, hotdogs, and soft drinks you can grab quickly on the go.
While not as gourmet as other restaurants, if you're in a rush and need something on the go, this Subway location off of 6th Ave and K St is incredibly close to the convention center and while it get's busy at times, they keep the line moving quickly. On top of that, I have seen them advertising discounts during SDCC.
This small restaurant is part of the Hard Rock Hotel. In past years it has been transformed to look like hot spots from popular geek shows, such as Syfy's Eureka and others. It is almost always busy though as it is smack dab in the heart of the Gaslamp, but they offer some good food choices.
You can't go wrong with pancakes, although I know of very few people who have time for large breakfasts during the con. If you do feel up for pancakes though, Richard Walker has some great selections.
Unfortunately they aren't open for dinner, but they are open until 2:30 if you're feeling like a late breakfast. I've heard they can get quite busy during peak times, but that's to be expected with practically every restaurant during SDCC.
Lolita's offers decent Mexican fare on the south east side of downtown San Diego, just adjacent to Petco Park. It's easily accessible by the pedestrian bridge near the Hilton and is one of the closest Mexican restaurants to the convention center if you're desperately desiring Mexican.
If you're looking for a very unique place and only have coffee in mind, I highly suggest visiting the Cat Cafe, and yes, if you're wondering, they do have adoptable cats wandering around the cafe.
It's definitely a one of a kind place, but I do wish they would serve more food. Granted, you're probably not interested in adopting a cat while you're in San Diego for SDCC but it's worth a look at least and its fairly close.
Basic offers unique gourmet thin crust pizza a large assortment of beers to choose from. Basic is a popular hot spot during SDCC and often offers discounts and specials to SDCC attendees.
If you're looking for something a bit more upscale, but still classy and rustic, many of my friends have recommended Searsucker. They offer brunch, lunch, dinner, cocktails, and dessert and while it's a bit more of a hike from the Convention Center, they offer some amazing nerd themed cocktails during SDCC.
Seaport Village Restaurants
If you're staying in or near the Marriot Marquis or Manchester Grand Hyatt, I recommend checking out the Seaport Village area. There are dozens of restaurants offering both pricey and cheap options.
If you're looking for something Asian, there's always Dragons Den, a fairly reasonably priced Asian eatery that offers Sushi and more. Check it out on Wednesday after Preview Night to say hi to us and the rest of your favorite nerd bloggers at Game of Bloggers!
For those looking to keep costs to a bare minimum and live off of snacks, there's always Ralphs. While it's a bit of a walk from the southern end of the convention center, you can usually pick up everything you need in one run.
Petco Park Food Trucks
Almost every year, Petco has allowed food trucks to set up shop near the park, typically on the southeast side near the parking lot. They vary from year to year, but often have a little bit of everything and can be cheaper and quicker than some restaurants nearby, so if you're in a pinch, they are a great place to stop for a bit to eat.
There are dozens of great restaurants in downtown San Diego and these are only a few of our suggestions.
Before heading out, think about what your price range is and what type of food your group is feeling like, because wait times can be terrible. If someone in your group can run ahead and place your name on the waiting list, the better.
Don't forget to wear your badge or have it on hand when you do go out to restaurants. Many offer discounts or deals during the week, so it doesn't hurt to have it in that case.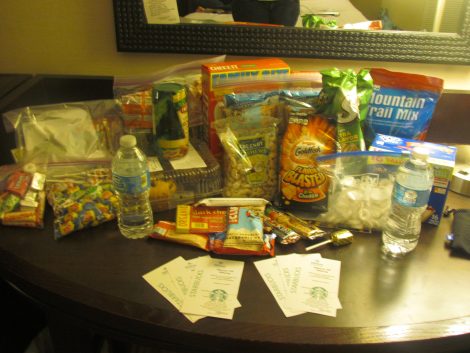 And remember, you can always bring snacks from home if you have some extra room in your suitcase or backpack. A few years ago, our team all brought an assortment of snacks and laid them out on our hotel table and as you can see, it kept us adequately stocked up.
Lastly, Comic Con International has created and distributed their own restaurant guide, so make sure to give that a look before making your evening plans!