For us "journalists," comic cons can mean a lot of work – constantly updating Twitter, sitting through panels on TV shows we've never seen, rushing through thick crowds of cosplayers to get to our next obligation. It's a fun gig, of course, but something less than a relaxing weekend.
And yet it's nearly impossible to maintain any degree of cynicism in the face of a day like Friday with Phoenix Comic Con, filled with stars more than enthusiastic not only about their work, but also about being a part of the convention.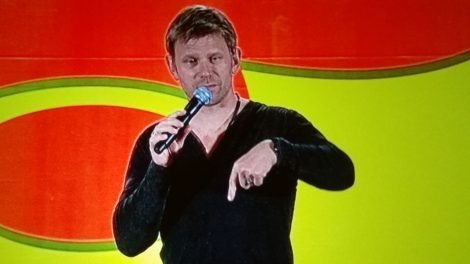 We started off the day with Mark Pellegrino, star of Supernatural, Dexter, and LOST. Unsurprisingly, almost all the questions related to Supernatural, save for a starting question on his work in Quantico (when Pellegrino saw the question asker approach, he exclaimed "A boy?!").
Pellegrino liked it that way, it seemed, as he came across as big of a Supernatural fan as anyone else in the room, enthusiastically talking about his favorite characters and doing impressions of the rest of the cast. He only refused to answer questions about the future of the show; "Do you think I have any idea what happens next season?" he said. "Do you think the writers have any idea what happens next season?"
Pellegrino decided from the beginning that he didn't intend to sit down behind the table like your usual con panelist, so he walked around the stage for the full hour, getting close and personal with the guests. In fact, he noticed one girl's nervousness getting through her question, so he gladly brought her onstage with him to ask it. And he closed the panel out with an extra special guest: his dachshund puppy.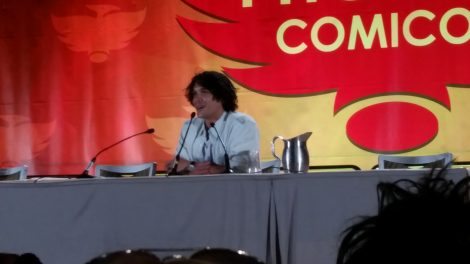 Next up was Bob Morley of the increasingly popular new show The 100. The young Australian did seem a bit tired and brought the energy down from Pellegrino's antics, but he happily talked about his relationships with the other actors on set, his thoughts on the world of the show, and the surprising moments that came about while filming. He even detailed how he managed to break his hand while punching a wall for one shot. "That was dumb," he said. "I probably should have acted it."
Morley also expressed clear surprise when one middle-aged attendee explained that she'd never seen The 100, but loved his work on the obscure Australian soap opera Neighbours. He encouraged her to check out his newer work, but warned her that it would be a bit different. "In Neighbours I played a gay nurse. Bellamy is… not really like that."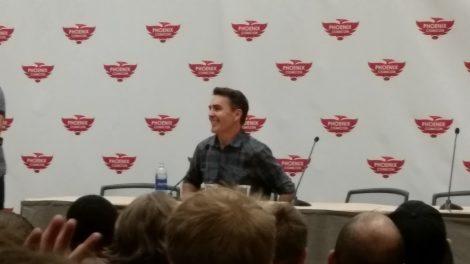 After that we caught voice actor aficionado Nolan North, the star of games from Uncharted to Batman: Arkham City to Assassins' Creed to Destiny and beyond. Without much prompting, North would jump into any character voice that a question asker mentioned or that crossed his mind at a moment's notice, from Nathan Drake to Deadpool and everything in between.
He delighted in his opportunity to "make a living doing what I got detention for," but he also explained how he appreciated how he could connect with fans and yet remain anonymous to the general public through voice acting. He noted that no one ever seemed to recognize him unless he was crouching behind a chest-high wall.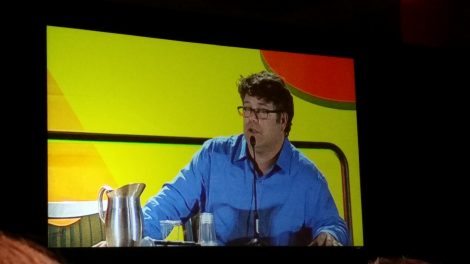 Following North, we went to see Sean Astin, almost definitely the biggest star of the day thanks to his work as Sam in Lord of the Rings and Mikey in The Goonies. Astin simultaneously live-streamed the event from his phone until he found it too distracting to focus on the audience, at which point he reveled in the opportunity to discuss both movies at length.
One young fan asked him, "If the gang from The Goonies was the Fellowship of the Ring, how do you think it would have gone?" Astin paused before saying, "The Lord of the Rings movies are about 15 years old. Goonies just turned 30. No one has ever asked me that question before."
Other surprises included when Astin admitted he'd never heard of the Tolkien books before auditioning for the role of Sam, inspiring boos from the crowd, although he assured that he read the full series cover to cover 3 times during the filming process.
The biggest moment of excitement came when a fan asked if there would be a Goonies 2, and Astin didn't hesitate before saying, "Absolutely. Of course there will be a Goonies 2." He talked about how he'd worked through most of the script with the film's potential co-producers, and he even revealed more than he's ever said about the plot before: "The original Goonies isn't the only time Mikey with come face to face with One-Eyed Willy."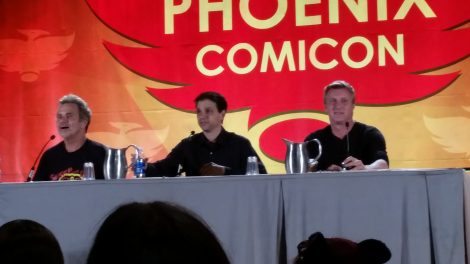 Our final panel closed out the day with a bang, as Ralph Macchio, William Zabka, and Martin Kove came out for the Karate Kid panel. They all shared their fond memories of the late Pat Morita, Master Miyagi in the series, before diving into questions.
Macchio talked about the various methods the crew tried to devise to catch a fly with a pair of chopsticks; Zabka insisted that he did in fact win the title in the original movie given Daniel finished the match with an illegal move; and Kove mainly seemed to have fun forcing Zabka to call him "sensei." The panel surprisingly got cut short after only 40 minutes, but they used the time the best they could.
That's it for Friday coverage – keep an eye out for our upcoming articles on Saturday and Sunday! Have a favorite panel of Phoenix Comic Con? Let us know in the comments.