Synopsis for 1×07: Waverly's engagement party guests are put in danger by Henry's quest for revenge; Wynonna investigates a killer targeting young women.
Rating: ★★★★☆
With Waverly eerily bound to the skull that she inherited from Uncle Curtis, this week we see her confronted by the Stone Witch, Constance Clootie, while hosting a party at her house. This party brings into focus Waverly's own life, and the people within it who aren't Wynonna. To many of the townspeople Waverly is the Earp favorite, and in this episode we see her friends express doubt about Waverly's relationship with Wynonna.
We also get some kind of climax to the situation between Constance and Doc and Waverly. Last week saw the introduction of the Blacksmith, who is something of a white witch. She bound Waverly to the skull, but only realized afterwards that this would trigger a visit from Constance. The episode starts with her being tortured by Constance for the location of the skull. Despite many hours of resistance, she finally gives in and tells her who now holds the skull.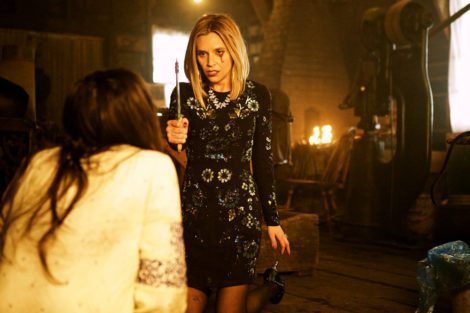 After watching Doc sneak into the construction site last week to find a pair of unfinished skeletons and watch Waverly receive her inheritance, it's clear that these two bones are connected. Our suspicions are confirmed when the Blacksmith arrives at the Earp homestead on the brink of death with a message to Doc telling him how to destroy Clootie but also that he must swear to take Waverly away before the witch arrives at the homestead.
Doc agrees to the request, but we know he's not ready to give up when he's this close to victory. He calls Constance his Seven, and his desire for vengeance overweighs his desire to protect Waverly. After being offered a spot on the Earp land to sleep, and given a warm welcome by Waverly, it's a cold move as he puts up Waverly and her friends as bait to wait for Constance to come for the skull.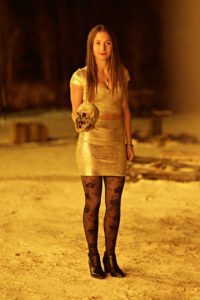 When Constance does arrive she orders her henchmen to do her dirty work — unable to enter the house without being invited — and when the henchmen are killed, she resurrects them as zombies. Clootie has a massive amount of power, as seen in this episode. She faces off against the Blacksmith and pries the answer from her through torture and then attacks the Earp homestead. She is only forced to retreat when Waverly confronts her with the skull and then promptly smashes it.
The skull in question has two sets of teeth and is referred to by Constance as "her boys". They are not human, and therefore were not able to be resurrected after being killed by Wyatt. She reveals that she kept Doc in the well as revenge against Wyatt. Realizing that she must choose between the skull and her friends, as Clootie turns the zombies against her friend and Doc, she destroys the skull.
Clootie is chased away by Wynonna and Doc, who lands a shot in her shoulder. We only find out later as he is collecting some of her blood from the ground that Doc was injured in the same place on his shoulder. It's unclear what is happening here specifically, but it's clear he's linked to Constance and something must be done about it before he is able to kill her.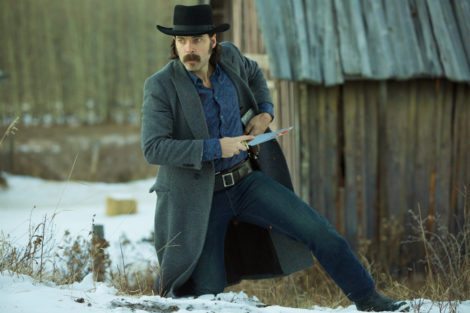 Waverly also confronts Doc about making her and her friends bait for Constance. He doesn't manage to pull the wool over her eyes and she calls him out. The two of them have a good relationship, colored by complexity that many of the other characters don't have. They stand as opposites in many things, but clearly still care for each other. Waverly forces Doc to admit his own flaws, telling him that it is his job to tell Wynonna that he kept Waverly at the house as bait and endangered her life. When he suggests he wants to avoid doing so, she calls him out saying that he loves her, and when he denies that, she tells him that he is always lying.
We'll see how this affects him next week since he later finds an empty cop cruiser, bloodied, and devoid of both Wynonna and Haught. Wynonna and Haught spend the night working a case and drinking after Dolls is taken in by his bosses and Wynonna is forced to uncover the identity of the last revenant on her own. She has nothing to go off of except a spade as a call sign.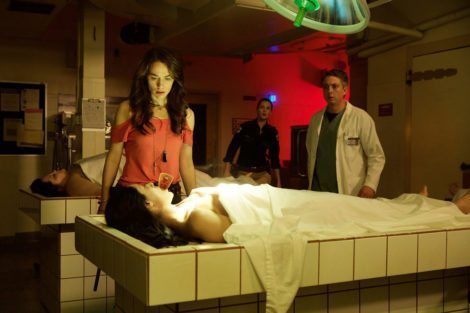 She and Haught get to bonding over a bottle of liquor. They investigate a case on a series of killed women, and head down to the morgue to inspect the body. The meet Dr. Reggie, the guy working at the morgue, and are lead on a wild goose chase away from the morgue, only to return and see the victim with a spade playing card stuffed in her mouth. The victim had a spade branded into her neck, and can only be assumed to be a victim of the last revenant.
Wynonna and Haught get into an argument, with Wynonna accusing Haught of potential foul play and Haught suspicious of Wynonna and her role with the Black Badge Division. Ultimately, they are called to the homestead to help Waverly. The two seem ready to reconcile at the end of the episode until they are suddenly abducted from Haught's cruiser. All signs seem to point to the last revenant.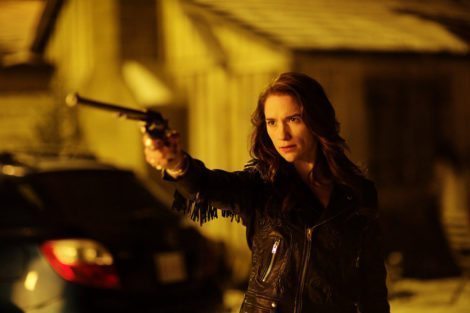 And finally, Dolls was pulled away from the team and meets with his boss after being unable to get any hard evidence for them about the revenants. Stuck between a rock and a hard place, instead of giving up Wynonna and Waverly, he offersup something else. Something that hasn't been documented before. All signs point to Doc, who Dolls doesn't seem to be able to figure out.
This episode did some great work in developing both Waverly and Doc's story with each other and against Clootie. It also allowed us to see just what is going on within the Black Badge Division. It looks like we'll be seeing the seventh revenant next week with Haught and Wynonna's abduction.