Synopsis of 7×01-02: The year is 2017 and a lot has changed in Pawnee over the past three years –  for everyone. Leslie finds herself at odds with Gryzzl founder Mike Bean over the acquisition of land being sold by the Newports, but he has an ally that none of us would have expected in Ron Swanson, Leslie's now mortal enemy. When Leslie goes to her old enemy Jeremy Jamm, she's found him entrapped by none other than the succubus Tammy, and she has to turn to her now personal Voldemort in order to win the vote to build a national park.
Rating: ★★★☆☆
I'll be one hundred percent honest, the synopsis doesn't do a really good job of really explaining what the heck has gone down in Pawnee over the past few years. The writers of "Parks and Rec" really did a fantastic job in not just giving us a three-year time leap, but giving us a realistic one. Friendships are a thing of the past, careers have changed, and in general everyone is in completely different places in their lives. While the first episode of the two part premiere wasn't the funniest, it set us up for the main plot of the season and let us know exactly what was going on before jumping into it's good ol' setup.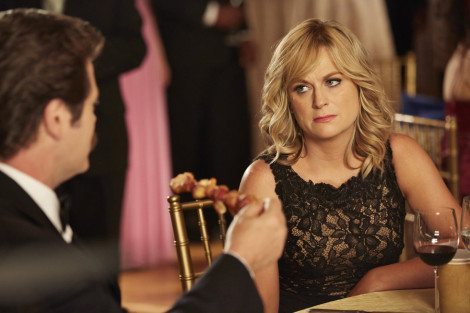 The main thing to gain out of the first part of tonight's premiere in episode 7×01, "2017", is that everything has changed and the stakes can't be any different. Leslie (Amy Poehler) bounds into city hall as bright eyed and bushy tailed as ever with dreams of turning the old Newport owned land (that they are selling 'cause who doesn't love money) into a national park, but Ben (Adam Scott) quickly warns her that "he" is there and she loses all composure. When Ben warns her that he's coming up to talk to her, we turn with her to see none other than Ron Swanson (Nick Offerman), her now-former best friend. He's now the owner of an incredibly successful construction company that has been stimulating Pawnee's growth over the past few years, but somewhere along the road and with an incident known simply as "Morningstar" he and Leslie have become mortal enemies.
Ben is still as supportive as ever, but he doesn't want Leslie to ruin his night in the spotlight as the "Man of the Year" for the Pawnee Bicentennial celebration, in which Tom Haverford (Aziz Ansari) is going to introduce him. Tom is absolutely killing it now as is one of the top "35-Under-35" entrepreneurs in Indiana, since he now is a self proclaimed "mogul." He doesn't need to worry about Leslie, who causes a scene when she fights with Ron and destroys the cake at the celebration, since Tom decides that the subject of his introductory speech would be none other than Tom himself. The best part of the entire episode though was Tom and Ben sobbing together over what would have been the speech had Tom had the courage to say it aloud – seeing these two men ugly crying was wonderful.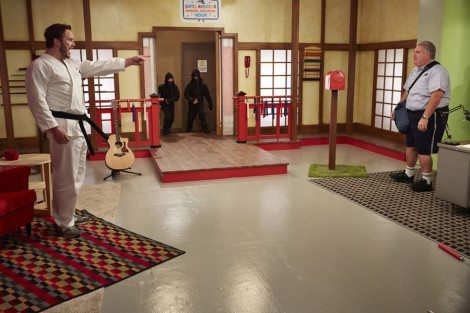 April (Aubrey Plaza) and Andy (Chris Pratt) both work for Leslie, although for Andy it's only a part time gig – he has his own children's show in which tiny ninjas beat up Terry (Jerry, Larry, Gary, he has yet another name(portrayed by Jim O'Heir)). April is scared that they're becoming old and boring though, and the episode revolves around them trying to recreate their old hi-jinks (shout out to eating chili on frisbees). They, of course, shed all ideas of being adults when they decide to buy a haunted house out of nowhere. Donna (Retta) doesn't work for Leslie anymore, and is now a real estate agent who's caught up in the Gryzzl/government hassle, but more importantly, she's engaged! And getting a wedding dress designed by Shia LeBeouf, so we know who the real winner is.
Episode 7×02 brought us back to what made "Parks and Rec" so good, and threw in a familiar face to satisfy our viewer hearts. Leslie decides that she needs to win the land no matter the cost (which is valued at $90 million but she's offering $0 for) and that includes begging Councilman Jamm to vote in her favor so that the land can't be used for commercial reasons. But guess who Jamm is now dating and obsessed with? That's right, everyone's favorite evil ex, Tammy.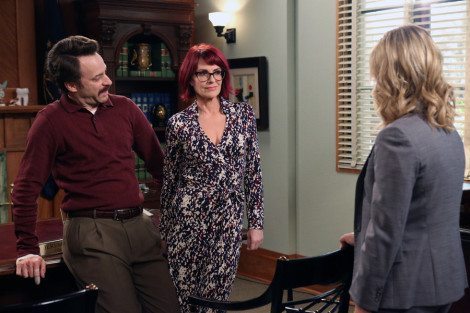 Tammy and Jamm tell Leslie that they will vote in her favor to get back at Ron, but at the last moment Jamm votes in favor of Ron without any warning, which was Tammy's master plan to get Ron back. The rest of the episode devolved into classic jokes about ridding oneself of the evil that is Tammy, and it was great to see Leslie and Ron reunited to bring Jamm back to his normal, idiotic self. Even better though? Seeing Tammy (Megan Mullally, crazy as ever) strip down to nothing while promising Jamm that they can finally have sex in a desperate last bid to get him to stay with her.
Elsewhere, Ben is following April and encouraging her to figure out her own path when she starts to have a breakdown about not really knowing what she wants to do with her life. By this point in the show she should be 27, and has been working for the city for eight years, and frankly her fears resonate with this viewer immensely. Andy and Tom though? They take a drunken cab ride ($830?!?!) to Chicago to meet up with Tom's ex Lucy since Tom is feeling incredibly lonely. As Andy covers for them while they are out there, Tom offers Lucy a job, which she is totally down to accept – but she has to discuss with her boyfriend first.
But as Andy digs into a half eaten plate of spaghetti and we see Lucy and Tom discussing business in the background at Tom's restaurant, he wistfully declares, "They're gonna fall in love." And I hope they do.
What was everyone else's opinions on the show? I frankly am still kind of miffed that we don't know the triplets' names and I hope they are incorporated into the season more than just a mention, since that was so huge in the season 6 finale. Overall I'm happy with where we are, and where the show is promising to go.
Anyone else got a bad feeling about those crazy 3D tablets that want to eat flesh and the fact that Gryzzl has wifi set up over the whole town?