We're only 80 days out from San Diego Comic Con 2016 and it's time to kick off our SDCC Sunday series! Every Sunday we'll be posting a new or updated article centered around helping you have the best convention yet!
This year, readers can look forward to an update on our (now-dated, but still) wildly popular article looking at an East Coaster's costs when attending SDCC after the convention. Take a trip down memory lane with our staff and read about some of our biggest regrets and best moments from a variety of past conventions!
We've got the scoop on how to get the perfect shot with your smartphone, as well as lessons learned over six years of attending San Diego Comic Con, and our ode to the Hilton Bayfront, where we actually won't be staying this year after the hotelpocalypse.
To kick off the series, we're looking back at last year's articles to get us pumped up for San Diego Comic Con 2016!
Check out some of our favorite resources for getting the latest and greatest news about the convention and be sure to bookmark a few of our friends as we get closer to the convention.

Communication is going to keep you and your friends sane through five days of nonstop craziness, so make sure to discuss budgets, goals, and sleeping situations among other things, with your group beforehand. You'll thank us later.
Stuff We All Get is always fun, but sometimes we can get bogged down in the free aspect of grabbing and going on the convention floor. This article lists some things to consider before you elbow your way to that giant foam Ash vs. Evil Dead chainsaw.
Cake or cookies? Everyone has a preference on whether they'd like to attend the panel or the signing for their favorite show or movie. But for newbies who aren't sure the time investment of either, this article is a good primer (for heartbreak).
Much like our lessons gathered over six years of attendance, this is a veteran attendee's critical look at how quickly San Diego Comic Con exploded. It's still very much what we're dealing with year after year as SDCC continues to grow in popularity.
We'll be bringing back the hashtag #CantConWithout at the end of the month, so keep your eyes peeled for that and be sure to chime in with your favorite convention essentials!
To go along with things that you #CantConWithout is the quintessential con bag. Read some of our thoughts on picking out your survival gear for the convention season (and beyond).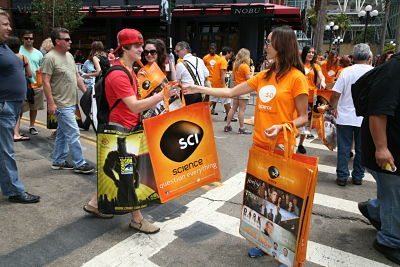 After days on your feet, shuffling through crowds of people, sleeping less than you should, camping out, things can get tense. Here are a few friendly reminders about con etiquette and remembering to keep your cool in order to fully enjoy SDCC.
By now you've either felt the triumph or heartbreak of the badge sales. If you're in the latter group, we've got some ideas on how to maximize your time with whatever days you managed to score. And there are always off-sites!
Speaking of off-sites, here are a few that tie into beautiful San Diego and don't require a badge! Make the most of your trip by experiencing all the location has to offer. This article is a great place to start.
Check back every Sunday between now and San Diego Comic Con for a new article in our SDCC Sundays series! Some topics we hope to tackle this year include #SDCCfit, Comic-Con HQ, finding out what readers #CantConWithout, eateries to frequent during SDCC, and cosplaying! And that's just the start!
Have a topic you'd like us to cover? Let us know in the comments!