Synopsis for 4×22: The search for who killed Joan's mole in Moreland's agency heats up, and they unwrap the bigger picture… much to Sherlock's distress.
Rating: ★★★★★
At the scene of the robbery-gone-wrong, Detective Bell went over the details with Joan and Sherlock. Of course, Joan was a bit startled to see the man she'd been utilizing as a source of information on Moreland Holmes dead on the ground. Sherlock picked up on it, and after they were done surveying the crime scene the pair had words outside the diner. Joan explained that she had been doing some digging and believed that the diner shooting had been an assassination. Sherlock wasn't too happy about it.
They returned to the brownstone and Sherlock yelled at Joan. He was upset that she'd put herself at risk and done it all behind his back. He had made clear just how dangerous he believed his father could be, yet she charged straight into it without even bothering to tell him. Joan justified her actions, snapping back about how Sherlock's opinion was clouded when it came to his father and it was something she had to do alone.
Sherlock decided it was time to bring Captain Gregson up to speed on his father, but first went to see him. He told his father the news about his dead employee and then asked if he could have access to the man's files, computer, office, etc. just to cover his bases and make sure that it was random and not a contract killing. His father refused him.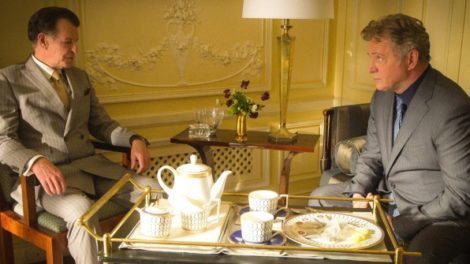 Joan and Detective Bell talked to the one living victim from the shooting who talked about the family member she'd been there with. She'd been grabbed by the shooter and ended up dying of an allergic reaction. They found out the only thing she'd been allergic to was mountain lion, and began a search for anyone who could have interacted with a mountain lion. It would help narrow down their suspect pool.
Gregson was the only voice of reason in the whole ordeal with Sherlock's dad. He reminded not only Sherlock, but the audience, that sometimes it is easy to get swept up in the cloak and dagger nonsense. In reality, Moreland Holmes might be dangerous, but the thought that he'd hired someone to kill a guy in broad daylight in NYC seemed outlandish even for a mysterious man like Papa Holmes. Sherlock insisted he wouldn't put it past his father, and Gregson allowed Sherlock to remain on the case because he trusts him.
So Sherlock went to check out the apartment of his father's employee; a company apartment, of course. He'd sound surveillance equipment hidden around the apartment that had been installed just days before. Joan joined him, and they discussed not only the cameras, but the mountain lion. None of the zoos in the area had mountain lions, so Joan had turned to dead mountain lions, and put Bell on the trail of a taxidermist who might be their only lead.
Sherlock apologized for becoming angry with Joan. While there was an understanding as to why he had reacted that way, he was still unfairly angry with her. In reality, he was mad at his father.
Bell ended up finding the shooter. Turned out it was a taxidermist, who just so happened to be working on a mountain lion at the time. They found the weapon and more than enough evidence to put him away, so the shooter offered to give up the guy who hired him. He said he'd been contacted by someone by the name of Mr. King, who had come into his shop and purchased a few pieces before eventually breaching the subject of murder for hire. He'd been hired to kill not only Emil, Moreland's employee, but a professor a week earlier as well.
Gregson pulled Sherlock aside to check in with him one more time about his father, because he was going to go see him. See him he certainly did! Gregson started with pleasantries, Sherlock's father seeming thrilled to meet a man his son held in such high esteem, but it didn't last long. As the questions continued onward, Moreland quickly began to realize that he was being questioned as a suspect. He shut the whole thing down right then and there, low key threatening Gregson, only to have Gregson threaten him right back on his way out the door. If anything happened to Sherlock or Watson, Moreland would pay.
They checked out the psychiatrist's work and found out that she had been trying to create a standard for ranking crimes. She had created a survey that was meant to measure people's views of which crimes were worse than others, which deserved longer sentences, etc. She seemed to think that people intuitively knew the ranks, and if she could pull trends from the data by getting enough people to take the survey, she might have been able to make a case for standardized sentencing for crimes. Sherlock wondered if she had been murdered for that, still very much suspecting his father.
Moreland showed up and brought with him all of his employee's files and computer. He told Sherlock and Joan what they would find, and sealed his innocence surrounding the matter. He also said he believed that whoever Emil was spying for was the entity that hired the killers. After Sherlock had everything authenticated he touched base again with his father about it and they decided it was all about the oil deal that Moreland had lost. Moreland offered what information he could and sent Sherlock on his way.
The earlier shooter had taken Dr. Naylor's survey, and had no idea it was tied to her when Joan and Detective Bell went to ask him about it. Sherlock dug deeper into the oil deal and found that the deal had coincided with an attempted bombing that would have caused the price of oil in Columbia to temporarily skyrocket. It turned out the attempted bomber had also taken the survey. They decided the survey was being used, in reverse, to find the psychological outliers who lacked empathy. Just the kind of people who would be willing to be hired to kill.
Sherlock took a sidebar and found the ring that his father had claimed was the reason he'd been in the brownstone when Joan had found him. Joan came in and asked about it. Sherlock had found in and re-hidden it from his father, because it had belonged to his mother, and he didn't want his father to trade it off to someone. He finally shared with Joan what he had learned about his mother, and they had a tender moment where his emotional growth really shined through.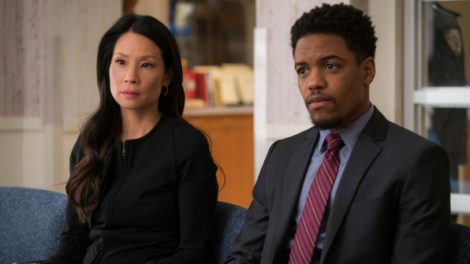 Back to the case, I was pleased when the next bit was revealed because I had totally called it early on in the episode. They pegged the research aid as the one who had been identifying psychos and selling off their IP addresses to a mysterious agent. She admitted to it, and claimed that she thought she was selling them to the CIA for special missions, but when she realized what it really was she was in so deep she was too scared to stop. The name the agent used, Agent Babbage, sent Sherlock off and he took off out of the room.
Joan followed, and he explained frantically that names like that harkened back to historical figures, and the only person he'd known to ever use names for her agents like that for her own amusement was Moriarty. His long lost love was somehow involved in all of it, and if that was really the truth, then they were in for a wild ride.