Synopsis of 1×01: On the night of her 27th birthday, Wynonna Earp — descendent of the great gunslinger Wyatt Earp — reluctantly returns to her hometown to take on her family's legendary curse.
Rating: ★★★★½☆
When conjuring ideas of how to describe Wynonna Earp I've called it everything from a "modern western with demons" to "Buffy meets Wild Wild West" to "female Supernatural". Based on the IDW series of the same name, I've seen it compared to Frozen meets Buffy, or Buffy meets Justified, or even Jessica Jones meets Firefly. And somehow, they're all pretty accurate descriptions for the show.
Wynonna Earp, played by Melanie Scrofano, is a snarky, sassy, and sarcastic protagonist whose spent her life running from her past. She's got a long and impressive juvenile delinquent rap sheet, and she's got all the makings of a "bad girl on the run" trope. Returning back to her home of Purgatory (located somewhere in the northwest, possibly bordering Canada, in Montana??) on her 27th birthday, she's blessed/cursed with the ability to kill demons with her ancestor Wyatt Earp's gun, named Peacemaker.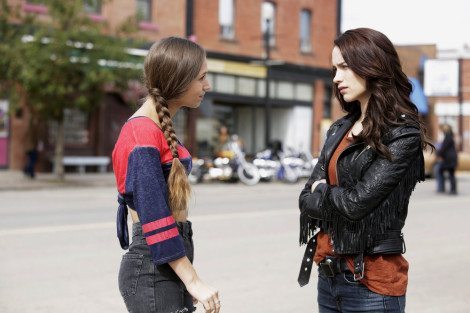 Of course, she doesn't take on the task of demon killing easily. After witnessing her older sister Willa get taken by demons when she was young, the idea of fighting them has set her on edge. Unfortunately at 27, the demons are rounding the corner and ready to kill the heir of the Earp dynasty and roam free off of Earp land so they can take over the world.
The concept of Wyatt Earp's dynasty and his gun being passed down from heir to heir is interesting, though it can get a little lost in the mythology when you look too closely. One has to wonder how demons are a continental issue when they can't even leave the county. But regardless, the demon activity and the killings have caught the attention of the Black Badge Division of the U.S. Marshals, who seem to deal solely with demonic activity.
The mysterious Agent Dolls (Shamier Anderson) of the Black Badge Division blows into town on the tails of Wynonna's return investigating a murder of a girl by a demon. Much of the pilot focuses on introducing the concept of demons and demon killing to the audience, as well as introducing the rest of the main cast. Not the only Earp in town, Wynonna returns back home to her sister, Waverly (Dominique Provost-Chalkley). Waverly is spunky, adorable, and enthusiastic about the Earp cause, and eager to fight the demons herself if necessary. Although she's bright and seemingly unassuming, her very first scene is of her wielding a shotgun and kicking down the door to save her (kind of philandering) boyfriend.
Unearthing Peacemaker from the bottom of an old well also brings back the legendary Doc Holliday (Tim Rozon), who is about as mysterious as Agent Dolls, and doesn't seem to be on the side of the angels this go around. He's seen living with the other demons, though tensions are chafing between them and him, but it remains to be seen what his purpose is and why he's come back.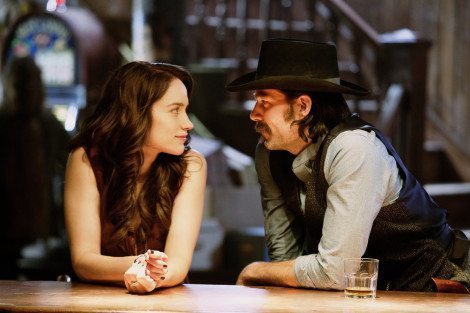 One of the best things about Wynonna Earp is the level of camp and sass it can get away with when it's based around a cast that has strong chemistry and a clever script. Emily Andras (Lost Girl, Killjoys) scores another hit with her new show, with a strong lead and cast to boot. There's really no show quite like this one on the air right now. It doesn't take itself too seriously, which is good since shows like this quickly get tedious when it starts getting all doomsday.
It's definitely a show that defines itself very well in the pilot. You'll know from the get-go whether or not Wynonna Earp is the kind of show you'll enjoy or not. If you're a fan of strong female characters, campy settings, modern westerns, and some good old fashion demon killing then this is one you just can't miss!