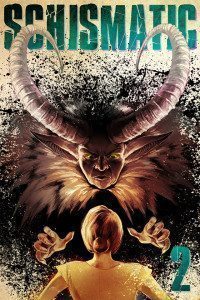 Author: Andrew Adams
Artist: Rachael Briner
Release Date: January 27th, 2016
Publisher: Independently Produced
Source: Provided by creator for a fair and honest review.
Genre(s): Fantasy, adventure.
Rating: ★★★★☆
Review Spoilers:  Low
After a successful Kickstarter campaign, the creators behind Schismatic were excited to introduce their second issue. Their first issue, and Kickstarter campaign were reviewed here so check that out if you haven't already. Since being successfully funded, the minds behind this fantastic fantasy adventure have been hard at work to produce the next parts of their phenomenal story. Issue two picks up right where issue one left off, with the two main characters trying to break free from their prison to get back to the children who had been taken from them ten years before.
Together, with a guide, they were able to escape the main prison and begin their journey into the knot where they faced a number of trials. Idris and Amalia would stop at nothing to get their children back, if their children were even still alive, and they faced every challenge together. With their combined determination and skills, they did eventually make it out of their prison into the world. Though that was just the beginning.
Continuing their story in beautiful color, the creators have outdone themselves again. Along with Idris and Amalia's story, readers get a chance to learn more about the world the characters are forced to deal with. Things were different before a moon made its way into the planet's orbit and disrupted everything. As the story points out, finding a good partner is important, and the contrast shown between Idris and Amalia's story, where their partnership works, and the bigger story of incompatible partners they have to operate within was an artful choice. It connects their journey with the big picture, which is important in any good story.
Along with more information on the world in the form of narrative, the readers also get a chance in issue two to sink deeper into the culture and types of people and creatures that exist. It becomes clear very quickly that their world is definitely not ours, as animals of all sorts walk on hind legs and drink like sailors. As Idris and Amalia part ways to build a team to help them successfully locate and rescue their children, they help introduce the reader to the other characters who will be joining the journey and who have been harmed by the Dark Order.
Together with others hurt like themselves, a band of broken beings take off together to face the next challenge. With its second issue, Schismatic continues to demonstrate excellent story telling with visuals that are nothing less than immersive and we're breathlessly waiting for more.