Zootopia (2016)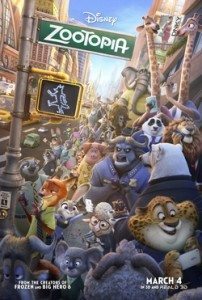 Release Date: March 4, 2016
Cast: Ginnifer Goodwin, Jason Bateman, Idris Elba, J.K. Simmons, Tommy Chong, Octavia Spencer, Jenny Slate
Director: Byron Howard, Rich Moore, Jared Bush
Studio: Walt Disney Pictures, Walt Disney Animation Studios
Distributor: Walt Disney Studios Motion Pictures
Genre(s): Comedy, Animated
Rating: ?????
Review Spoilers: Low
IMDB | Rotten Tomatoes | Wikipedia
It may seem easy to score high with a movie about anthropomorphized animals, especially when the category of "family friendly" lures in a larger audience of parents looking for something that'll keep the entire family entertained for a couple of hours, but few do this job as well as Disney does.
While you get the occasional successes like How to Train Your Dragon or Hotel Transylvania they all pale in comparison and anticipation to any title by Disney. Given that Walt Disney Animation Studios's last big film was Big Hero 6 in 2014, before being followed by two Disney releases through Pixar's animation studio in 2015 (the stellar Inside Out and the lesser The Good Dinosaur), the studio has had enough prep for their next blockbuster to top the charts and knock Deadpool off the list.
And I'm happy to report that Zootopia is another success for Disney.
In a world of minions and chipmunks and dinosaurs, Zootopia finds its footing easily with a tried and true formula while also delivering a strong story set to a buddy cop, neo noir theme. Like most well crafted family films, Zootopia is set to entertain both children and adults in equal measure. It's filled with parodies and satires of our own lives and pop culture.
From the references to The Godfather to social commentary on equality and segregation, Zootopia is able to do what almost all Disney films seem capable of doing expertly: charm us. With the ability to not only laugh at ourselves and our oddities but also teach the younger generation lessons that everyone can relate to.
The story of Judy Hopps, an unlikely rookie cop within the metropolitan city of Zootopia, is by no means an unfamiliar one. As a bunny, she's immediately the underdog within the story. Her co-workers don't take her seriously since she's the only prey animal among sea of predator cops. Her boss sees her only as a public figure foisted onto his team by a mayor eager to please his constituents.
Even the criminals on the street don't take her seriously, when she is given the job of a meter maid and conned her first day on the job by a conman named Nick Wilde. Nick, a fox and a predator, is about as jaded as they come and becomes an unwilling partner to Judy as she attempts to solve a case involving missing predators that plagues the city.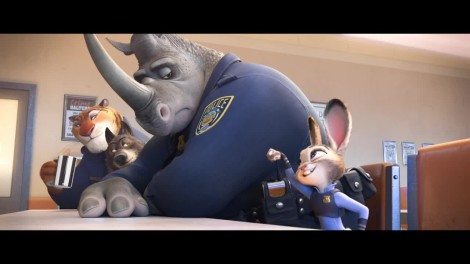 There's nothing necessarily ground breaking about Zootopia's plot, even the plot twists are all too familiar. However, there's no lack of humor or heart and despite a familiar story, the beating heart of the film remains genuine. The characters are all likeable and the story is not only relatable but one that fits into the current conversations about equality as well as age-old lessons like not judging a book by its cover.
In typical Disney style, it does all of this while remaining funny and witty, painted with bright colors and endearing main characters and memorably funny side characters. It plays on stereotypes while at the same time breaking them, and holds its own within the pantheon of animated films that came before it.
Final Thoughts: It's got all the hallmarks of a great animated movie, and it doesn't fail to get laughs and give you that warm happy feeling that an inspiring film should. Mark this one as a must watch, for the family and for everyone else.