The Finest Hours (2016)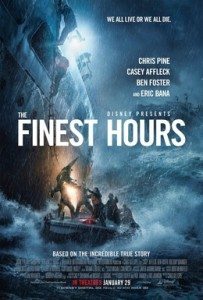 Release Date: January 29, 2016
Cast: Chris Pine, Casey Affleck, Ben Foster, Holliday Grainger, John Ortiz, Eric Bana
Director: Craig Gillespie
Studio: Walt Disney Pictures, Red Hawk Entertainment, Whitaker Entertainment
Distributor: Walt Disney Studios Motion Pictures
Genre(s): Adventure Disaster
Rating: ★★★★☆
Review Spoilers: Low
IMDB | Rotten Tomatoes | Wikipedia
It might ring traditional to some, but The Finest Hours never failed to entertain in all it's 117 minutes. Movies about the US Coast Guard are far and few between, with the last one being in 2006 and being lukewarm. Compared to the frequent spies and soldiers and marines and pilots we see on our screens, the men and women who go out and rescue those lost and stranded at sea lack some serious representation.
So, while The Finest Hours doesn't score much for variety or shocking originality, it does show off the heroism of one of the USCG's most historic rescues that is both well acted and well directed. Chris Pine does a tremendous job as the rule-following, endearing Bernie Webber. He plays both a stalwart member of the Coast Guard and a humble hero in the face of true uncertainty.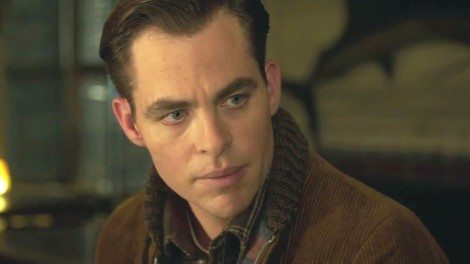 Mirrored to his character is Casey Affleck's Ray Sybert, the first assistant engineer on board the SS Pendleton, which has been torn in half during a monstrous storm off the New England coast. Quick-thinking and calm in the face of danger, he navigates the crew towards their rescue almost as much as Webber does in finding them. It's very clear in the story that both Webber and Sybert were instrumental to the survival and rescue of the crew.
The film does a good job of separating the story into three parts, one from the perspective of Bernie and his team, the other from the perspective of Sybert and his remaining crew, and the third from those waiting in Chatham. It's able to not only divide the suspense of those on land, who are forced to become an audience to one of the greatest disasters of their lifetime, but also with the two stories at sea.
While the efforts of Ray Sybert and the crew to keeping themselves alive was both inventive and awe-inspiring, it's really Pine's portrayal of Bernie's determination to find the crew that makes the film. Most of the USCG is at a different oil tanker that was also split in half during the storm, leaving only Bernie's small crew to rescue the men.
Facing off against the nigh impossible task of sailing out on the motor lifeboat past the vicious Chatham Bar, where one obstacle ends another begins. The action literally keeps you on the edge of your seat, as he basically surfs the massive walls of waves at the Chatham Bar with nothing but his motor lifeboat, and manages to find them without a compass, and save them without much in the way of support.
Final Thoughts: It's not going to surprise you with any plot twists, but The Finest Hours is by far one of the most exciting disaster movie so far this year. It keeps you rapt with attention during moments of intense action and charms you with its leads' charismatic and likable characters.