Synopsis: Peggy arrives in Los Angeles to investigate a mysterious killing – and gets way more than she bargained for.
Rating: ★★★★★
I honestly have no idea why the MCU hasn't taken far greater advantage of Marvel's long history. But I'm also glad they haven't because nothing could ever bridge that gap as well as Agent Carter does. To put it plainly, it's a nearly flawless show. And the flaws I might have listed for it last season, have already been made up for in just two episodes.
The show is genius in its ties to the greater Marvel canon, chronologically but retroactively setting up and augmenting important pieces we can recognize from other Marvel films, and it's also one of the most beautiful TV shows I've ever seen. Period pieces are hard to top aesthetically just on their own, but Agent Carter takes it to a whole new level; the gorgeous costumes, the perfect red lipstick, the hats, the shoes, the classic cars and neon lights, all set under incredible color grading, and historically accurate skylines. It's hypnotic.
This two-hour season opener starts us off with a perfectly mimicked shot of last season's opener – Peggy in her sharp blue blazer and now-iconic red hat, walking among a sea of faceless white dudes in gray suits. She walks into a bank where she pulls a gun on a teller and we realize – it's not Peggy at all. Everyone's favorite original Widow is back in action.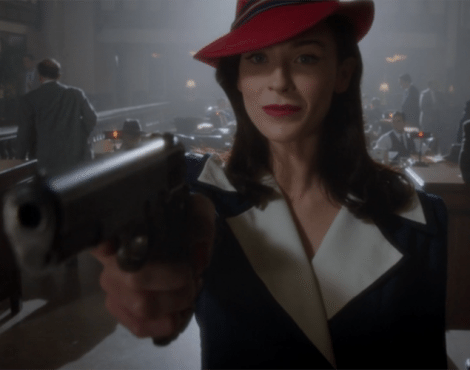 Dottie and her goons are out to steal something from a safety deposit box, but the SSR is ready for them. The real Peggy is lying in wait inside the vault with a shotgun, and everyone else in the bank turns out to be SSR agents, ready and on guard, complete with Chad Michael Murray standing on a table.
Resentful of Peggy's presence and success interrogating Dottie, Chad Michael Murray decides to send her to Hollywood where Daniel Souza is setting up a new SSR branch. He and a local detective are investigating an inland lake that froze by itself in the middle of a heat wave, and unearthed a dead body that's supposedly linked to a serial killing case from years earlier. Peggy discovers the two crimes are not related, after the body will not unfreeze, and begins to glow in the dark.
It's amazing how inexplicably out of place the aliens and superpowers look in the 1940's – it's a genre split you don't usually see, and it's pretty damn cool. The show also explicitly tells us that it's 1947, and since that's the year of the original Roswell crash, if the show doesn't do something with that, I'm writing a whole string of angry tweets. But I digress.
Peggy enlists the help of Jarvis – who's been missing the life of adventure – to investigate Isodyne, the only nearby company with a particle accelerator, which Peggy believes the dead girl was exposed to, causing her remains to glow. It turns out she's correct, after she meets hot physicist James Wilkes, who shows her footage of the mysterious Zero Energy he's been working on, and also takes her dancing.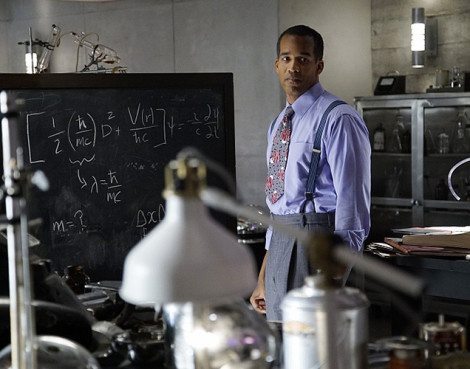 The Energy can be deadly and is clearly Not Of This Earth, and corrupt politicians are trying to both profit from it and keep it under wraps – naturally – but when Peggy and James break into Isodyne to steal it, the canister is dropped and James vanishes into some kind of portal – actually there's just an explosion and Peggy, believing him to be dead, is heartbroken (they kissed in a phone booth and everything, guys!), but I am choosing to believe he's kickin' it in an alternate dimension where everything is beautiful and then he's going to come back and bring some more hot dancing physicists with him and everything is going to be FINE.
More highlights include: Rose the secretary being forced to watch terrible, unsolicited auditions from people walking into the theater production company the SSR is pretending to be, Peggy and James casually sharing an eclair while stranded in the middle of the night discussing impending violence, the sexy garter that holds a pistol, and Jarvis trying to corral a flamingo while his wife drinks wine and laughs at him.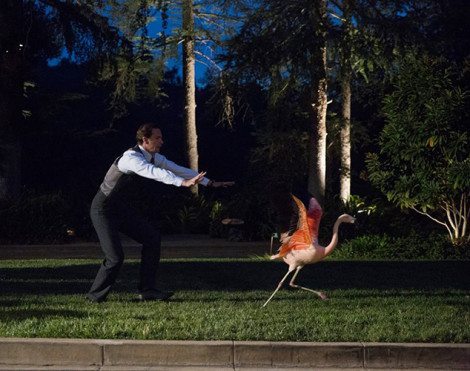 This season is already setting up love, intrigue, mystery, and murder, complete with deadly alien energy and a secret Corruption Council, inspired by comics and set against the backdrop of Classical Hollywood. I don't actually know what more someone could ask for.