Okay, this post serves as a farewell post to my coverage of Teen Wolf. It's been good, it's been weird, and it's been bad.
This season has been so very, very bad.
It's like an homage to really terrible, senior capstone MFA video projects. There's no structure to the episodes anymore, and I'm constantly trying to figure out what the heck is happening in Beacon Hills.
I'm not sure what changed between the first half and the back half of season 5. My best guess is a director change and a collective acid trip in the writers' room. Either way, it's not worth my time to fact check either of those theories.
Because here's the truth of it, gentle reader.
The show is so bad that even idle speculation about what went wrong isn't worth our time.
Best to let our tarnished Teen Wolf fade into the shadows of our memories, along with other things once beautiful, like Chipotle before those E. coli outbreaks or that terrible relationship that made Tinder look like an appealing life choice.
Let me be a friend to you today and tell you all the reasons why you should quit watching this terrible show.
Let's give Teen Wolf the Viking funeral it deserves.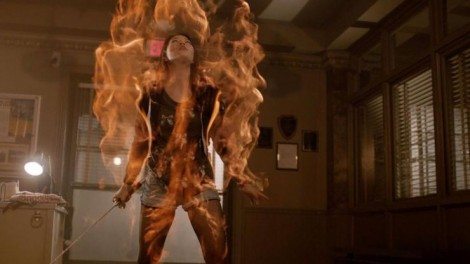 SO OVER IT: 15 UNFORGIVABLE GRIEVANCES
More than half of the show consists of flashbacks and flashforwards. None of which have timestamps.
Lazy usage of the 'insane asylum' trope.
Too much action centered in/around the hospital.
Multiple Big Bads (Theo/Big Wolf/Dread Doctors)
Horrible treatment of female characters (e.g. romanticized shots of prolonged physical pain or suffering – Lyds, Allison, Kira).
 Not enough Lydia or Kira or other female characters.
TOO MANY SLOW-MO SHOTS OF NEEDLES PUNCTURING SKIN DEAR LORD.
Too many storylines at once (lookin' at you, Desert Wolf).
Not enough Peter or Derek Hale.
Too much weird mythology (hellhounds and jaguars and dread doctors, oh my!).
Not enough dialogue between the characters.
Allison should have been the Nogitsune (It was a really compelling Tumblr theory that season).
The show lost its heart and its quirk. The friendships between the main characters died and the chemistry Scott had with the audience is all used up.
Not enough 'teen' in the 'teen wolf.' No more cute school scenes.
It got too dark. Metaphorically and literally. The camerawork looks filmed using a dark gel pretty much 24/7.
Bonus:
ALLISON IS DEAD AND SHE NEVER GOT A FUNERAL. #NeverForget