This week, Sam finished John Flood, with hopes of more from the series in the future, and is starting to get lost with Lantern City, both from BOOM! Studios.
Kylee took a look at Gutter Magic, one of the latest print offerings from Comics Experience, with the help of IDW Publishing, and thoroughly enjoyed the first issue of this new urban fantasy series.
All New All Different Avengers fell short of expectations for Jackson, while Extraordinary X-Men, both from Marvel, rated four out of five stars. Constantine: The Hellblazer from DC Comics is also impressing Jackson as one of the best takes on the character yet.
Check out all of our reviews below and let us know what you're reading in the comments!


Sam's Reads
John Flood #6 (of 6)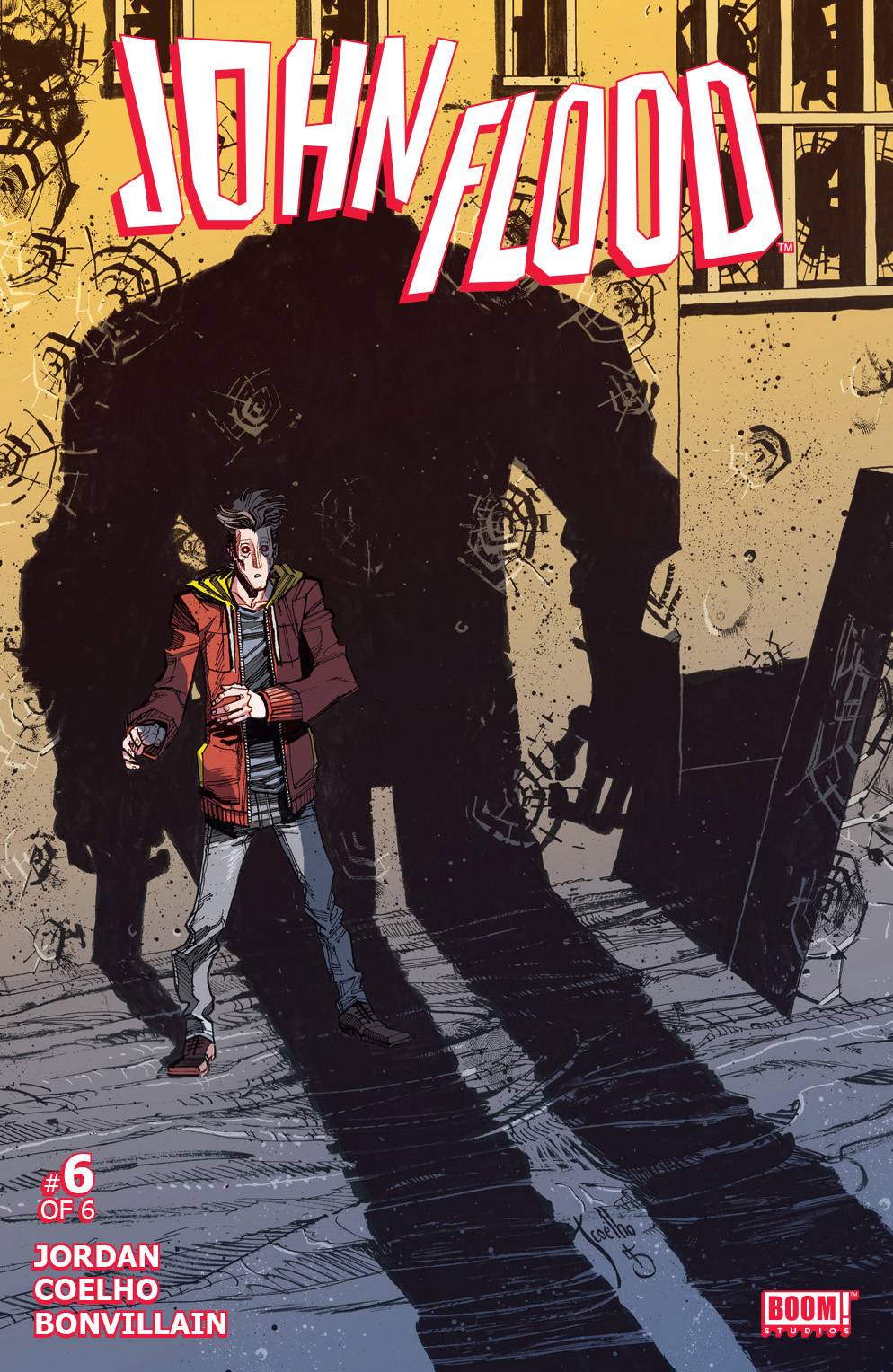 Author: Justin Jordan
Artist: Jorge Coelho
Publisher: BOOM! Studios
Source: BOOM! Studios
★★★★☆
After a few ups and downs, John Flood comes to an end this week with a pretty satisfying ending. Do we get all the answers we want? No. Do the characters get everything they deserve? Not all of them. But, hey. It worked for me. I'm glad I read the book and the ending felt complete. If we never see John and Berry again, I'll be okay with it. (Not that I wouldn't love to venture off with them again sometime soon – you hear me, BOOM? Let's do it.)
Anyway.
John takes our killer Tate off into the middle of the desert. According to Lyta, John's friend who Berry tracks down again, this is where it all started for John. The government gave him the book and he woke up broken, naked, and lost. She helped him but after a while – when he stopped being able to tell the waking world from his decade-long dream – he pushed her away because she might just be the only thing that still felt real. Tate gets one over on John and wrecks the vehicle they are in but luckily the others get there before Tate can kill him.
We get some more backstory for Berry surprisingly in all of this. We flash back to when he kills a man with his bare fists after finding that man had killed his infant child. But he doesn't kill Tate. He's not that man. Instead, someone else does it for him. In the end, Tate is stopped and Berry winds up in the clear in both assaults. But he's not going back to being a cop. Instead, in the end, he goes back to Flood. I can imagine the two of them venturing onward like some cracked out Holmes with his big, muscley Watson. Hopefully, we'll see them again at some point. There are still more adventures to be had, I think.
Lantern City #9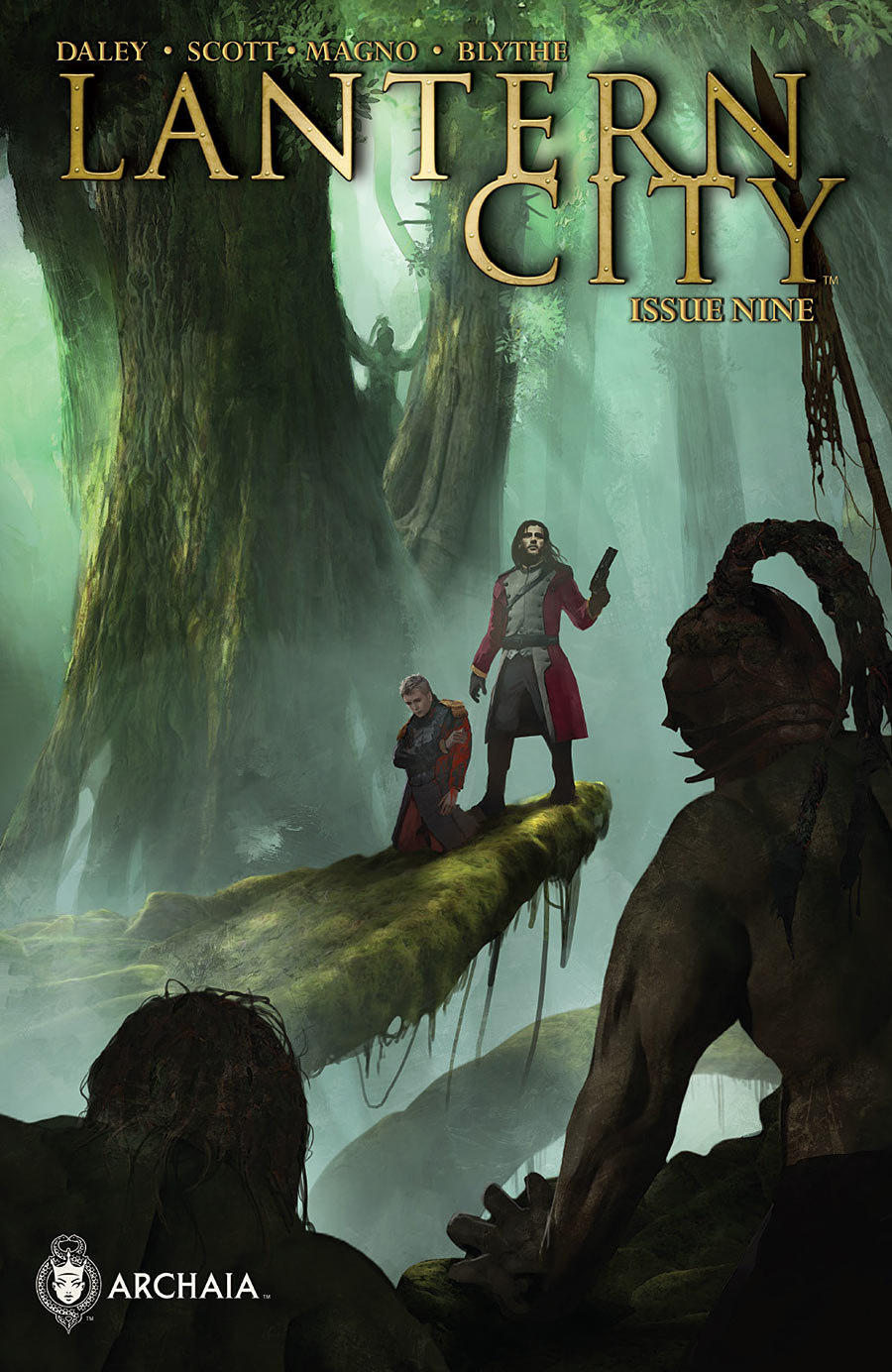 Author: Matthew Daley & Mairghread Scott
Artist: Carlos Magno
Publisher: Archaia
Source: BOOM! Studios
★★☆☆☆
What is even going on anymore? Someone takes a shot at Killian. Killian and Sander take off for the wildes past the city limits. The whole city goes to chaos in Killian's absence. And somehow all of this not only is going according to Killian's plans but the writer's plans. That's where I guess I'm lost.
The bulk of this issue was focused on Sander's interactions with the Fortache people – a native tribe that his ancestors once belonged to before going to Lantern City. As far as he knew they were all dead. Instead, they thrive outside of the influence of the city. They lack modern medicine and conveniences but they are happy. They have families. They survive. But they are ensnared by the idea of the city and it's medicine and technology. They will be willing soldiers in Killian's army against Pont.
There are some neat interactions between Sander and the Fortache characters but, for the most part, it all seems like filler. By the end of the issue, we're back to Lantern City and it's falling apart as Pont's men take over. So what was the point? When are the Fortache coming into play? How is any of this a part of Killian's plan? I get it. The guy is crazy. But does everything else have to seem as crazy as Killian?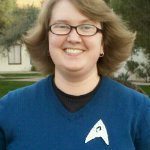 Sam Wildman  is a co-founder and co-editor at Nerdophiles. She'd totally be bros with John Flood. Follow her on twitter @samaside.


Kylee's Reads
Gutter Magic #1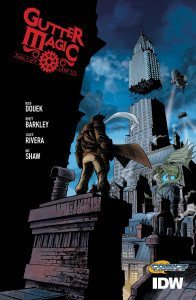 Author: Rich Douek
Artist: Brett Barkley
Publisher: Comics Experience / IDW Publishing
Source: Author
★★★★☆
In this new urban fantasy series from Comics Experience and IDW Publishing, we meet our protagonist in the midst of a high-stakes heist. Unfortunately, Cinder wasn't born with an inate ability to use magic, instead he must use his wits to steal and manipulate it as much as possible.
Check out our interview with author Rich Douek and the full review of issue #1 right here.


Kylee Sills is an associate editor at Nerdophiles. World War II won through wizards (say that six times fast) is something she never knew she needed to think about. Follow her on Twitter @kyleewho. 


Jackson's Reads
All New All Different Avengers #3

Author: Mark Waid
Artist: Andy Kubert
Publisher: Marvel Comics
★★☆☆☆
Mark Waid's greatest strength as a writer is often in finding the fundamental truth in a concept or character and setting them loose in increasingly dangerous, desperate situations with only their greatest strength to push them forward. It's what made Impulse a defining character of the '90s, guided by his speed and willingness to grow and adapt. It remade the Legion of Superheroes into a group of teens defined by their youthful idealism and resistance to the ways of old.
It's what turned Daredevil back from a man haunted by demons, both inner and infernal, to one looking fearlessly to the future. When Waid can zero in on those strengths and define his stories through them, there are few writers better than him. When he misses it or can't find one, his books come off a bit soulless and directionless. Sadly, All New All Different Avengers falls in the latter camp and it's hard to tell what could pull it out.
Granted, this is still early days for the title. In this week's All New All Different Avengers #3, the now fully formed team is desperate to stop Warbringer from bringing together an artifact that would unleash a Chiutari menace. While the team races to stop the villain, as well as the mysterious interloper, Grayson, Nova wrestles with the fact that he's potentially responsible for the devastation that's now come to Earth.
Sam's self-doubt and Adam Kubert's solid pencils don't make for enough to swing the book though. The plot feels like an unexciting video game, with heroes collecting McGuffins in order to stop an, at best, extremely poorly defined villain. Hints that Vision's new lack of emotions have turned him into a loose cannon are really the only bit of excitement the book offers for the next story arc.
It's unclear how Waid sees the Avengers as a concept or the new incarnation of the team as a cohesive unit. With most of the characters as new versions of classic members, it's clear he's trying to play off of classic tropes but it's unclear how he sees them. Does Waid see the Avengers as backstabbing, angry, barely holding it together heroes put together by chance? Does he see them as Earth's Most Available Heroes? It's hard to grasp exactly what Waid is going for and it leaves these solid, mostly compelling characters feeling more like props than heroes and doesn't offer a compelling hook to hitch a book to.
Constantine: The Hellblazer #8

Author: Ming Doyle and James Tynion IV
Artist: Riley Rossmo and Brian Level
Publisher: DC Comics
★★★★★
There hasn't been a bad issue of DC's Constantine: The Hellblazer, the recently relaunched take on the eponymous egomaniacal, self-possessed bisexual sorcerer but it's taken a while for the series to really develop into a wholly cohesive book. Last month's issue, a team-up between John and his best frenemy, Swamp Thing, was one of the strongest issues yet and this one only builds off of those strengths, teaming up classic Constantine characters in unexpected, compelling ways and showcasing them with an exciting, groundbreaking art team that's putting out one of the most well-defined looks in mainstream superhero comics today.
With Papa Midnight taking John's one-night-stand-turned-maybe-boyfriend hostage, New York's most cantankerous sorcerer is press-ganged into helping one of his enemies retake his occult hotel, which has now been stolen by the demon Neron in this week's Constantine: The Hellblazer #8. For longtime fans of the character, this issue features a host of callbacks to classic moments and storylines. Neron, a longtime DC villain who's weirdly never tangled with Constantine, feels perfectly at home here, all power, class and twisted sex.
The story also touches on plenty of notes in John and Midnight's relationship, even citing a classic moment from Jamie Delano's first story with the character way back in 1988's Hellblazer #1. This is the perfect way to blend nostalgia, fan-service and a new, considerably different take on a classic character. Writers Ming Doyle and James Tynion IV have such a firm grasp on the younger, sexier Constantine, focusing on his hyper-competence, arrogance, and lateral thinking, and their tight, exciting script is benefitted by Brian Level's innovative breakdowns and Riley Rossmo's grimy, heroin chic sense of style and panache.
Constantine: The Hellblazer has rapidly become not only DC's best magic book, but also one of their very best comics, period. This is such a perfect blend of perspectives, with both writers and a split art team all working together to create something wholly unique for a fairly well-established character. This is among one of the most perfect portrayals of John Constantine ever and it's possibly the best jumping-on point for people interested in exploring the character.
Extraordinary X-Men #5

Author: Jeff Lemire
Artist: Humberto Ramos
Publisher: Marvel Comics
★★★★☆
It's hard to talk about Extraordinary X-Men without talking about its less-than-inspired premise. More than any of Marvel's current titles, which all to some degree deal with similar problems, it's a title that feels like it's dealing with editorial edicts wholly not its own. No comic more addresses the publisher's complicated relationship with the X-Men as a multimedia franchise and, to some degree, it's always going to be distracting from what the book is actually trying to do.
So much of Extraordinary X-Men has to deal with the fact that Marvel is desperately pushing the Inhumans over the merry mutants that the book hardly ever gets to feel like its own product. However, with Extraordinary X-Men #5, Jeff Lemire and Humberto Ramos are beginning to create a portrait of what this series could be, one that reaches across a variety of eras and concepts to create something wholly new for the company's preeminent band of outcasts.
Finally facing off with Sinister and his Apocalypse-inspired clone of Cyclops, Storm and her team are forced into a desperate battle in the streets of New York. This is an action packed issue that places a lot of pressure on Humberto Ramos' back and he's more than game here. A pitched brawl in Time Square, featuring massive explosions, tons of crackling super powers and an incredibly pissed-off Magick all get impressive attention here. Ramos has long had a tricky history with consistently drawing figures but his exaggerated characters work well in such a ridiculous battle and lends a grizzly intensity to scenes like Wolverine waiting for his flesh to regrow over his face.
With references to X-Men stories as diverse as Age of Apocalypse, Old Man Logan and Inferno, Lemire's take on these characters is strongest when he's not addressing issues like the Terrigen Mists, the mutant plague or the misguided mutant sterilization. Letting the X-Men be heroes, especially in a world that's never hated and feared them more, is the key to making this franchise work and working around editorial edicts and publisher initiatives are only going to benefit these stories and characters.



Jackson Adams is a staff writer at Nerdophiles. He still doesn't dig Humberto Ramos' Spider-Man art. Follow him on Twitter @JacksonInACup.