Sam was, unfortunately, underwhelmed by the first issue of Venus from BOOM! Studios, but Kylee is still loudly and belligerently singing the praises of Arcadia in this week's pull list. She is also lamenting the potential end of The Paybacks from Dark Horse, while simultaneously wishing someone would put her and Fight Club 2 out of their collective miseries.
Jackson continues to enjoy what Cullen Bunn (a pull list favorite) has done with Sinestro from DC Comics.
Check out all of our reviews below and let us know what you think in the comments!


Sam's Reads
Venus #1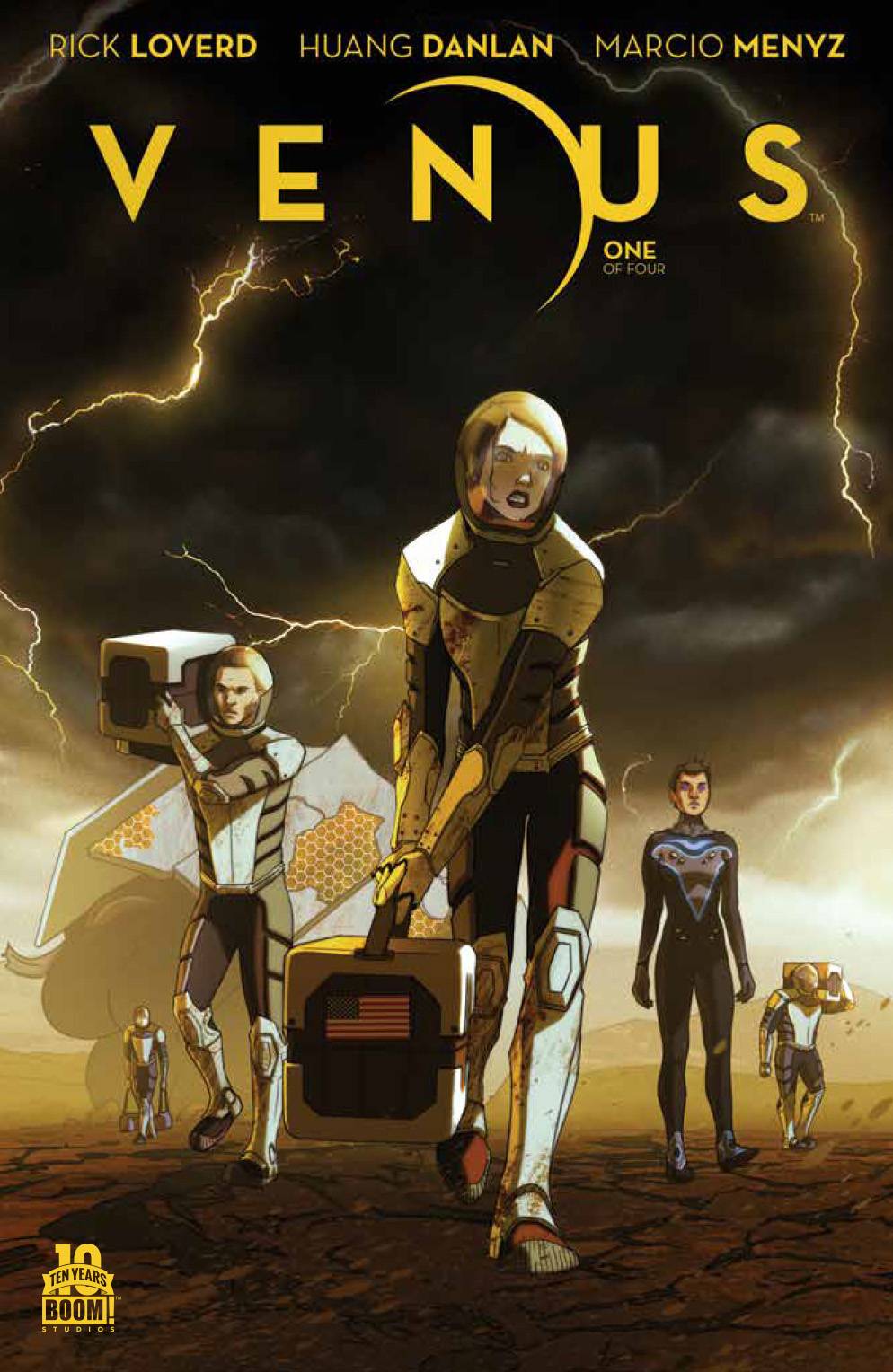 Author: Rick Loverd
Artist: Huang Danlan
Publisher: BOOM! Box
Source: BOOM! Studios DRC
★★★☆☆
I love the basic premise behind Venus. As much as I like it, though, the book failed to really grip me with it's first issue. Considering the book is only four issues long, that doesn't necessarily bode well for the story being told.
Don't get me wrong here. Like I said, the premise is great. And I liked this first issue well enough. Read my full review here.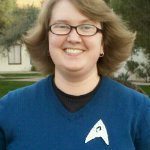 Sam Wildman  is a co-founder and co-editor at Nerdophiles. She probably wouldn't come out of retirement – even if it was to pilot a mission to colonize Venus. Screw that. Follow her on twitter @samaside.


Kylee's Reads
The Paybacks #4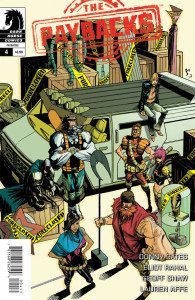 Author: Donny Cates, Eliot Rahal
Artist: Geoff Shaw
Publisher: Dark Horse
Source: Dark Horse DRC
★★★★☆
Despite ending on a cliffhanger, Dark Horse announced this as the "series finale" issue of The Paybacks. Hopefully, that means the end of the first arc or volume one of this comic and not the actual end because that would be a tragedy.
Slightly less laugh-out-loud hilarious than its previous issues, this issue resolves some of the questions brought forth so far, while bringing up new concerns and absolutely ripping hearts out with an unexpected (but probably something readers probably should've seen coming) twist. From start to finish, this series hasn't managed to rest for long periods of time – making a chaotic adventure that hits hard when the team does take a step back to survey the damage done.
If it is the last issue, I'm hesitant to spoil anything for those readers who are going to enjoy the wrap-up installment, but I can continue to praise the work of Geoff Shaw and Lauren Affe, who do the art and colors to keep everything on the page dynamic with each new panel. It's especially great in this issue with full page spreads dedicated to the action. Hopefully, we'll get more of their work in future issues and some of the cliffhangers and plot points are resolved.
Fight Club #8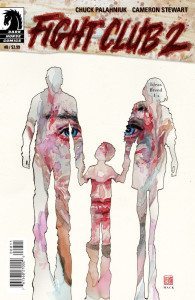 Author: Chuck Palahniuk
Artist: Cameron Stewart
Publisher: Dark Horse
Source: Dark Horse DRC
★★☆☆☆
This issue of Fight Club 2 is interspersed with sperm, much the same way the eschewing pills made things kind of interesting for a little while there. It also has two fourth-wall breaking instances where Chuck Palahniuk himself laments what he's unleashed on the world. "Try removing Santa Claus from the cultural landscape." He says after head-desking into his work – something I had to restrain myself from doing as I read the issue.
I get it, this is edgy. When Tyler and Sebastian meet in the cave and Tyler puts something on Sebastian's tongue, proclaiming it to be salty (get it?), we're going all the way there with this metaphor. Readers are meant to believe Tyler has been manipulating Sebastian's family tree as far back as his great-great-grandfather – somehow this is more believable than Tyler's manipulating of large-scale world events I suppose.
The bottom line is that Cameron Stewart's art continues to be the only bright spot in this mess. This issue also has a gorgeous two page spread from David Mack, a writer and artist who frequently contributes covers to the series, that breaks things up and reminds me why I keep getting pulled into this trainwreck. Maybe try it in trade format, but these month-to-month issues are an exercise in self-torture. I hate the series and I'm going to hate-read the entire thing. Ugh.
Arcadia #7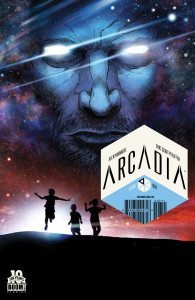 Author: Alex Paknadel
Artist: Eric Scott Pfeiffer
Publisher: BOOM! Studios
Source: BOOM! Studios DRC
★★★★★
One of my favorite aspects of Arcadia is how masterfully Alex Paknadel lays the groundwork for future plot developments in previous issues. After learning the truth about what Arcadia was meant to support, readers are brought back to Lee Pepper and Uncle Cosmas. A previously mystifying and enigmatic figure, Uncle Cosmas becomes absolutely magnetic and horrifying when his goals become clear. This dialogue is some of Paknadel's best work, which is high praise for a series that has continually hit the mark for high-concept sci-fi.
The sprawling settings and cast of characters are kept in check, where in less capable hands it might have felt like plot points were spread too thinly. Also on the outside of Arcadia, and up in Alaska, readers are shown a new depth to Valentin, who thinks he's found another connection between The Meat and Arcadia in the two Lees. Inside of Arcadia, Fisk and Binetti meet in a harrowing showdown that is interrupted by something possibly more dangerous.
Eric Scott Pfeiffer drew the cover art, as well as the inside panels, and continues to craft very visceral scenes for readers to immerse themselves in. The art at the end of the issue, wrapped up in the cliffhanger, uses dark coloring and the entirety of the page to instill that sense of foreboding. Overall, Arcadia continues to be one of the must-read comics and if you haven't picked it up yet, you really are missing out.


Kylee Sills is an associate editor at Nerdophiles. The Deep State Vol. 2 trade also came out this week and is definitely worth checking out for all you conspiracy theorists out there. Follow her on Twitter @kyleewho. 


Jackson's Reads
Sinestro #18

Author: Cullen Bunn
Artist: Brad Walker and Neil Edwards
Publisher: DC Comics
★★★★☆
More than any of DC's other franchises Green Lantern has been in a state of flux. With Hal Jordan still claiming to be an intergalactic criminal and the rest of the Corps stuck in time, only Sinestro is left in a traditional space within the franchise. With the absence of the Corps, writer Cullen Bunn has had a chance to bring the galaxy most maniacal Korrugarian into a more heroic place, or as close as a killer can be to that.
This week's Sinestro #18 pushes the criminal's Corps against the high priests of the Paling, an undead group of ex-Guardians who are working to destroy all emotion. In many ways, the Paling is a traditional Green Lantern villain and Bunn has highlighted the difference in Sinestro's response to a threat versus the ones longtime readers of the franchise have seen. While the Green Lanterns are consistently a more reactive force, Sinestro takes a very proactive  take on battling a destructive threat, recruiting super villains and heroes alike to wield the power of fear and save the Earth. Here each of his plays, between activating Warworld and unleashing his recruited army of Manhunters, showcases the villain's calculating nature.
There's a sense of doom and violence to Sinestro #18, with Lyssa Drak promising the rise and fall of the man she loves, but the highlight of the book is seeing Sinestro take on threats in the way no one in this franchise has before. A last page twist of the newest addition to the Corps is only another reminder of why Sinestro is frequently one of the DC Universe's best villains and, potentially, its greatest savior.



Jackson Adams is a staff writer at Nerdophiles. He just wants a Black Adam and Sinestro team-up series. He'll even write it. Follow him on Twitter @JacksonInACup.