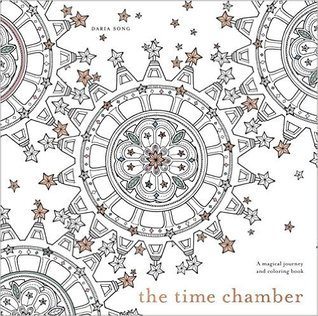 Author: Daria Song
Artist: Daria Song
Release Date: October 13, 2015
Publisher: Watson-Guptil
Genre(s): Fantasy, Picture Book, Coloring Book
Rating: ★★★★★
Review Spoilers:  Low
GoodReads | Amazon
A couple of months ago we posted a review for an adorable new adult coloring book called The Time Garden. In the book a young girl finds herself climbing inside an old cuckoo clock to explore a series of mystical, magical lands. There's a fairy who lives inside the clock that she initially seems to be chasing but the bulk of her adventure is her own journey through the clock.
It turns out that the fairy gets the chance to go on her own adventure out in the human world.
Like the original book, the story is primarily told through pictures though there are a spattering of words here and there. It says a lot about Daria Song's storytelling that you're able to follow along without needing much guidance from the written world. She's a talented artists and that's one of the things I always find quite remarkable about her coloring books. Here is this absolutely talented artist giving us all an opportunity to be a part of her artwork.
As far as coloring books go, this really is a great one. I enjoyed The Time Garden a lot but The Time Chamber is actually much better for coloring, I think. A lot of the pages in the original book had very fine details and sometimes things seemed a bit too bunched together. I was always a little hesitant to color those pages. I rarely felt like a page was too busy or detailed in The Time Chamber, though. Every page looked amazing and conducive to adding my own little personal touch.
The story, too, seems much more interesting than it's predecessor. It's so cool to see our world become magical and unknown in the eyes of the tiny fairy exploring it. The girl in the cuckoo clock had her own adventures but they were harder to follow. The story and the pictures in The Time Chamber, by comparison, seem much more cohesive. That's not to say I don't like The Time Garden – I gave it a five stare review two months ago, too!
Obviously not a coloring book for children, The Time Chamber is the perfect book for adults who want to color but want a little bit more from the experience than just coloring in random pictures. Daria Song gives readers an opportunity to essentially help illustrate their own coloring book. For people who are looking for something more to show for their coloring efforts – this is the perfect book.
I highly recommend both of Daria Song's books – especially if you're looking for presents going into the holiday season. Both sell for less than $10 a piece on Amazon. When it comes to great gifts, that's hard to beat!

A REVIEW COPY OF THIS BOOK WAS PROVIDED BY CROWN PUBLISHING VIA BLOGGING FOR BOOKS. NERDOPHILES WAS NOT COMPENSATED IN ANY WAY FOR THE REVIEW AND THE OPINIONS HERE ARE OURS AND OURS ALONE.