The Book of Life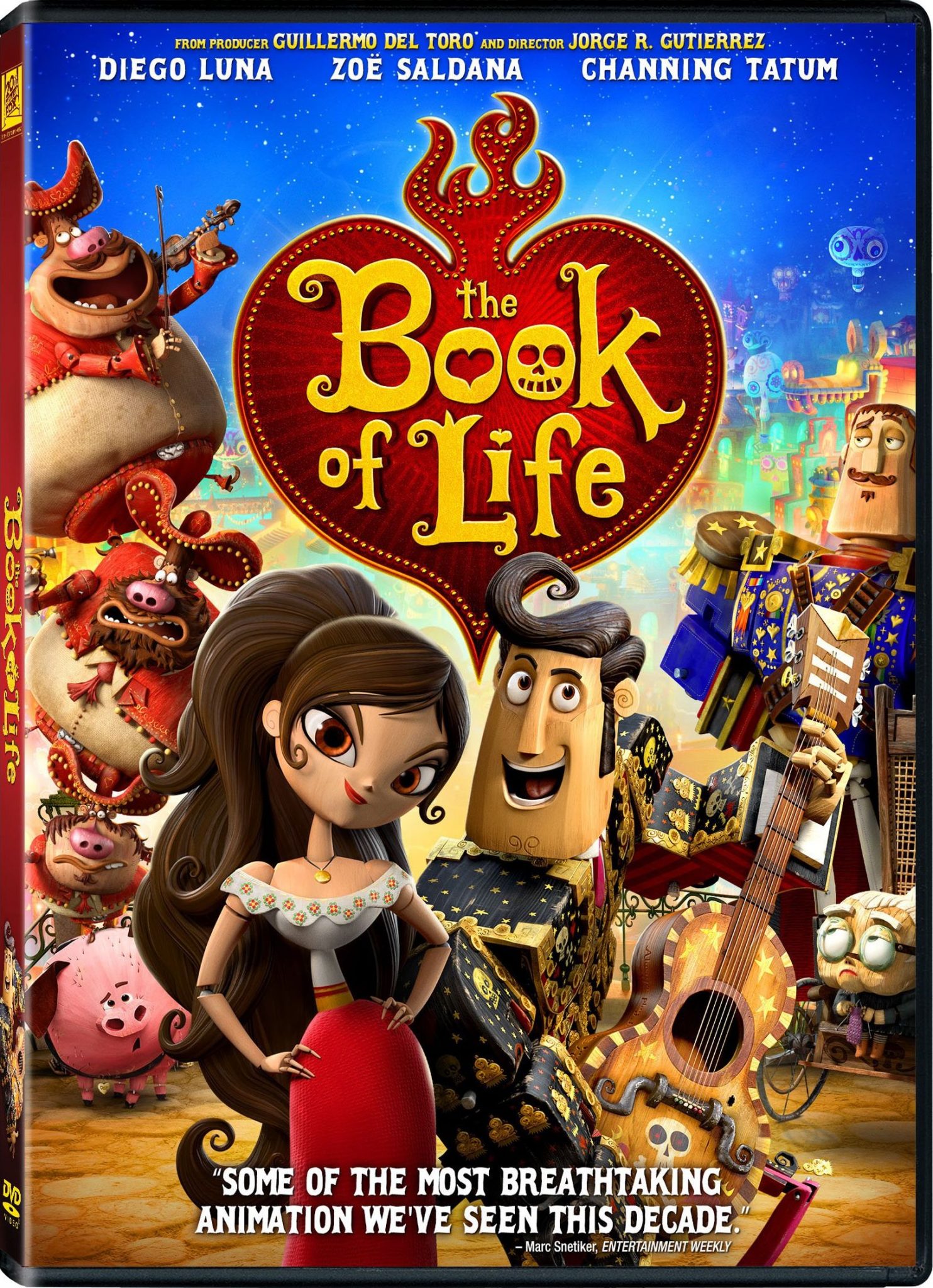 Review Format: DVD
Release Date: January 27, 2015
Cast: Diego Luna, Zoe Saldana, Channing Tatum, Ron Perlman, Christina Applegate, Ice Cube, Kate del Castillo
Director: Jorge Gutierrez
Studio: 20th Century Fox
Distributor: 20th Century Fox
Genre(s): Family, Musical, Animated
Extra Feature Rating:  ★★★☆☆
Film Rating: ★★★★☆
Review Spoilers: Low
Amazon | IMDB | Wikipedia | Rotten Tomatoes
The Book of Life is an absolutely amazing movie.
Few animated movies these days really manage to be both stunning and original while standing up to Disney's animated powerhouse. Yet The Book of Life does just that.
The movie boasts a fantastic voice cast and mixes in great vocals with stunning animation and a unique plot focusing on Mexican folk lore – in particularly the Day of the Dead – to create a film we'll be talking about for years.
Review
The Book of Life tells the story of Manolo, a young matador whose real ambition in life is to be a musician. As a child he and his friends Joaquin and Maria draw the attention of two spirits – La Muerte and Xibalba. They make a wager with each betting that their chosen champion will win Maria's heart when they are older. After they are separated as children, they all go their own way for many years until they are reunited by Maria's return to their childhood home.
Both Manolo and Joaquin continue their good-natured competition for her affections but Xibalba refuses to leave anything to chance. He has the opportunity to rule all of the afterlife should he win this wager and Manolo finds himself unwittingly caught up in his underhanded dealings. In the end, he must not only call on his own strength but rely on that of his family and ancestors to win Maria's heart, preserve the afterlife, and ultimately protect this home.
It's a great story about love and following your heart and, honestly, I cannot recommend it enough.
Special Features
Unfortunately, there aren't too many special features included on the DVD release. Among these limited offerings, however, are some really neat bonuses. The Adventures of Chuy and the Us the Duo music video in particular are notable additions to the home release.
The Adventures of Chuy
Set just before Chuy meets Marian, the short sees a carefree young Chuy romping around town freely. He doesn't realize that he is in fact a pig. He frolicks around with goats, dogs, and other animals, eventually battles an animal control officer to save a Chihuahua, and rescues the other animals he had captured. Unfortunately, he gets captured himself afterward. Super sad – at least until Maria shows up! It's kind of cute even if the talking animals bit is a little weird. But you've got to love when a DVD release provides something original like this to supplement and add to the original film.
Music Machine
If you're looking to rewatch a scene from the film featuring a song of any kind you've come to the right place. If something was sung – even for just a few seconds – it's included with it's own direct menu option in the 'music machine.' It's nice – but it might have been nicer for the kids at least if it had come with subtitles so they could sing along. Otherwise you could find most of these scenes on your own through the regular menu if you wanted.
No Matter Where You Are Music Video
Us the Duo plays their adorable duet together in this included music video. Footage of the duo playing together is interspersed with scenes from the film as well as people preparing for Day of the Dead. It's adorable – they're  cute together and the mix of scenes is really well done.
The DVD release also has an audio commentary by Jorge R. Guittierrez, as well as a few other features – like a gallery – that really aren't too impressive. It would have been nice to have seen some making-of features or something along those lines for this one. The look is so unique and the cast is so awesome that you'd imagine that they could have included something to spotlight that.
All in all, this is a pretty solid DVD release in general. Even if there were no special features this would still be a must-buy just for the film itself. I really cannot understate how amazing this movie and how much you should watch it. It's cute, fun, and all together one of the greatest films from 2014.