Synopsis of 11×06: Donna is back, and her Midwestern town is experiencing a rash of murders. When the police's number one suspect is found incommunicado with a bunny mask stuck on his head, Donna calls in the Winchesters.
Rating: ★★★★☆
Killer clowns? Check. Sheriff Donna? Check. A dark backstory that was entirely unexpected? You betcha.
Not every monster that goes bump in the night is of the Supernatural variety. Some are criminals, plain and simple. Chester, however, managed to (allegedly) tick both boxes during "Plush."
Without further delay, lets dive into episode 7.
The Front Seat
The Men of Letters' library is wide, varied, and still partially drenched in gasoline, but references to the Darkness are few and far between. Those tomes that do seem promising are frustratingly out of the Winchesters' reach unless they're planning on learning Aramaic real quick.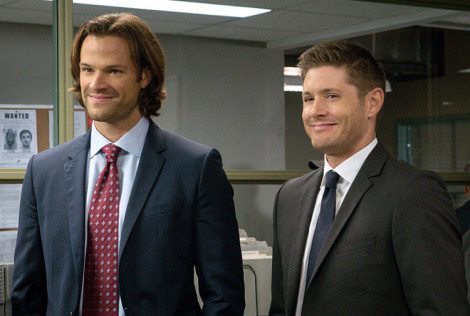 Sam, however, has his own plan for getting info on God's sister – he wants to go straight to the source. When Dean walks in on his little bro praying for answers, however, the elder Winchester is not pleased. As far as he is concerned, if the Apocalypse couldn't get the big man's attention, the Darkness isn't going to get the absentee deity to start sending a hunter visions. We were half expecting Sammy to up and slam the door in Dean's face sit-com style, but alas, the self-proclaimed divine receiver choose to walk it off instead.
Thank Chuck Donna chose this moment to ring the Ghostbuster's hot line. It seems the Midwest is having a little problem with killer bunnies. Two murders later and the Winchesters have diagnosed the problem as one of the world's most creepy examples of ghost possession. The culprit? The spirit of Chester, a children's performer who committed suicide. Now, it seems his costumes are channeling his vengeful spirit and killing people that he… didn't even know?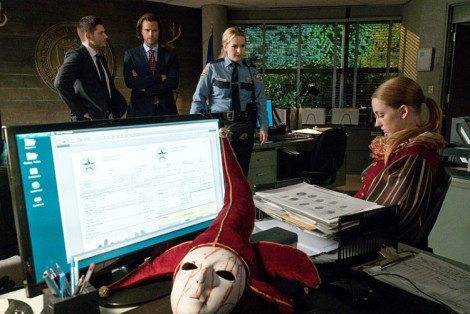 As far as Chester's sister can tell the boys, the deceased was unacquainted with both of the victims. While Donna rounds up the remaining costumes and Sam has a run in with a killer clown (which did nothing to improve his coulrophobia), it quickly becomes clear that Chester's sis was lying. Here's where the story gets dark in a way that is entirely unrelated to anything in John's journal.
It seems both the vics had children who reported that Chester was inappropriate with them, and it's a charge their parents did not take lightly, and rightly so. Without any hard evidence, the two men couldn't go to the cops. Instead, they confronted the sister who, along with her young son (played by Logan Williams, AKA The Flash's young Barry Allen), sent the accusers packing. Their message, however, continued to echo in Rita's head.
What if she had unwittingly turned a blind eye to Chester's behaviors? To think he lived in her house? To remember that he was close pals with young Max? Rita phoned up the duo and asked them to put the fear into her deviant brother, which resulted in the pair inadvertently dropping Chester, dressed as a headless deer, off a bridge and to his watery demise.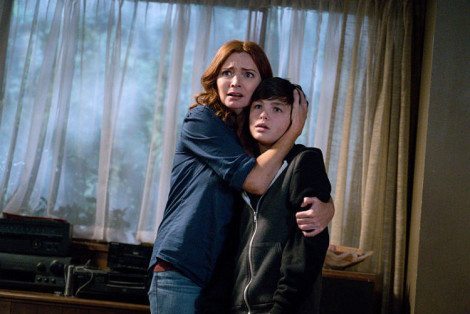 Despite his mother's confession, young Barry is quick to say Chester didn't do anything wrong. Did I say young Barry? I meant Max. You've got to hand it to Williams, though; he really nails that earnest childhood innocence.
The entire affair makes us wonder if his name was dragged through the mud for no reason or if he really was a deviant creep. Whatever the answer, nothing changes the fact that the Winchester bros. seriously needed to gank that sucker – and not merely for the ghost's murderous tendencies, but for the fact that the spirit was turning poor unsuspecting innocents into mindless killers.
When Chester possesses Max via the missing deer head, it's game over. A little iron, a little salt, and one burnt costume later and that ghost is just another story.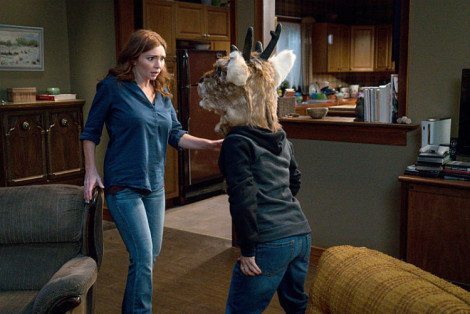 The Backseat
This section is usually reserved for Cas and Crowley's shenanigans, but the angel and the demon were MIA for "Plush." Donna, however, took over in their stead.
The Sheriff is really coming into her own as a hunter. Unfortunately, there is still one aspect of the job she's still having a little difficulty with – saving the innocent from the justice system. Ghost possession can make a murderer out the even the gentlest souls, and there's really no way to explain that to a jury. Instead, the cop needs to bite the bullet and let them "escape."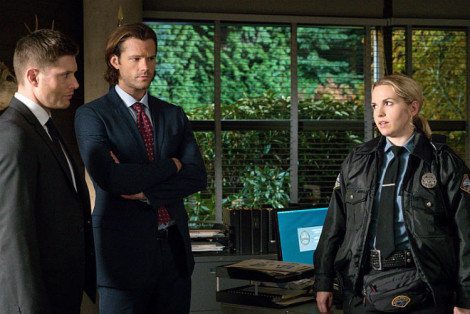 Donna may have a heart of gold, but Dean is quick to assure her that she is, in fact, a hunter. She has the hunter argot down, after all.
Find out what's next for the Winchester bros. when Supernatural returns to The CW this Wednesday with "Just My Imagination."