For years, the comics market has expanded, with more independent publishers and the biggest publishers putting out more and more books. Finding what's good and what would make the ideal gift for the comics lover of your life can be difficult, especially if you're not a comics fan to begin with.
Take a look at our breakdown of recommendations, all divided up by categories from ideal superhero comics, to classics out of the library for the first time in decades, to books looking to bring the movies and TV shows you love to the page.
Comics with Badass Women
Comics with a Message
Material – Arguably, there was no comic that more epitomizes 2015 than Ales Kot and Tom Muller's Material. Much like the year itself, Material spotlights a number of issues that have simmered away for years, before violently and explosively coming to a head and with Kot canceling the book after the fourth issue, there are no easy answers. Material is alternatively about the War on Terror, women in film, BDSM, #BlackLivesMatter, police violence, consumption and construction, and living life filtered through social media and the internet. It's a book that defies understanding and categorization but those elements only add to its mystique and strength.
The Multiversity Deluxe Edition – A story with its roots going back a decade, Grant Morrison's The Multiversity is one of the medium's masters finally getting the chance to craft his definitive statement. A series primarily focusing on the role the reader takes on in the medium they consume, The Multiversity uses the DC multiverse and its 52 separate universe as pieces of a whole, an indictment of readers as creators and destroyers and a celebration of what it means to be a fan and comic book lover. This is difficult reading, primarily meant for the biggest of DC and Morrison fans but it's one of the most rewarding stories from one of comics' most celebrated geniuses.
Private Eye Deluxe Edition – One of the most public and most successful experiments in digital comics, Brian K. Vaughan's Private Eye was a wildly daring book that many weren't willing to read off a screen. The new edition tries to recreate the feel of reading on a computer or tablet in print and showcases Vaughan and artist Marcos K. Martin's willingness to experiment with form and function.
Comics for Nostalgia Lovers
Transformers vs. G.I. Joe Volume 1 and Volume 2 – There are few franchises that define 80s Saturday morning entertainment like the Transformers and G.I. Joe and, as such, the pair have shared the comics page multiple times, usually to fairly rote results. Written by Tom Scioli and John Barber and drawn by Scioi, the new Transformers vs. G.I. Joe is all the thrill of smashing your favorite action figures together with none of the continuity or complications. This is a thrilling, jam packed celebration of old-school art comics with over-the-top violence and crazy world building of classic Jack Kirby stories. Even for newbies to both franchises, this is essential reading.
Star Wars Agent of the Empire Volume 1: Iron Eclipse and Volume 2: Hard Targets – Marvel's takeover of the Star Wars comics license made 20 years of Dark Horse comics non-canonical but that doesn't mean those books are inessential now. The best of those stories often dodged continuity and connection to the films and two of the best stories in that vein are the Agent of the Empire miniseries. Starring Jahan Cross, a James Bond-esque spy and assassin working for Emperor Palpatine, Agent of the Empire feels like a pair of breakneck sci-fi spy stories, with all the excitement, irreverence and pulse-pounding violence you'd come to expect from writer John Ostrander.
Superman Adventures Volume 1 – Batman Adventures, the comics adaptation of Batman: The Animated Series, gets all the attention but Superman Adventures is not to be missed. The first volume is written by superstars Paul Dini and Scott McCloud and later volumes will collect classic tales by Mark Millar and other would-be superstars. It's definitely worth picking up for the superhero cartoon fan in your life.
Comics for People Who Really Love Comics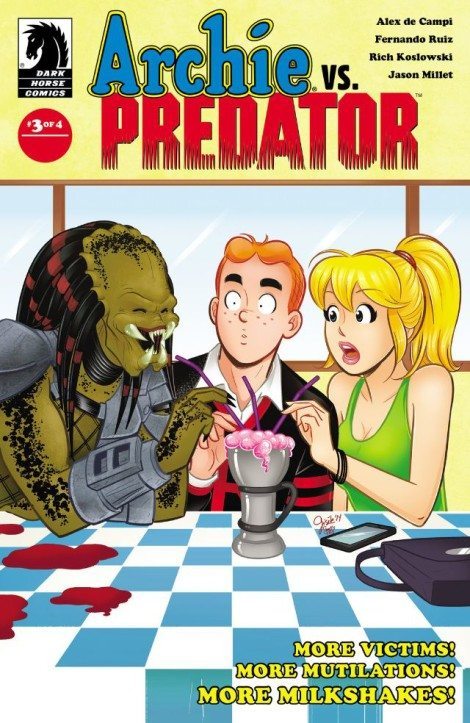 Books for New Comics Readers
Comics for Marvel Cinematic Universe fans
Secret Warriors Omnibus – I'll level with you, I quit watching Agents of S.H.I.E.L.D. after the second season but I briefly considered getting back into it when "Secret Warriors" promos started to appear. Writer Jonathan Hickman's first major Marvel comic is a brutal, exciting, relentlessly paced spy series with a sense of danger and intrigue that would be difficult to bring to television. With Skrulls invading Earth and Norman Osborn taking over S.H.I.E.L.D., Nick Fury creates his own team of spies lead by new hero, Daisy Johnson, and he attempts to bring down his ouster while unwittingly being drawn into a very dangerous game with his archenemy, Baron Strucker and a newly reinvigorated Hydra. Secret Warriors is fascinating, brutal, and built like a puzzle box, with clues and double crosses being left for the reader to figure out, with each piece slowly building to the book's explosive finale. The Omnibus collects every issue, including the Dark Reign and Siege tie-ins and is well worth picking up for those who've loved Marvel's take on espionage and super-heroics.
Ant-Man Volume 1: Second-Chance Man – Nick Spencer's best Marvel work usually focuses on losers and his Ant-Man run is a great example. Divorced dad Scott Lang wants to connect with his daughter while picking up a steady paycheck in the world of superhero support. Ant-Man focuses on some of the company's weirdest, least-used heroes and villains and could certainly be seen as a slightly more heroic spiritual successor to Spencer's masterpiece, The Superior Foes of Spider-Man.
Alias Omnibus – With the debut of AKA Jessica Jones on Netflix, I imagine more attention than ever will be on Brian Michael Bendis and Michael Gaydos' reinvention of the character with Alias. One of Marvel's biggest successes in the Max line, Alias deals with deeply mature issues around sex, rape, addiction, dependency, failure and a sense of not quite living up to what you think you can be. Marvel's lovingly reprinted the series to coincide with the show's Netflix release and it's a fine time to pick it up.
DC on TV and Movies
Suicide Squad Volume 1: Trial by Fire – John Ostrander and Luke McDonnell's Suicide Squad is one of the best comics of all time and it's finally being collected for the first time to go along with the movie's debut. I can't say enough for the series, a nihilistic, violent take on DC's villains by putting them in a spy book that subtly criticizes everything from Reagan-era dealings in the Middle East, to Soviet realpolitik, to the war on drugs, to the burgeoning racism of the religious far right. This first volume features several of the run's best stories and is a great introduction to one of comics' most daring, explosive books.
Superman Unchained: Deluxe Edition – Despite Batman and Superman appearing together in hundreds of comics, many of them are less than recommendable. Acclaimed Batman writer Scott Snyder tried to fix that with Superman Unchained, primarily a Superman story, but one that features Batman and Wonder Woman doing everything they can to help the Last Son of Krypton deal with a potentially planet destroying threat. Jim Lee provides some of the best art of his career here and the miniseries has gotten a handsome hardcover edition showcasing this awesome team-up story.
Green Arrow: Year One – Andy Diggle and Jock's relaunch of The Losers gave them the opportunity to revamp Oliver Queen's origin with Green Arrow Year One, a story Arrow drew heavily from in its characterization of its vigilante. Here, Queen is forced to survive and conquer an island that's been taken over by a drug cartel and he slowly goes from survivor to hero with a homemade bow and an impromptu hood. Jock's stylish artwork gives this a gritty sense of myth making and even for fans of the show, there are plenty of surprises to be had in this fantastic miniseries.
Indies on Screen
Preacher Book 1 – Long rumored and finally coming to us, AMC's Preacher will adapt one of comics' best independent stories, the tale of disgraced preacher Jesse Custer, his spurned ex Tulip, and Irish vampire with a lifetime of secrets Cassidy, as the group takes a cross country tour to have a talk with an absent God. Garth Ennis and Steve Dillon create an engrossing, slightly-off world throughout the series but the first volume here is mostly about establishing character, namely the twisted origin of Jesse and the lengths he will go to to protect the people he loves. Often unpleasantly violent, frankly sexual and always obscene, Preacher's debut is an electric opening to one of comics' best stories.
Outcast Volume 1: A Darkness Surrounds Him – Robert Kirkman's rapidly become one of comics' most visible figures behind only Stan Lee and his new horror series was quickly picked up to be a show, mostly on the back of The Walking Dead's success. Outcast is decidedly a different beat from his zombie series, telling the story of a haunted young man who's drawn into the world of exorcism and life of battling demonic forces in his own backyard. Outcast builds itself incrementally, much like The Walking Dead, and while it lacks the large cast of the previous show, it uses similar pacing and characterization to create its world. Fans of The Walking Dead will love the similar style here but it may not be the most appealing comic for those who didn't connect to Kirkman's blockbuster zombie epic.
Rereleased Classics
Black Panther by Christopher Priest: The Complete Collection Volume 1 – Long out of print, Christopher Priest's take on Black Panther was the first time a black writer was given a chance to write the medium's first black character and the results were explosive and revolutionary. With T'Challa in the U.S. as a diplomat, he's dealing with threats from all around him, including potential troubles in Wakanda. Priest's take on Black Panther is dense and loaded with details that can alienate some readers but decoding the complex puzzles and panels is a reward all in itself.
Nextwave: Agents of H.A.T.E.: The Complete Collection – The cult comic by which all modern cult comics are judged, Nextwave: Agents of H.A.T.E. is an explosive, irreverent take on comics action and continuity. A team of some of Marvel's most regularly rejected characters take on bioweapons while on the run from the agency that previously ran them against the Earth's most dangerous terrorist threats. Packed with humor and some of the best action sequences of the last two decades, Nextwave is a legendary work and it's never been better to see it back in print.
G.I. Joe: Silent Interlude 30th Anniversary Edition – Look, I know it might seem weird to spend money on a hardcover edition of a single comics issue but there are few issues that earn it quite like GI Joe #21, "Silent Interlude." An issue entirely free of dialogue and words except for one sound effect, "Silent Interlude" masterfully tells the story of mute ninja Snake Eyes breaking into Castle Destro to rescue Scarlet from Storm Shadow. However, he's not expecting the wily Scarlet to break herself out and try to rescue the avenging ninja. Along with the issue comes the series' full breakdowns as well as notes on how writer Larry Hama created this masterful tale. For those wanting to learn how one of the medium's great talents turned in a masterpiece of design, there's no better document than this.
Comics to buy your Nerdophiles comics freelancer