Synopsis of 6×06: Sasha, Abraham, and Daryl are ambushed by an unknown group and forced to split up. Daryl finds a new group of survivors, while Sasha pushes Abraham to confront his issues.
Rating: ?????
Despite what the previews from last week led audiences to believe, this was a rather tame episode when it came to putting our favorite characters in danger. Excluding the very beginning, where Sasha, Abraham, and Daryl are ambushed by an unknown group and separated, no one was every in that much danger.
After taking a tumble and getting road rash, Daryl heads into the woods before collapsing near a melted and incapacitated walker. He hides his bike and sets out into the woods when he stumbles across two women. They tell him that they earned what they took before their friend ambushes Daryl and they knock him out. Drifting in and out of consciousness, it isn't until morning that they wake Daryl up and take him with them.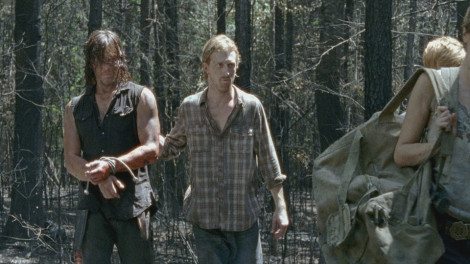 There's something of an info dump while they drag Daryl through the woods with them. At least they offer him water? For whatever reason, he's along for the ride to a fenced building surrounded by walkers. While they're distracted by this building and one of the girl's fainting, Daryl is able to snag the bag and run from them.
Unfortunately, he can't raise Abraham and Sasha on the radio before struggling to get his crossbow out to kill an incoming walker. Even worse, he finds a cooler marked 'Insulin' in the bag.
Sasha and Abraham, who jumped out of their car and rained a hail of bullets down on their attackers, also try to get Daryl on the radio and when they can't, Sasha makes the call to stay put and wait for him to come back to them. When Abraham goes to kill a random walker in the area, she chastises him about leaving breadcrumbs and being smarter than that. She leaves 'DIXON' on the door of where they're staying and leaves Abraham to wander to his heart's content.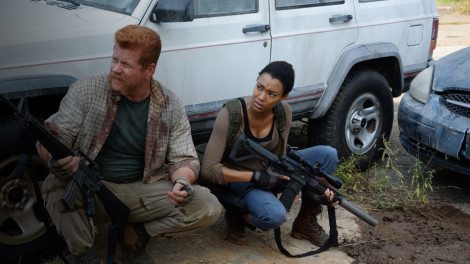 He finds a military uniform and pictures, but soon returns to Sasha, who is sitting in a chair and watching a walker bang against the locked glass doors. He wants to kill it, but the door is locked and Sasha tells him to leave it be. She attempts to sleep before Abraham's fussing around keeps her up and then she confronts him about his choices. She reminds him that she was going to drive the car alone at first. Abraham has some issues that she's trying to call him out on, telling him that he's going to be accountable for his choices.
Good guy Daryl goes back and immediately confiscates the gun and a wooden carving from the group, but he leaves them with the insulin. Before he can leave them behind, the mysterious group they thought Daryl was a part of shows up. He helps them escape, giving the man, D, back his gun and tricking one of their pursuers into getting bitten. Another man in the group finds the bitten guy they lop off his arm like it's nothing, and ultimately give up the chase.
Antsy, Abraham leaves their shelter and finds some abandoned military equipment. The Humvee, cigars, and ammunition for a grenade launcher are stacked up neatly for him. It's only the actual grenade launcher that gives him trouble, on the back of a walker that's been impaled on some fencing and hanging off the overpass. First, he lays down on the fencing and nearly gets himself bitten trying to reach the gun and it's only when this action is proving to be fruitless that he screams in its face and backs away.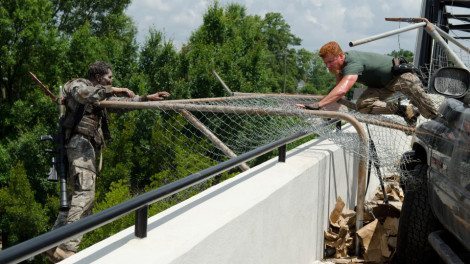 Ultimately, the walker's flesh rips and it falls to the ground, leaving the gun still hanging on the pole. He takes his spoils back to Sasha and when she questions where he got it, his answer is honest: stupidity. She teases him about self-awareness being a beautiful thing. He promises that Rick is managing Alexandria and admits that he likes her and wants to get to know her better. It's a little cringe-worthy smooth, but that's mostly how Abraham is anyways.
D, Honey, and Tina, the group that originally captured Daryl are now teamed up with him and explaining how they were with that group that attacked them since the beginning. When Daryl tells them that no one can promise them safety, D counters that you can always promise the people who want to hear about safety.
They make it to a burned out house, owned by some people that they seemed to know, and are demoralized. Tina, the girl who needed the insulin, leans down to put flowers over the dead bodies of their friends when the walkers attack her. She's bitten and dies, leaving Daryl to swoop in and kill the walkers. As they're burying their dead friends, Daryl asks D the three questions that Rick's group came up with.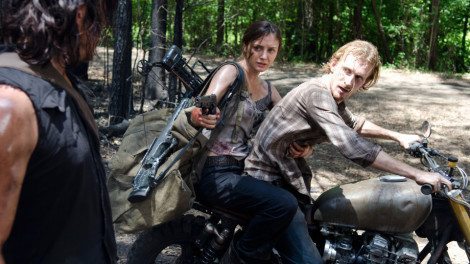 Based on his answers, Daryl decides to take them back to Alexandria with him. It's only once he's got his motorcycle and his back turned to them that D and Tina double cross him with the gun he gave back. They take his bike and his crossbow and ride off without him. Honey at least apologizes, with Daryl promising her that she will be sorry.
Luckily, he finds a gas truck near where he was abandoned and makes it back to Abraham and Sasha with little more fanfare. As they're driving back towards Alexandria, Daryl tries to contact Rick on the radio. Rather than Rick answering, they hear a timid call for help and the episode ends.
It's already been said that it's not Glenn, but is it a trap? After two relatively strong episodes, we're given two weaker episodes in a row. Let us know what you think of this season so far in the comments!