Synopsis of 2×05: Harrison "Harry" Wells is back in town and no one on Team Flash is particularly happy about it; mysterious meta-human Dr. Light flares up a few romantic plotlines.
Rating: ★★★★1/2
The following is less of a review and more of a list of things that make The Flash damn near the best show on television. Ever since I started watching the show, I knew The Flash was something special, but there has been almost no better example of exactly how than "The Darkness and the Light," the fifth episode of the show's second season and the fourth to get more than four stars from me. It lays out The Flash's strengths in a way very helpful to those trying to express just what makes the show so darn good.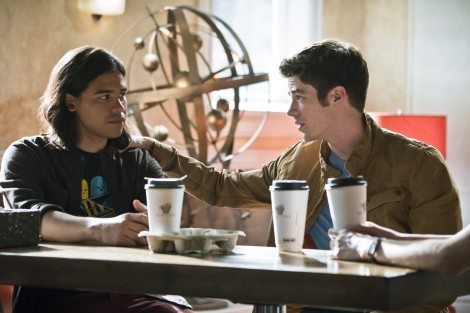 It Does What Other Shows Do, But Better
Harrison Wells and the villains from Heroes Reborn have basically invented the same thing. Our new Wells (the big jerk from Earth-2) is seen at the top of the episode in a flash sideways to have invented an app that can locate metahumans. On Heroes Reborn, the evil corporate drones at Renautus have the same invention, using the power of one particular Evo to locate any others in the area. And in the same episode in which it is introduced, Wells' version of the technology has already been put to better, more story appropriate use than half a season's worth of Heroes Reborn.
This is one of just many times where The Flash outpaces its contemporaries (forgive the phrasing, but it is just irresistible). It nimbly dodges around the pratfalls of other superhero series, and goes for things none of those shows ever have. "The Darkness and the Light" is yet another episode where Barry unlocks a new combo attack to defeat the villain of the week, but these maneuvers never feel old hat. The Flash makes it a joy to watch its hero advance and grow stronger, accomplished through a combination of winning performance and some nifty visual effects.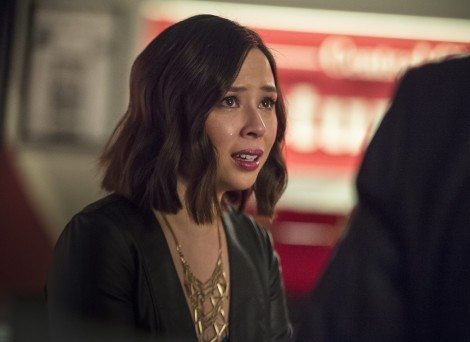 So many of Central City's happenings feel personally tied to Barry Allen, and the show rarely feels the need to put someone Barry cares about in a villain's clutches to make that happen, give or take a Gorilla Grodd. Often Flash's foes tie in with Barry's personal growth. During their punishingly adorable date, Patty tells Barry that fear is what truly holds us back, and it's a sentiment Barry needs to hear to take on Dr. Light. This trend can feel a little contrived at times, but there is obviously a lot of thought that goes into each and every Flash storyline.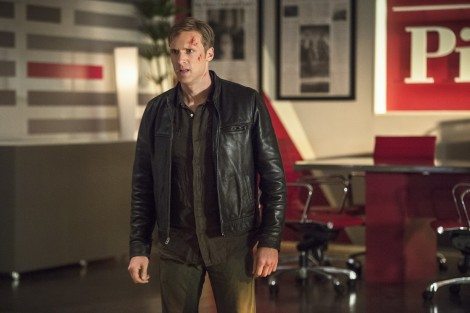 It Keeps the Plot Speeding Along
Both Jay Garrick and Patty Spivot were introduced in Episode Two of this season. Both are currently pulling off successful romances with members of Team Flash. Jay has built a portal between worlds. Spivot has moved up to become Joe's partner and head the Metahuman Task Force. I can barely think of a successful romance that has gotten off of the ground this quickly, much less two unfolding simultaneously. Parks and Rec paired Leslie and Ben together relatively quickly, but the two were certainly not making out at the end of "Flu Season."
There were some hints at Cisco's powers back in Season One, but the plot has only really picked up since the show's return. And already, just five episodes in, Vibe has been born. He does not yet have a mask or a mastery over his powers, but we'll be seeing the lad suit up sooner rather than later. No plotline on The Flash is given time to become stale. The writers have made the definitive choice to err on the side of burning through too much plot over letting anything overstay its welcome. It makes for brisk viewing that always requires your attention. One could only dream of a world where more shows applied this philosophy.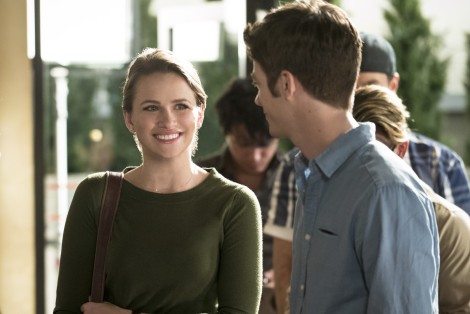 The Romance is Winning
If there exists in television anything that can bring down the excitement or slog a show like a bad romantic plot then I have never heard of it. But The Flash don't play that way. If it's going to do love, it's going to do it right. At times it came close to pushing the Barry and Iris item too hard and Caitlin always seems to be mourning someone, but most every romantic entanglement in Central City has been a winner. There's the playful flirtation between Cisco and Golden Glider, the burgeoning sparks of scientific sweetness between Caitlin and Jay, and the too adorable to truly express courtship between Barry Allen and Patty Spivot.
The Flash doesn't seem interested in watching its characters stare out windows and pine for the ones they love. The Flash simply doesn't have time for that noise. The Flash has places to go and people to see. If you like somebody, The Flash is going to need you to get down to it or get off the pot. I wasn't sold by our introduction to Kendra Saunders, the CC Jitters barista and future Cisco love interest, but if the rest of our romantic storylines are any indication, the two will be taking things to the next level by the season hiatus in early December. Because, as we've seen, The Flash's position on romance is simple: Get on with it.
The Bad Guys are Great
Many of Central City's most insidious metahumans have personal ties to Barry. The death of Weather Wizard's brother is integral to Flash's origin, and that leaves an impact every time Mark Martin appears. Eobard Thawne had as close a relationship with Barry as anyone before his nefariousness was revealed and the two would have to do battle. King Shark, a villain with under one minute of screen time, came in at the exact right time to interrupt Barry's plans and leave a personal sting that can become a callback in the next episode. No other superhero show has pulled this off, but The Flash does it with ease over and over again.
One of the show's most defined and interesting relationships is between the Flash and Captain Cold, a relationship it has only visited four or five times by my count.
Just look at tonight's appearance by Dr. Light and no further evidence will be needed. Zoom's latest assassin is the Linda Park of Earth-2, a sideways version of Barry's ex-girlfriend and Iris's trusted coworker (who had curiously been popping back up in the early episodes of this season, now for obvious reasons). In Light's first appearance, she's a masked cipher with a mysterious power.
In her second, she's a surprise reveal. Having been informed by Jay that Dr. Light is no killer, Barry attempts to reason with her, play to her sympathies against the boss she definitely does not want to be working for. But her reveal as Linda throws Barry for a loop and she escapes, blinding him just before his very big (very hilarious, and very charming) date with Patty.
But their confrontation in the vault gives Light some information she shouldn't have: the existence of her doppelganger in this Central City. Light tracks down our Linda Park, attacking her and killing her boss. Not even Jay can stand up against her. So Cisco tracks Light to the train station and Barry steps in to stop her, needing to learn a new trick to ultimately take her down. It's a complete story that leaves open the possibility of further appearances but doesn't necessitate them to make this plotline seem worth it. That's good bad guy.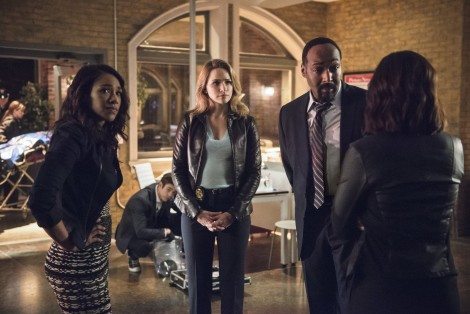 The Good Guys are Better
Team Flash ranges from the goodest of the good like Joe, Caitlin, and Cisco, to the more nuanced and complex, from Jay all the way down to Harrison Wells. Each member of the team is unique and flawed, and continually brings the goods to the program. No member of Team Flash fails to earn their spot, and sometimes has to fight for it many times over.
The reappearance of Harrison Wells could have felt needlessly forced, born of a desire to maintain the status quo or to keep Tom Cavanagh around. But the Wells of Earth-2 not only adds a new layer of intrigue, but comes with a fresh energy and dynamic that one wouldn't expect from the return of an old character. Wells is a troubled, belligerent butthole, but he's the butthole Barry needs to defeat Zoom.
His motives may be ulterior and his attitude may need some serious adjustment, mister, but he earns his place. And he raises many important questions, without being too annoying about it. Like any good character with a mystery around them, he keeps the plot moving so well that we don't really think about what else is going on with him. Despite how much they may wish the contrary, Team Flash needs Wells as much as he needs them. They're stuck with him. It's great.
Those Endings
No show knows how to end an episode quite like The Flash. It's an all-important element to television drama, and The Flash is the heir apparent to Breaking Bad as far as making us salivate for more is concerned. Zoom, baby. Zoom.