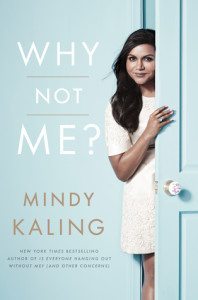 Author: Mindy Kaling
Release Date: September 15, 2015
Publisher: Crown Archetype; First Edition
Source: Blogging for Books
Genre(s): non-fiction, humor, autobiography
Rating: ★★★☆☆ 1/2
Review Spoilers:  Light
GoodReads | Amazon
Let me get this out of the way first: Why Not Me? is a good read- it's one of the better ways to spend an afternoon.
So why the title of this article? It's because I set the bar unreasonably high before I read this book. The only reason I rated it so low was because it wasn't revelatory – I was hoping since the title is the question I've been asking myself lately that it would give me some insight to guide me through my quarter-life crisis.
To be fair, that's a lot to expect from a collection of essays. But there is some precedent. I feel like there was at least some reasonable expectation that I could grab something to hold onto in one of the essays: Amy Poehler's book delivered on the advice homefront, as did Tina Fey's.
So while the book was well-written, funny, and entertaining, it didn't give me anything that felt unique, heartfelt, and human. It just didn't have the poignancy I was looking for.
Mindy Kaling's second book is a collection of personal essays on topics ranging from self-image in the acting biz to Mindy's fling with a member of the President's security detail. The book is separated into four main sections: For the Ladies (on self-image and Mindy's past), Take This Job and Love It (on her tv series), Love, Dating and the Boys Who Ru(i)n the World (self-explanatory), and All the Opinions You Will Ever Need (which also contains her viral commencement speech at Harvard Law School.)
Kaling's voice is incredibly personable and some of the essays are laugh-out-loud funny – Mindy's rapport with her coworkers on The Mindy Project redefines #squadgoals, and her section on her daily schedule (complete with pictures!) is illuminating.
This book is great at giving the reader a behind-the-scenes look at what it's like to work on a television series in a way that Poehler and Fey's books never did. Seeing Mindy Kaling's workday illustrates how hard a writer/producer/actress works even when she's "made it" in Hollywood. There are a few legitimate things to be said for the 'champagne problems' of prominent figures, but Why Not Me? paints a detailed picture of Kaling's incredible work ethic, independence, and (well-deserved) sense of entitlement.
Maybe one of the most fun sections of the book is an essay dedicated to on-screen sex scenes. Kaling FINALLY debunks the polite myth actors have adhered to for generations: sex scenes aren't uncomfortable; they're a blast. With an attractive actor, great lighting, and a room full of people whose jobs it is to make you look your best – really, why wouldn't they be?
Final Thoughts: With less self-help and more Britney's "Work B*tch" than expected, Why Not Me? is a fun afternoon read sprinkled with laughs to learn more about Mindy Kaling's life and work, but don't expect it to be anything more poignant than that.
A REVIEW COPY WAS PROVIDED BY BLOGGING FOR BOOKS FOR A FAIR AND HONEST REVIEW