When Clowns Attack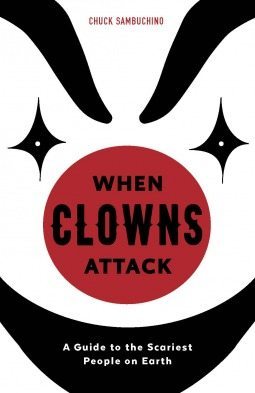 Author: Chuck Sambuchino
Release Date: September 29, 2015
Publisher: Ten Speed Press
Genre(s): Humor
Rating: ★★☆☆☆
Review Spoilers:  Mild
GoodReads | Amazon
I had high hopes for this book. The cover design was sufficiently creepy and the idea sounded a lot of fun. I mean, clowns are creepy. We all know that. There's a reason they appear so frequently in horror movies. I was looking forward to reading about how to survive various scenarios so that if someday Pennywise or the Killer Klowns from Outer Space came after me I'd be prepared.
Instead, I kind of started feeling sorry for clowns.
The author is really, really hard on the profession. It's not just clowns that seem to have earned the author's disdain but the people behind the creepy make up, too. There are a lot of really mean insinuations that all clowns are drug addicts and washed up theatre majors. I understand that he's attempting to take stereotypes and play them to their extremes but, honestly, it seemed to go a bit too far. Not all clowns are alcoholics. Not all clowns are going to rob you blind if you hire them to work a party. Give them a break.
I would have enjoyed this book a lot more if it hadn't relied so heavily on it's own brand of hit-or-miss humor. Give me alien clowns who want to turn me into cotton candy! Give me clowns who will stalk my dreams. Give me serial killer clowns who want to lure me to my death. Build off the classic terrifying clowns of various movies, books, and more. That's what I wanted. That's what I expected. It's just sadly not what I got.
This overzealous demonizing of clowns early on makes it hard to enjoy the rest of the book wherein we're asked to imagine fighting back against the truly evil clowns. There are worthwhile moments throughout. There are sections on the various 'weapons' of clowns and how to fight back against and identify certain types of clowns that could have been enjoyable if they weren't continuously riddled with mean spirited jokes.
If nothing else, at least the book looks great. The cover is pretty cool and When Clowns Attack has a wide variety of sufficiently creepy clowns through out. The photos are well selected and match up perfectly with the text. There's a sort of production value there that makes this book look like a great gag gift for your friends who might suffer from coulrophobia.
If you're looking for a book that's going to be fun, though, I'm not sure I'd recommend this one. I mean, the idea behind the book is great. And if you like the style of humor the book employs then by all means it might be the right book for you. For me, though, it simply was not the right pick.


A review copy of When Clowns Attack was provided by the publisher via Blogging for Books in exchange for a fair and honest review. Nerdophiles was in no way compensated for this review. Our opinions are ours and ours alone.