Hannibal may not have been directly represented at New York Comic Con, but that definitely didn't keep the fans down. Even in the face of cancellation, and an uncertain future for their favorite show, fans showed up en mass to celebrate at the pop culture event. After the first day of the show, a group of fannibals got together for dinner at Friedmans Restaurant off of 10th avenue to enjoy a meal together and celebrate a show that is still very much loved and in no way forgotten. The evening ended with the group trekking out to Brooklyn to check out a lecture at the Morbid Anatomy Museum titled Hannibal Lecter, Book Collector.
First, at the dinner, which was an event put on not only by us but with the help of the amazing Freddie Lounds over at Tattle-Crime, fans had the chance to enter a raffle to win some really cool things. The biggest prize? A script signed by the cast, which Freddie was kind enough to acquire and send our way. There was also a signed DVD sleeve from San Diego Comic Con, a few beautiful prints by a very talented artist who goes by the name "TheTuxedos," and everyone walked away with a Hannibal related postcard as well as some stickers and button swag.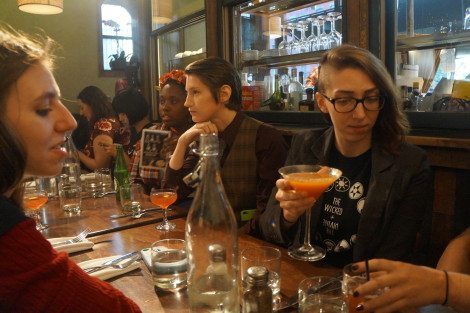 Once dinner was done, a group of six hopped on the subway and made our way over to the Morbid Anatomy Museum to check out a previously planned lecture. It was fortuitous that there just happened to be a Hannibal themed lecture happening the same weekend of New York Comic Con. The museum itself was the perfect backdrop for fans of the grisly show, and the event itself was hosted in the basement which was set up to accommodate a good number of people. There were only a few seats left open for this particular lecture, and I can see why.
Elisabeth Brander, rare book librarian at Washington University, gave a fascinating presentation on the types of books Hannibal Lecter would probably have on his shelves. For anyone who has watched any of the movies, or seen the series, it would be obvious that Hannibal enjoyed fine books. Elisabeth explored this idea, and broke it down into different types of books he'd have. Medical books, of course, specifically books on dissection, and she went into detail as to what specific books he would just be dying to get his hands on. Then there was a section on psychiatric books, ones that detail the history and nature of psychotherapy and the practice of psychiatry through the years.
It was an amazing venue, and a fantastic lecture, and afterward the fannibal crew snapped a picture with the lecturer.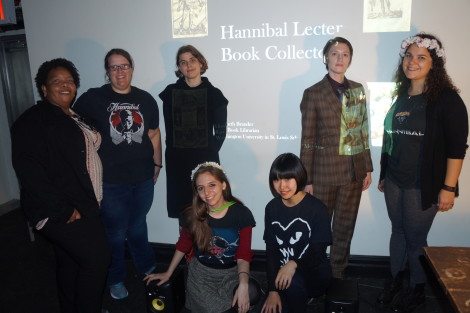 The Morbid Anatomy Museum itself was worth the trip. We only had a chance to explore the cafe portion of it, but the museum hosts a library and a store as well for people to explore. They have a number of exhibits, and look to "explore the intersections of death, beauty, and that which falls between the cracks." With that kind of mission statement, it isn't any wonder that people are drawn to this place to explore what many people prefer to ignore.
If you're ever in Brooklyn, and aren't bothered by death, then I'd definitely recommend checking out the museum. Check out their exhibitions list and their website to learn more. The coolest part? They are a non-profit, and thrive on patronage and donations. So even if you can't make it in, consider donating to help keep their doors open as they pursue a unique brand of education.
Plus, they've got the softest taxidermy raccoon I've ever met.