Loot Crate – October 2015
Loot Crate is a subscription box company that has a large fan base and gives out awesome products in the boxes. Loot Crate costs $13.37 a month plus shipping, which comes out to be around $20 a month. The box's contents always adds up to be more than what you initially paid for.
Without further adieu, let's check out the October Haul.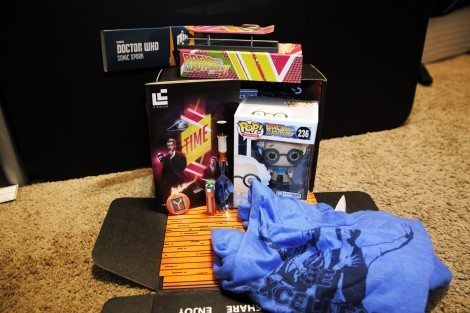 This month's theme for Loot Crate is "Time." Once again, Loot Crate has a themed inside of the box. This is a really nice touch that they always do because it sets them apart from the rest of the boxes. Some boxes actually become a house or a game board when deconstructed and refolded.
The magazine, another Loot Crate staple, is really informational with interviews and a pull out Doctor Who Quiz, as well as a mini poster. Next up we get a Funko Pop figurine of Dr. Emmett Brown from Back to the Future. Convenient for the 30th Anniversary this month!
Then we get a 1:5 scale model replica of the Hoverboard from Back to the Future. This is really cool because it has the mirror on the bottom and it's "hovering." The details are super good and looks just like the real thing… now only if it would actually fly.
Then we get a soft cotton t-shirt of Bill & Ted's Excellent Adventure. It's super soft and a nice shade of blue.
Second to last of the box is a Doctor Who Sonic Screwdriver Spork, the best of both worlds. Sadly, mine broke in shipping but I can still use it.
Last we have the commemorative pin which showcases the flux capacitor from Back to the Future. Now if you'll excuse me, I'm going to go eat a bowl of Cocoa Puffs with my broken spork.
Retail Value: ~$37.00
Loot Crate Cost: $19.99
Rating: ★★★★☆