Lady and the Tramp:
Signature Collection [Digital]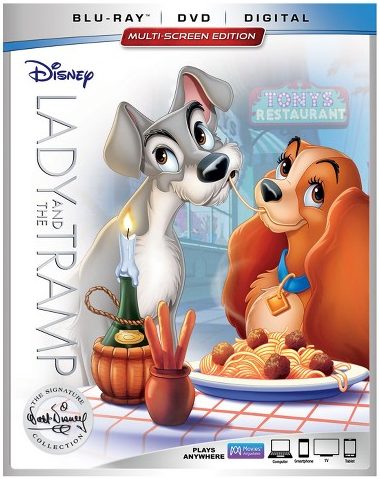 Release Date: February 27, 2018
Cast: Barbara Luddy, Larry Roberts, Bill Thompson, Bill Baucom, Peggy Lee, George Givot
Studio: Walt Disney Productions
Extra Feature Rating: ★★★☆☆
Rating: ★★★★☆
Review Spoilers: Low
Amazon | IMDB | Wikipedia | RT
I recently watched Lady and the Tramp for this first time in years and I was struck by just how timeless it seemed. Most of the story has aged very well with the obvious exception of the Siamese cats' characterization. The perspective of a dog hasn't changed much over the years. Whether they're exploring the modern era or a small Midwestern town at the turn of the century like Lady and her Tramp companion, a dog is and always will be a dog.
Lady's story is one that hooks viewers of all ages. Kids will be drawn to the fact that we're seeing the world through the eyes of dogs while older viewers will appreciate the complexities of the story. It's not just a movie about a little cocker spaniel. It's a story about changing family dynamics, rebelling against your status quo, and walking a bit on the wild side — as well as the potential consequences. Lady is a dog whose whole world changes because of the arrival of a baby (and the subsequent arrival of an evil, dog-hating aunt) and her subsequent journey into a whole new world.
It's also about finding one's place and learning to love again. Tramp goes from a carefree stray who has convinced himself that he can be happy without a happy home to a dog who gives people a chance once again.
The lessons, animation, and story are great to revisit if you've seen the film before. And they're just as great for new viewers who may be experiencing Lady and the Tramp for the first time! Some of the songs haven't aged as well as those in other Disney classics but they are fun nonetheless. It's a very enjoyable film and it'll be lots of fun for kids who love movies about animals!
Special Features
The special features on this Signature Collection blu-ray release are well curated even if none of them appear to be wholly original to this release. There is a good mixture of functional features as well as making-of featurettes that will cater well to both families and film buffs. There are old trailers, deleted scenes, classic features, and a few kid friendly options that might be fun to check out.
Families with young children who want to just sing along will appreciate the option to watch each musical scene with sing-along lyrics. The music in Lady and the Tramp certainly doesn't have the same appeal as some other, classic Disney films but there are few gems in there that are fun to sing! And if nothing else there is a Fred Willard led mini-documentary on dog breeds featuring various canine Disney characters — including those in Lady and the Tramp.
The best special features, though, are the making-of featurettes focusing on the film's development. Lady and the Tramp was in development for nearly twenty years beginning in the 1930s. It underwent a number of changes but a lot of the iconic characters and story elements remained the same. There is a one hour long featurette that basically tells the whole story of the film from it's original pitch to Disney's various inspirations for the story and more.
Several of the classic features focus on storyboards and their importance not just in creating Lady and the Tramp but in Disney's movie making process in general. Walt Disney used storyboards to quickly piece together stories and many of the originals are still held in their archives. The first of the two special features pulls the original June 1943 storyboards out and presents a very different version of the film we all know today. It's a very cool look at a story in it's early phases — and one that was extremely different from the end result. The other special feature, Finding Lady: The Art of Storyboards, is a really cool look at how storyboards evolved and changed the movie industry. They're not just used by Disney filmmakers but really everyone these days and while there's a bit of a look at the making of Lady and the Tramp it's definitely an industry-focused featurette.
There are also eight deleted scenes included. One is this super weird scene where Tramp imagines a world where dogs and humans swap places. So, essentially, anthropomorphic dogs are walking humans around on leashes. There's also a relatively cool song sung by Tramp about his carefree, owner-less lifestyle that was ultimately cut.
The last special feature was a little weird, honestly. It was an insider look at Walt Disney's little apartment in Disneyland. The only relevance seems to be that Lady and the Tramp came out around the same time that the park opened.
All in all, they aren't bad special features. But the fact that nothing seems very original does work against the release. The nice thing is that this is the first time Lady and the Tramp has been released in a digital combo pack so you don't need to worry about already having these featurettes available on an earlier version unless you happen to have a copy of the most recent DVD release handy.
Final Thoughts
I really liked Lady and the Tramp growing up so I was obviously very excited for the Signature Collection release. It's been a while since this film was released to consumers and this is a great opportunity for Disney fans to not just get the film on blu-ray but to add it to their digital movie collections! Our review is based on the digital, Movies Anywhere release of the film and I couldn't be any more thrilled with it. Movies Anywhere is a great service and if you're not signed up for it you should be!
Lady and the Tramp is a great pick for fans of classic Disney films looking to revisit their own childhood or share a great film with their own kids. Definitely check it out. It's out now on blu-ray combo pack!