Synopsis: Nathan faces a trial for Kira's supposed death while Audrey gets to the bottom of the darkness trouble. Meanwhile, Dwight and Charlotte attempt to rescue Kira.
Rating: ?????
Nathan, having returned from the power plant without Kira, faces the wrath of Kira's fiancé Tony and the rest of Haven's citizens. Nathan forcefully admits that Kira is dead. An enraged Tony insists that it was Nathan's job to protect her and that he failed and will likely get others killed. Fueled by fear, the town calls for Dwight to banish Nathan and be fair in his judgment.
In private, Nathan reveals to Dwight and Audrey that Kira is not dead, but rather is trapped underground. He admits that he did not tell the town that she is alive because they had found William's large stash of ether deep underground and Nathan could not risk the town going after Kira and finding the aether in return. Nathan insists that he must return to Kira and the aether as soon as possible.
Audrey, believing the town only wants justice, not Nathan's head, argues that they should put Nathan on trial instead to buy them time. Audrey insists the trial will not get that far, but we all know Audrey's good intentions can always take a turn for the worse. Dwight pitches the trial idea to the town and the town agrees to work with Vince and Dave in a fair trial for Nathan.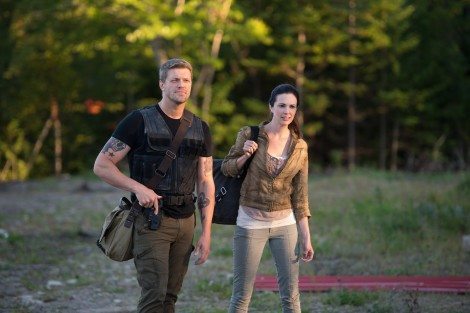 Back outside of Haven, Hallie, the daughter of one of Duke's old friends, is desperate to discover more about her trouble that Duke inadvertently triggered. Hallie's ability is to phase through objects so to speak by becoming the objects essentially. With this ability, she can pass through walls, gates and other objects with ease. With a little of Duke's help, Hallie is able to repeat her phasing abilities, but Duke warns that they are troubles, not powers. Hallie, still desperate to pay back her father's loans, ropes Duke into robbing a bank with her.
It soon becomes painfully clear that Dave and Vince are terrible at running a trial. Tony quickly demonstrates that he is out for Nathan's head and through a loophole in the trial's rules, insists Nathan must die instead if he looses. It seems someone has a bone to pick with Nathan and is providing personal information about Nathan's past record to Tony. Audrey, now fearing for Nathan's safety, insists they call off the trial, but Nathan knows that will http://pharmacy-no-rx.net/kamagra_oral_jelly_brand.html only cause more damage. Nathan insists that Audrey solve the darkness trouble in the meantime so that Kira can return to prove Nathan's innocence.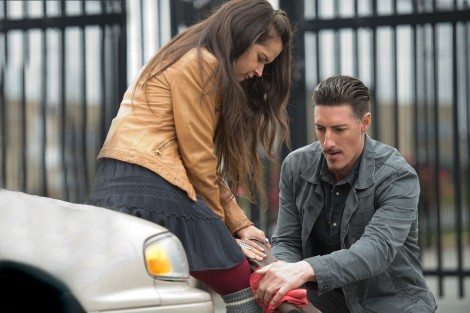 Charlotte and Dwight head off together in search of Kira. During their excursion, Charlotte reveals that there is a greater evil than the troubles that lives in the void and feeds off of troubled people. Charlotte and Dwight soon become trapped in darkness of their own with a single glow stick.
Audrey pursues another lead of an eyewitness who may have also seen the person with the darkness trouble. She learns from the eyewitness that the man who emerged from darkness unscathed had a beard and was wearing a yellow bandana. During her search, Audrey discovers that Tony is carrying a yellow bandana and previously had a beard. When Audrey confronts Tony about his trouble, he grows angry, denying that Kira left him and darkness begins seeping into the room. Audrey pleas with Tony to accept that Kira broke up with him and move on.
When Dwight and Charlotte's glow stick burns out, they are surprised to find themselves still alive. Back at the school, Tony reluctantly admits that he has finally accepted Kira's departure and is ready to embrace the darkness inside of him, effectively putting him in control of his trouble and removing the danger of darkness. Charlotte and Dwight reach Kira in time, managing to save her and Charlotte discovers the true size of aether cash William left, believing it will be enough to save the town.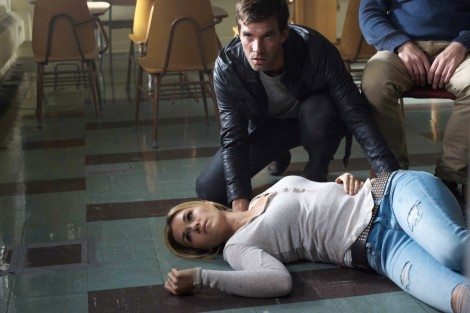 Back outside of Haven, Hallie and Duke's bank theft goes south and a cop manages to graze Hallie in the arm with a bullet, splashing blood on Duke in the process. Duke, unable to resist the pull of the Crocker curse pursues Hallie, to her horror and surprise. Hallie is able to escape, but the damage has already been done and Hallie has seen the true extent of Duke's curse.
Audrey later asks Tony about the source of his information about Nathan and he reluctantly admits he does not know where it came from, only that he lost track of time and found the information there. Intrigued by his answer, Audrey seeks out a fellow friend and trouble man named Grayson who had previously helped her, but she inadvertently walks into the Sandman's trap and is unable to escape his touch as he puts her into a deep slumber.