Disney has found the lead voice actress for Moana. Native Hawaiian newcomer Auli'i Cravalho, 14, joins Dwayne Johnson in the big-screen adventure about a spirited and fearless teenager named Moana (voice of Cravalho) who, with help from demi-god Maui (voice of Johnson), sets out on a daring mission to prove herself a master wayfinder.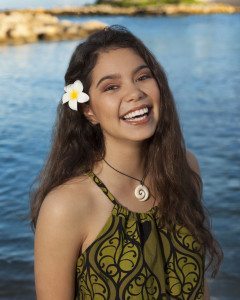 "Moana is a vibrant, tenacious 16-year-old growing up on an island where voyaging is forbidden," added director Ron Clements. "But Moana has been drawn to the ocean since she can remember and is desperate to find out what's beyond the confines of her island." Cravalho has already started recording for the role.
Moana's film synopsis:
Three thousand years ago, the greatest sailors in the world voyaged across the vast South Pacific, discovering the many islands of Oceania. But then, for a millennium, their voyages stopped – and no one today knows why. From Walt Disney Animation Studios comes Moana, a sweeping, CG-animated adventure about a spirited teenager who sails out on a daring mission to prove herself a master wayfinder and fulfill her ancestors' unfinished quest. During her journey, Moana (voice of Auli'i Cravalho) meets the once-mighty demi-god Maui (voice of Dwayne Johnson), and together, they traverse the open ocean on an action-packed voyage, encountering enormous fiery creatures and impossible odds. Directed by the renowned filmmaking team of Ron Clements and John Musker ("The Little Mermaid," "Aladdin," "The Princess & the Frog"), and produced by Osnat Shurer ("Lifted," "One Man Band"), Moana sails into U.S. theaters on Nov. 23, 2016.
Unfortunately there's not much information out on Moana right now, but I'm definitely excited that Disney is expanding their range of Disney Princesses. Disney delving into Polynesian folk lore and history will be something new and interesting, especially since these types of stories have not been explored a lot. From the director's description of Moana alone, we can definitely see how Disney is trying to emphasize a new idea of Disney Princesses.
In the footsteps of Mulan, Pocahontas, Brave's Merida, and Frozen's Elsa and Anna, we can see how they are no longer portraying Disney Princesses as damsels in distress. Disney having more independent female Princesses and exploring more diverse backgrounds, not only say a lot about Disney but also their understanding of their audience and modern culture. Who doesn't want more positive and diverse portrayals of Disney Princesses?