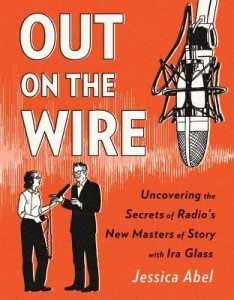 Author: Jessica Abel, foreword by Ira Glass
Release Date: August 25, 2015
Publisher: Broadway Books
Source: Blogging for Books
Genre(s): nonfiction, graphic novel
Rating: ★★★★★
Review Spoilers:  N/A
GoodReads | Amazon
"I should totally make a podcast."
It's a thought that's occurred to me and probably most radio listeners at least once during an episode of This American Life or Serial. But what actually goes on behind the scenes of episodes of popular podcasts? Cue Out on the Wire to answer that question.
Out on the Wire explores the unexplainable: the combination of quirk, work, and magic to make a hit podcast.
The book is written by Jessica Abel, a cartoonist who interviewed the minds, and voices, behind podcasts like RadioLab and This American Life to draw a picture of the process from writing to editing to recording a podcast.
By 'draw,' I mean literally draw.
When I requested a review copy of the novel, I expected a chapter book – instead, I was pleasantly surprised to see that the book was written as a graphic novel. The graphic novel format was a major strength in storytelling – because oddly enough, radio is a visual medium. It's ironic, but Abel mentions this fact multiple times throughout the book – writing a hit podcast involves hundreds of small artistic choices, from transition music and sound effects to cutting and editing inteviewees' speech rhythms, and each choice is intended to better illustrate a visual story told over radio.
The graphic novel format enabled Abel to do two things very well:
to conceptualize technical aspects of podcast cutting, e.g. to show the audience exactly where cuts are being made during sound editing
to make the book more human.
A story about podcasts could have been very dry without a human element – and Abel's inclusion of cartoon figures throughout the book adds visual empathy and emotion to better convey her points. Radio is a visual medium, but it's also a human one.
It's difficult for me to convey how inspiring and interesting this novel is without sounding sentimental. I've always loved the hypnotic quality of podcasts, and I've been curious how they're made. Any book could have told that story, but Abel manages to get behind the scenes and get an insider's take on the process, taking a reader with her on an emotional journey with podcast legends. Another book could have told a reader how to make a good podcast, but this book gives the reader heaps of encouragement and the itch to create and explore this form of media themselves.
Any book could have been a how-to on podcast production, but this book inspires, and I believe that is the mark of a truly exceptional nonfiction novel.
Final Thoughts: From tales of Ira Glass' first few hectic episodes finding the crux of a story of This American Life to brutal edits at Snap Judgment, the book compellingly illustrates the people and process of podcasts from start to finish. For podcast listeners and creatives both, I can't recommend this book more highly.
A REVIEW COPY OF THIS BOOK WAS PROVIDED VIA BLOGGING FOR BOOKS. NERDOPHILES WAS NOT COMPENSATED IN ANY WAY FOR THE REVIEW AND THE OPINIONS HERE ARE OURS AND OURS ALONE.