Synopsis of 2×01: James Gordon goes to the Penguin to get his job back in the GCPD, a new villain rises in Gotham City
Rating: ?????
Gotham opens its second season with an ironic usage of Lou Reed's "Perfect Day," immediately followed by an obese man with a katana firing two guns into the air and claiming that he is the weapon of Satan. It's the sort of tonal whiplash viewers have come to expect from this show, from mind-splitting darkness to higher than high camp. What's strange about Monday's premier is unlike the first season, the serious parts tend to work better than the silliness.
A month after the events of the first season, Gordon has been reassigned to a humiliating position as a traffic cop, Bullock's sober and working as a bartender, Cobblepot has established his place as the king of crime in Gotham and uses Zsasz as his enforcer, and Bruce and Alfred are working to unlock a mysterious door hidden by Thomas Wayne. Meanwhile, Barbara Kean is making an impression in Arkham, seducing some fellow inmates and becoming an object of obsession for others, all while playing a B-List Helena Bonham Carter.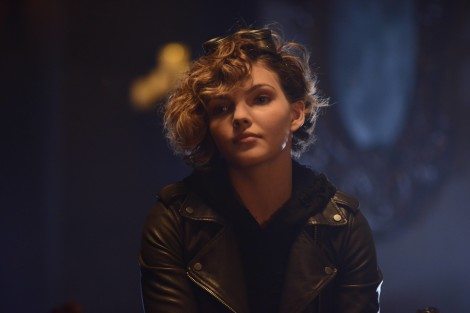 "Damned if You Do…" tries to connect its characters with the idea of crossing moral lines for the greater good. After he's fired by Commissioner Loeb, Gordon hardly blinks before going to the Penguin in order to take Loeb out. However, as soon as Cobblepot wants him to do a collection job, Gordon remembers his morals and questions his actions. At the same time, Bruce tries to build a bomb to destroy a door. Comparing http://www.montauk-monster.com/pharmacy working for organized crime and committing murder and setting off a controlled explosion in your parent's house isn't exactly a good one-to-one comparison but both are able to accomplish their goals. Bruce learns his father was investigating the truth about Wayne Enterprises and Gordon removes Loeb from power and is reinstated as a detective in the department.
While Gordon being reinstated in the GCPD is the most predictable part of the episode, the larger plotting proves to be more intereresting. In Arkham, Barbara connects with Jerome, one of season one's would-be-Jokers, and she builds a relationship as the queen of the asylum. That all comes crashing down when a group of the inmates are kidnapped by up-and-coming Gotham businessman named Theo Galavan. He and his sister, a proto-Catwoman named Tabitha, want to unleash a host of villains on Gotham to cause chaos. They're initially shown as little more than sadistic one-percenters; both receive relatively little screentime in the premier. Still, bringing the villains together seems to point to a larger, serialized season rather than a procedural one is a good sign and could fix a host of the first season's pacing issues.
Gotham still has a lot of problems. There are still groan-worthy lines of dialogue, wild sweeping tonal changes and the show continues to go to the well-trod "police going corrupt to do what's right" area, but if nothing else, this season's premier is genuinely promising. It feels like an almost entirely different show than it has been before, and that's something to be excited about.